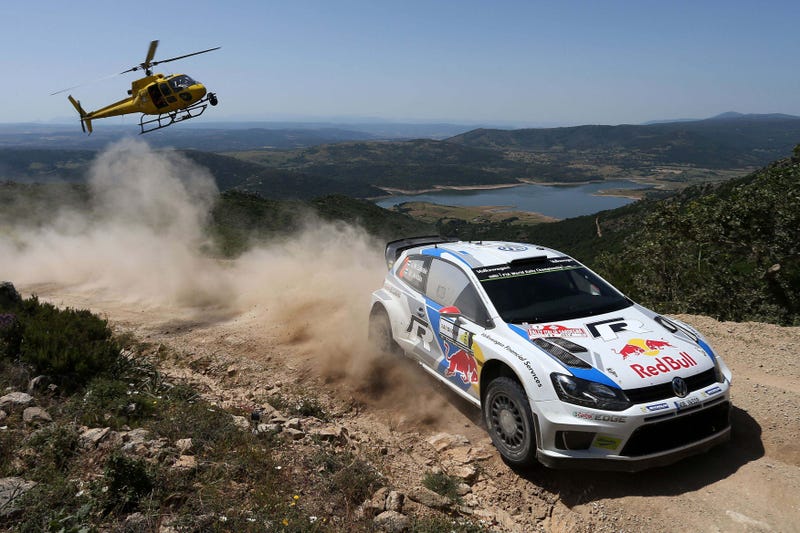 Just under a month ago the World Rally Championship launched their new WRC+ subscription service, finally providing live coverage to the world. And we saw that it was good.
"But hark," cried the noble rally fans, "I cannot be at home during the live coverage; for it doth take place three hours after the noon and I shalt be at work!"
"Fear not, my children," replied the WRC, "for I shalt transform my work into a form which can be accessed by the magic tablet thou keepest in thine arse-pocket."
"Huzzah!" Responded the fans. "We shalt take long bathroom breaks so we can watch thine coverage on the office loo!"
And with that the WRC raised up it's mighty arm, waving it's magic wrench at it's angels of tech support. And those angels did go forth, and update the WRC mobile app with full WRC+ accessibility, and again the fans saw that it was good. And there was much rejoicing, and much pretending to poop while watching rally from the toilet.
For those who don't understand ye-olde-insomniac-English (this was written at 2 A.M.), the World Rally Championship's new WRC+ subscription service, which provides live video, a library of onboard footage (about 30 hours per rally), and other features, has been brought to the mobile platform. The latest update of the WRC Android/iPhone/iPad apps include access to WRC+ (with paid subscription, of course), providing everything you can get from the full WRC+ website.
I didn't get the chance to play with the live video or live maps during Rallye Deutschland, but I did play with the onboard video and event highlight coverage afterwards, which I did with my trusty iPhone 4. My impression of the update can be summarized simply as such: "PRAISE JEEBUS, HALELUJAH!" In longer form, the addition to the app is excellent overall, though there's still a little refinement needed and a few minor bugs to get out of the system. The video reviews loaded seamlessly and looked fantastic, even when my phone was in 3G mode. The onboard footage was smooth as well, though the video's tracking map stopped updating after about a minute, and currently you can only watch the onboards as a two-car comparison, you can't select just a single car's view. The latter issue, while a tad annoying, doesn't concern me because I'm sure it's temporary. The onboard section of the standard WRC+ website was the same for the first few weeks, but now allows you to choose between single car and side-by-side.
Simply put this is an absolutely massive jump in WRC access, as they have gone from "occasional live coverage on upper-echelon cable networks in a select handful of nations" to "live coverage available for anyone with a computer" to "live coverage available for (nearly) anyone with a smart phone" in the span of a single month. The WRC has suddenly gone from one of the hardest motorsports to watch to one of the easiest, and set the bar for series like Formula 1 and the World Endurance Championship. This should mark the beginning of a new era in motorsports accessibility, and from here on out if any major motorsports organization doesn't follow suit with similar access it will officially be because they don't want to, not because they can't. I applaud the WRC for being committed enough to fire one of the first shots in this revolution.