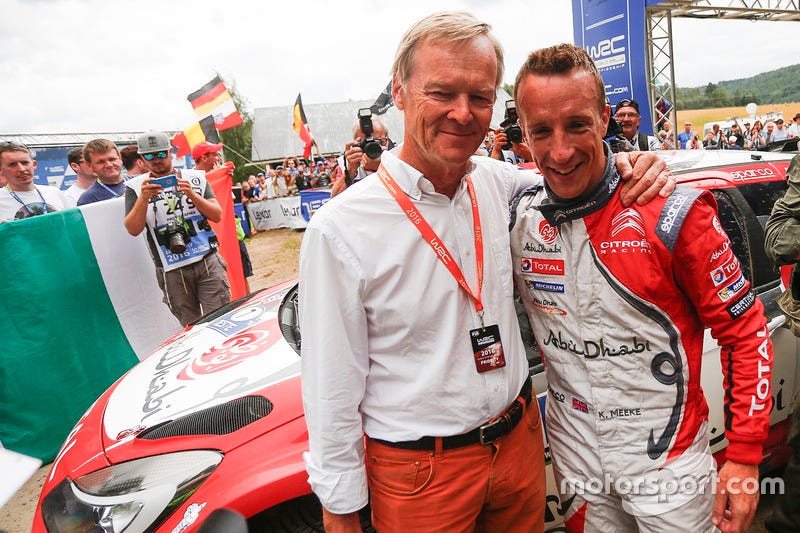 Controversial favourite and part time top level Rally Driver, Ireland's Kris Meeke took a dominant win in Rally of a Thousand Lakes Finland. To become the first Briton and one of only six non Nordic drivers to triumph there.
Despite ongoing arguments about road positioning and this part-time campaign from Citroen in a car they are not developing, definitely not developing. It was an impressive performance from the Northern Irishman, who seems to have conquered his tendency to 'choke' at the wrong moment. Getting the vote from Citroen as clear No 1, in a proper works effort, seems to have done the trick.
A faultless performance was what was required, as all around him the full time drivers were paying the price for mistakes, in what is a fiercely demanding rally.
As usual Ogier had to open the road for the first two days, with his championship lead seemingly almost unassailable (as no one else can put together consistent performances), he can expect it to be like this for the rest of the year. He may not win another rally (although don't bet against it), but will surely do enough to secure another drivers title. However he has looked increasingly downbeat out of the car and increasingly ragged in the car, not the controlled aggression we saw last year, something a little more... Desperate?
Speaking of, WRC2 regular Yazeed AlRahji, binned in in spectacular style. For which this lapse of concentration might be forgiven as he just finished runner up in the grueling Silk Way Rally.
The VW Polo (having just spent a month driving/being thoroughly disappointed by an actual Polo, that now seems slightly more ridiculous than normal to write...) hasn't seemed to enjoy quite the advantage either in the last few rallies. Hyundai, Citroen and my favourite nut job Ott Tanak's Fiesta looking at least as competitive most of the time. Just quietly, how brilliant was the group of drivers supporting (literally) Tanak, after his crushing puncture in Poland? Between that show of solidarity and the French tribute last year, Rally remains the sport with the most genuine competitors in my eyes.
Hard not to like Ogier now hey? Strong too!
So a rare mistake from the world champion, saw him beaching the Polo on a very slow turn. The driving standards committee (my mates and I on Sunday afternoon), re-watched the footage several times. Deciding that you could hear him plant the throttle when he realised the front was digging in, no doubt expecting the front wheels to pull him out. Instead he just got a big spike of (more) oversteer, really feeding him into the ditch. Maybe because the fronts had so little grip the diff sent the power to the rear? Just clutching at straws really, but whatever it was, it didn't work. Massive time lost, Ogier effectively out.
Latvala, has won here the last two years and really could do with a win. I think his drive has to be under pressure for next year. It wasn't to be, with a small mistake and a puncture forcing him to play catch up for the rest of the rally, having no answer to Meeke's speed, all things being equal. The runner up spot would have been little consolation for the likeable Finn.
The last podium position was taken by Meeke's sometime teammate Craig Breen. With Meeke confirmed for next year and Citroen trailing Breen and Frenchman Stéphane Lefebvre. With them going head to head in the last rally, Breen keeping his head while Lefebvre crashed. The Irishman's strong showing here meaning an all Irish line-up looking increasingly likely for the French team next year. Breen is a character, like Meeke, having a lot of success in lower catagories and coming to WRC at a relatively mature point. Having lost his co-driver, Gareth Roberts, in a crash on the 2012 Targa Florio round of the IRC. He was super emotional at the finish, also having seen off determined challenges from first Tanak (crashed, gotta fix that Ott, it's in you though) and then Neuville - Breen "he can be fucked if he thinks I'm giving it up that easy" were his choice words after responding to Thierry's charge.
Theirry did triumph in the race, within a race, that was the Hyundai inter-team battle for fourth, between him and Paddon. With Neuville back on form and Paddon having had some very shaky (and awesome) performances this year, this one will be interesting.
Why the fastest rally in the world? Finland has the highest average speed on the calendar and this year, Meek's was the highest average ever recorded at 126.60 km/h (78.66 mph). Average. On dirt.
Controversial rules maybe, but this season is shaping up to be one of the most exciting in many years. Next up is Rallye Deutschland, always spectacular. With more mental cars coming next year too. Bring it on!
(if you ever needed an excuse to head to Scandinavia in summer, well they have this event and Rally Finland in the same month, if you can... Go!)