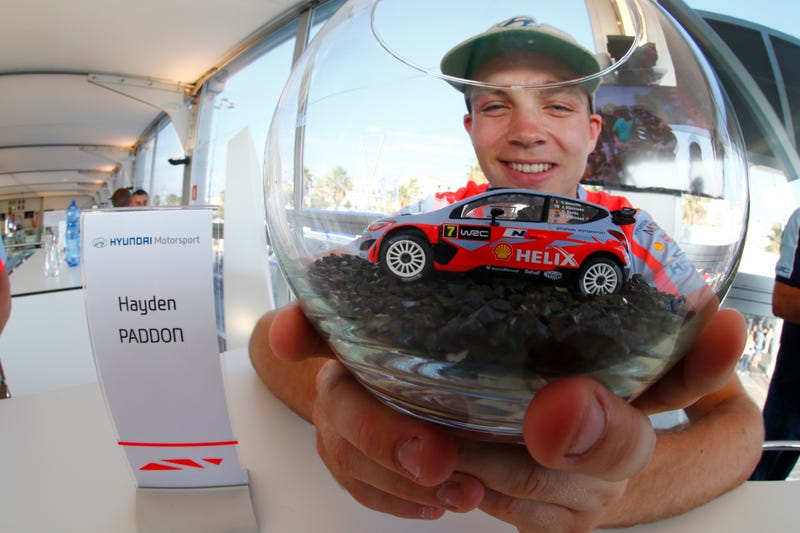 The World Rally Championship saw a new star emerge last year in the form of a Kiwi named Hayden Paddon. Hayden put himself center stage in Italy by outpacing Sebastien Ogier and maintaining a healthy lead until mechanical woes relegated him to second place. But there's a different arena where Hayden's been making waves in a way all professional drivers could learn from: Twitter.
Most drivers in major motorsports never touch their own social media accounts, instead relying on "people" that handle their twitter accounts for them. Others simply use their twitter as a one-way interaction, making posts but not responding to messages. Hayden has done away with all that, working to make himself a driver of the masses. Last year he followed up every round of the WRC with a Twitter Q&A session titled #AskPaddon, during which he would spend an hour responding to any question sent his way. Sometimes this meant tweeting while on an exercise bike or getting ready to get on a plane (or probably at least once while on the bog).

In between live sessions Paddon still remains engaged, always willing to weigh in on a discussion or toss good natured jabs (usually at his Hyundai teammates) when he's not on the move. This friendly, down-to-earth, and accessible image has rapidly made him a fan favorite, and it looks like he plans on building upon that even more in 2016. In addition to the live post-rally Q&A sessions on Twitter he's also doing sessions before each rally on Facebook (the first one took place just before Rally Monte Carlo). As if that's not enough, he's opted to start a "how to" video series, which will give advice on how to get involved in the various aspects of rally and how to improve your performance if you're already involved.

The most interesting part of the video may be at the end, where a pop-up dialog box says to send a message to Hayden's facebook fan page for any extra questions or assistance on getting involved. The video also makes mention of Hayden's website, which has an extensive section on how to get started in rally. The website also shows the start of Hayden's next step in paying it forward, the Paddon Rally Foundation. A program that will help support rally competitors and rally clubs throughout New Zealand, starting later this year. Seeing a driver so eager to give so much back when he has yet to run a full season in the WRC is nothing short of incredible.

It should be mentioned that while the words on Twitter and Facebook are Hayden's (yes, he's really the one responding to you and giving Theirry Neuville flak, and misspelling "definitely" and "lose" every damn time), he does still have "people." It would be impossible to both be a full-time WRC driver and maintain as much of a social media presence as Hayden has without help, and due credit needs to go to Hayden's long-time girlfriend (and, as of January, fiancée) Katie Lane for managing it. The couple has been together since 2007, and Katie has been overseeing Hayden's media obligations from virtually the beginning. Since Hayden emerged onto the global stage the two have been the definition of a full-time rally couple, virtually inseparable as Katie goes to just about all of Hayden's races, tests, and other rally-related outings, and is usually even more busy at the events than Hayden is.

It's clear Hayden loves rally and wants to do what he can to share it with all those who are interested. That's a refreshing take in this age of #Blessed, spoiled, and sterilized competitors, and it's one more competitors can learn from. Keep it up, Hayden!