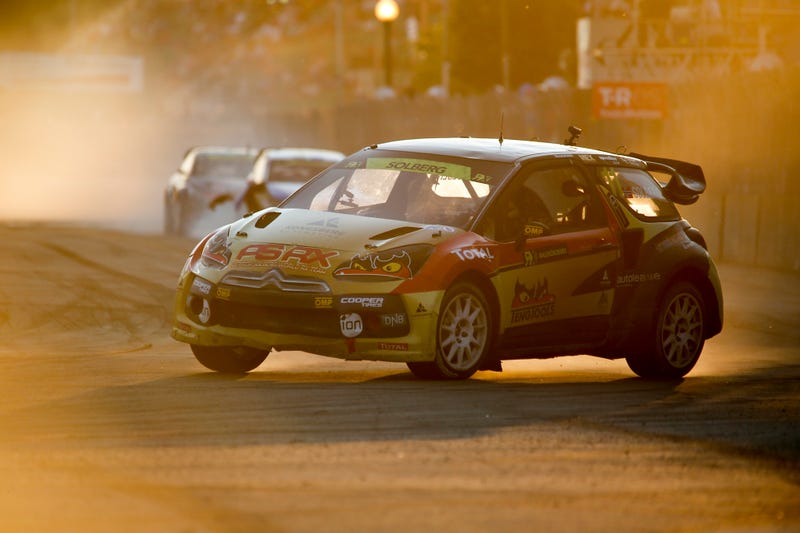 The World Rallycross Championship moved to another continent to kickstart the second half of the season last week. With 19 cars entered, it was a slightly smaller field of cars, and all the racing was done in one day.
And when the heats had finished, there was noone near Petter Solberg. The Norwegian was fastest in three out of four heats, and went on to win his semifinal as well. Following him to the final was initially both the Peugeot-Hansen drivers, but Timmy Hansen got disqualified because of an overtaking that was outside the track limits. Mettet winner Topi Heikkinen got the final spot instead, after an impressing drive with broken front suspension.
The other semifinal was dominated by Marklund Motorsport and OlsbergsMSE. Reinis Nitiss was initially out of the semifinals, but Olsbergs pulled wildcard driver Joni Wiman out from his fourth place so Nitiss could get more points for the championship. That's right, team orders in rallycross. But not even Reinis Nitiss could do anything with Anton Marklund and wildcard driver Patrick Carpentier. The Canadian had half an hour of testing before this event, but got on to the final and became the best Canadian. Anton Marklund took the win in the second semifinal.
So, what about the final? Well, once again there's nothing to do about Petter Solberg. The loose gravel and the tight sections of this Canadian street circuit seemed to fit him perfectly. Leading from start to finish, the Norwegian is the first double winner in WorldRX and extends his lead in the championship to 20 points over Topi Heikkinen. Marklund takes second, and Timerzyanov takes third after a spectacular final in the sunset in Canada.
Petter Solberg - 05:22.550
Anton Marklund +2.673
Timur Timerzyanov +4.614
Reinis Nitiss +5.141
Toomas Heikkinen +6.843
Patrick Carpentier - DNF
This means that Petter Solberg now leads the championship with a solid margin ahead of Topi Heikkinen. Reinis Nitiss is just two points behind Heikkinen, and Andreas Bakkerud and Anton Marklund also has over 100 points so far.
Petter Solberg - 155
Toomas Heikkinen - 135
Reinis Nitiss - 133
Andreas Bakkerud - 113
Anton Marklund - 111
Timur Timerzyanov - 93
Timmy Hansen - 92
Tanner Foust - 42
Robin Larsson - 40
Pontus Tidemand - 37
The next event is one of the biggest events this season; Loheac, France. Here we usually see a lot of competetive French wildcards, along with some big names from all over the world. As always, I'll be here with a preview once the entry list is released, along with other news from the world of rallycross.