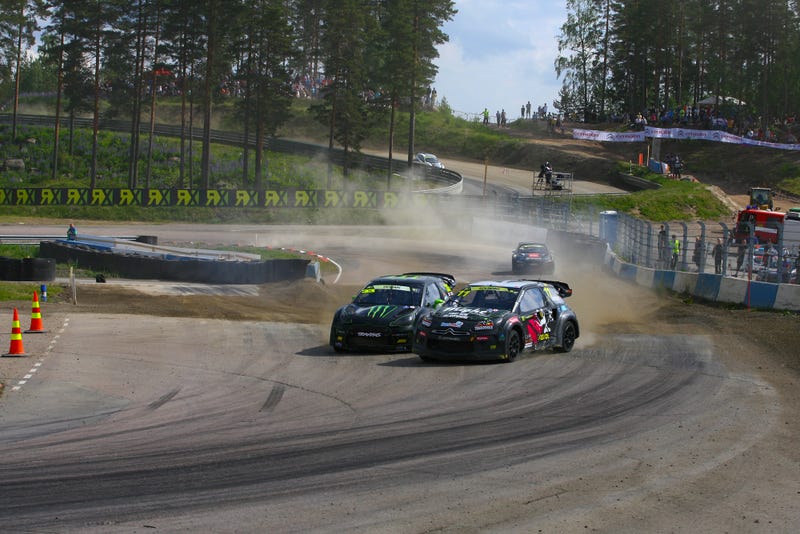 Finland is host to not one, but two racing World Championships this summer. The 1000 lakes rally is one of them, dubbed the Grand Prix of rallying because of the huge speeds the drivers get here. The other one is held this upcoming weekend, the World Rallycross Championship at Kouvola, Finland.
Some might say this track is the most beautiful of those found in WorldRX. Inbetween lots of pine trees is a track with jumps and several narrower sections. The track is 1060 meters long, with a width of 12-18 meters. There are more gravel here than in any event so far this year, with 42 %. The gravel-focused drivers, like Petter Solberg, likes this track a lot. The joker is located at the end of the lap, very different from what we've seen so far this year.
Kouvola isn't part of the European Rallycross Championship, so slightly less drivers here than what we've seen in England and Norway. That will make getting into the semifinal a bit easier, and some drivers might use this round to get back into the championship. Competition is still tough though, with 27 supercars. Tanner Foust makes another wildcard entry, and it will be interesting to see if he could repeat his wil from last year. Let's take a look at the entry list:
1: Timur Timerzyanov (RUS), Team Peugeot-Hansen - Peugeot 208
3: Timmy Hansen (SWE), Team Peugeot-Hansen - Peugeot 208
5: Pontus Tidemand (SWE), EKS - Audi S1
11: Petter Solberg (NOR), Petter Solberg World RX Team - Citroën DS3
12: Alexander Hvaal (NOR), Petter Solberg World RX Team - Citroën DS3
13: Andreas Bakkerud (NOR), OlsbergsMSE - Ford Fiesta ST
15: Reinis Nitiss (LVA), OlsbergsMSE - Ford Fiesta ST
16: Janne Kanerva (FIN) - Citroën C4
21: Bohdan Ludwiczak (POL) - Ford Fiesta
23: Teemu Patsi (FIN) - Ford Fiesta
25: Jacques Villeneuve (CAN), Albatec Racing - Peugeot 208
26: Andy Scott (GBR), Albatec Racing - Peugeot 208
33: Liam Doran (GBR), LD Motorsports - Citroën DS3
34: Tanner Foust (USA), Marklund Motorsport - VW Polo
44: Krzysztof Skorupski (POL), LD Motorsports - Citroën DS3
45: Atro Määttä (FIN) - Ford Fiesta
54: Jos Jansen (BEL) - Ford Focus
56: Silvo Viitanen (FIN) - Ford Fiesta
57: Toomas Heikkinen (FIN), Marklund Motorsport - Volkswagen Polo
58: Riku Tahko (FIN), #Minisuomi - Mini Cooper
59: Aki Karttunen (FIN), ARP-Motorsport - Skoda Fabia
60: Joni-Pekka Rajala (FIN), Peter Hedström Motorsport - Skoda Fabia
61: Valdur Reinsalu (EST), Reinsalu Sport - Ford Fiesta
62: Andri Oun (EST), Reinsalu Sport - Ford Fiesta
66: Derek Tohill (IRL), LD Motorsports - Citroën DS3
80: Markus Winkelhock (DEU), EKS - Audi S1
92: Anton Marklund (SWE), Marklund Motorsport - VW Polo
Of course, a lot of Finns with funny names, and the occassional Estonian. Most of the drivers are already described in the mega guide, and some in other previews. Some of them are new though, so let's take a closer look.
Janne Kanerva: Kanerva usually competes in the Finnish rallycross championship, but will enter the Finnish round of WorldRX in a Citroën C4 previously used by Kenneth Hansen. He won bronze in the national championship last year, but a spot in the semifinals will be a bonus here.
Teemu Patsi: This Finn works with a snowmobile rental service and a racing school, and uses his spare time driving in rallycross with a Ford Fiesta. I'd be surprised if he gets any points from this event, since I can't find any notable results from him anywhere. He will enter both here and in Sweden, though.
Atro Määttä: Atro plans on entering both in Kouvola and Höljes this year, with a new Ford Fiesta. He also entered those events last year, but encountered mechanical problems. He was however crowned Finnish Rallycross Champion in 2012, so he surely knows how to drive.
Silvo Viitanen: Another Finn, and Silvo is another driver that has entered the Finnish and Swedish round in recent years. This year he's only entered for the Finnish round, and will be a decent competitor in the heat sessions.
Riku Tahko: Despite the name, this driver isn't Mexican, but Finnish. He will appear in a Mini (!), taking a break from the Finnish rally championship. With experience from the WRC, I can see him in a semifinal here at Kouvola.
Aki Karttunen: This Finn also entered in Kouvola last year, without scoring any points. He usually drives in the Finnish Championship, and will probably be another obstacle in the hunt for a semifinal spot.
Joni-Pekka Rajala: Another Finn from the local rallycross championship, which he won in 2011. He will enter in Finland with a rented Skoda Fabia from Peter Hedström, a car that is capable of good results. This is his first time competing at the top level of rallycross.
Reinsalu Sport: Competing at both Kouvola and Höljes, the Estonian drivers Valdur Reinsalu and Andri Oun returns to two out of the three events they competed in last year. Reinsalu is a veteran of the sport, with several outings in the European Championship, though with a slight lack of success. Andri Oun is younger, but doesn't seem to have the talent to get to a semifinal here.
Markus Winkelhock: Ah, finally someone that doesn't require google translate during research. The former DTM- and Formula 1-testdriver will make a guest appearance in the car of Mattias Ekström here in Finland, while Ekström drives in DTM at Norisring.
You can watch the action on Livestream from 14:30 CET on Sunday, with a summary of the heats and finals shown live. Check out the website rallycrossrx.com for live timing during the heats.
Last year Petter Solberg had really found his rythm in rallycross. He was fast the whole weekend, and ended up with a huge lead in the final. However, he broke several parts in the front suspension on the jump, and lost his lead to Tanner Foust. Foust then ended up with his second win last year, followed by Timur Timerzyanov and Timmy Hansen.
A track that promises a lot of action, that's for sure!