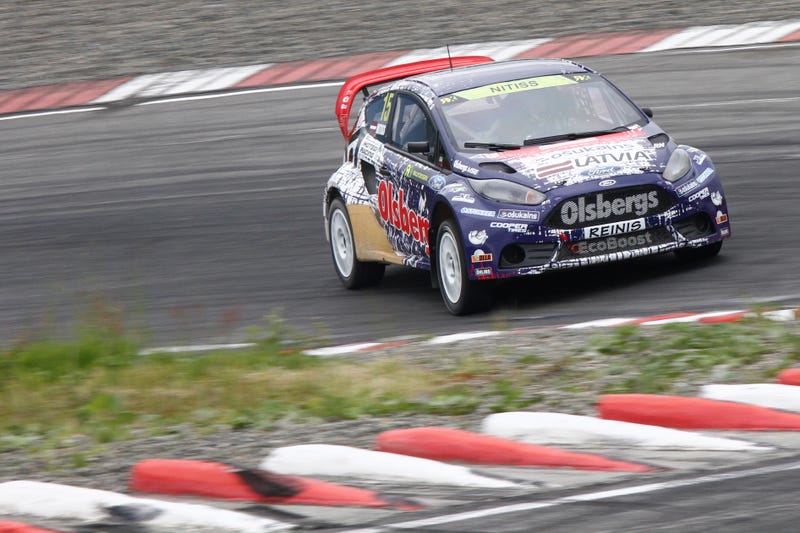 The third round of the FIA World Rallycross Championship was held in Hell, Norway this weekend. The event had 38 supercars entries, so this would be another hard event for those with championship ambitions. All the EuroRX drivers and wildcard entries make getting into the semifinal quite hard, and the track wasn't making it easier.
Coming back from racing the Indy500, Jacques Villeneuve rolled during testing at Höljes last week. The car was too damaged to be repaired in time for the race, but since Villeneuve is the main driver in the Albatec team, team owner and driver Andy Scott let Villeneuve drive his car in Hell. After three heats he was just inside the top 12, but a puncture in H4 meant he lost too much time, and his place.
One the drivers that got past Villeneuve was Andreas Bakkerud. The championship leader arrived in Hell with a proper mustache, a result of a "lost" bet with local media. The mustache didn't make him go faster though, and he just got through to the semifinal with a 12th place after four heats.
Daniel Holten also got past Villeneuve with a very good time in the fourth heat. The Norwegian talent has been driving in RX Lites so far this season, but proves that he's got the speed to get into the semifinals. Reinis Nitiss had been fast the whole weekend, and got a second place overall from the heats. Not bad from the young Latvian, and that meant all three OlsbergsMSE cars was in the semifinal.
Liam Doran obviously likes this track, after winning here last year. Two heat wins secured him first place after four heats, just ahead of Nitiss. Last years European champion Timur Timerzyanov has had some bad luck this year, but managed a third place after the heats. Timmy Hansen also got through, making this a nicer weekend for Hansen-Peugeot. Ken Block also managed to get into a semifinal in his first appearance in the European Rallycross scene. Marklund Motorsport also got both of their cars through. Overall, the top 16 after the heats looked like this:
Liam Doran
Reinis Nitiss
Timur Timerzyanov
Toomas Heikkinen
Petter Solberg
Timmy Hansen
Anton Marklund
Ken Block
Daniel Holten
Emil Öhman
Henning Solberg
Andreas Bakkerud
Peter Hedström
Pontus Tidemand
Jacques Villeneuve
Tommy Rustad
Which means semifinal one was Doran, Timerzyanov, Petter Solberg, Marklund, Holten and Henning Solberg. As the clouds grew larger and darker, the drivers realized that Norwegian nature isn't very predictable. Rain was imminent. In an interview Petter said that his goal was to be on the front row in the final, but that wasn't going to be easy. Sitting on second row in the semifinal isn't a good starting position, but Petter went straight into the joker lap while Doran and Timerzyanov tangled up in the regular line. With clear track ahead of him, Petter went on to win the race, with Timerzyanov and Henning in second and third. Disappointment for Doran after the dominance in the heats, but his rough driving style was too much this time, resulting in a puncture and no chances of reaching the final.
Semifinal two was Nitiss, Heikkinen, Hansen, Block, Öhman and Bakkerud. The clouds were now even darker, and drops had started to fall. Emil Öhman didn't have the best start, and quickly disappeared completely from the race. Bakkerud fought like a hero, with good speed from his bad starting position. His teammate Reinis Nitiss had taken the lead, and extended that lead in such manner that he won the heat. Only just though, as Timmy Hansen followed him to the line. Bakkerud pushed to pass Ken Block, it was too little too late. Block goes on to the final in his first WorldRX event!
The final started with Petter and Nitiss both having a good start, but since Reinis had the inside line, Petter had to take the joker in his first lap. He was followed by Timmy Hansen and his brother Henning. Henning and Timmy then had a clash in the first corner, with both of them losing time. Ken Block and Timur Timerzyanov went for the normal lap behind Nitiss. It looked like a battle between Nitiss and Solberg now, and the fastest driver would be ahead when everyone had been through the joker.
At this point Nitiss had opened up a huge gap in front of Timurzyanov, who had Solberg right behind him. Block had taken his joker early, and was showing decent speed. Nitiss then improved his laptimes even more, going faster than Solberg each lap. Taking the joker at the last lap, Nitiss got ahead of Solberg. Solberg decided to settle for second place, so 18-year old Nitiss took his first WorldRX win! Ken Block also impressed with a third place, it will be interesting to see him in France and Turkey as well.
Reinis Nitiss: 04:07.165
Petter Solberg: +0.988
Ken Block: +3.892
Timur Timerzyanov: +5.374
Henning Solberg: +9.875
Timmy Hansen: +43.216
With this win Nitiss also takes over the overall lead in the championship, three points in front of Petter Solberg. Those are the only two drivers to qualify for all the finals so far, and that pays off with championship. Andreas Bakkerud drops down with only 7 points this weekend, but he's still very much in the race for the championship. Top 10 below:
Reinis Nitiss - 72
Petter Solberg - 69
Toomas Heikkinen - 60
Andreas Bakkerud - 56
Timur Timerzyanov - 41
Anton Marklund - 39
Timmy Hansen - 37
Robin Larsson - 25
Liam Doran - 18
Koen Pauwels - 17
The World Rallycross championship continues its Scandinavian tour with the next round in Kouvola, Finland the last weekend in June. I'll be back with a preview for that next week! Meanwhile, take a second look at the final from Hell: