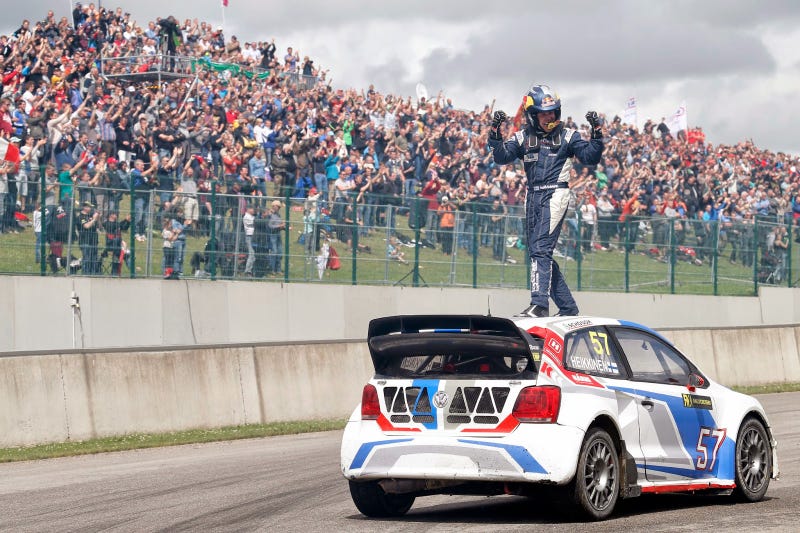 Ok, so I'm a bit late with this one. I have to blame work, nice weather and the fact that I kind of forget the internet during summer.. Anyway, Mettet saw the sixth winner in six event, with Topi Heikkinen taking his first win in WorldRX. Most competetive racing series at the moment? Who knows.
The final saw Topi along with teammate Anton Marklund, Petter Solberg, Pontus Tidemand, Timmy Hansen and Johan Kristoffersen. Kristofferson was the surprise this event, being third after the heats and winning his semifinal in only his second event. Out of the drivers competing for the championship, only Topi and Solberg got to the final. Both OlsbergsMSE drivers encountered problems during the weekend, most fatal for Andreas Bakkerud. The young Norwegian got an engine failure in heat 1, missing heat two. A collapse rear suspension in heat 3 meant that the semifinals were out of reach. Reinis Nitiss crashed with Henning Solberg during one of the heats, but managed to get to the semifinal, where he finished fifth.
In the final Topi was leading in front of Petter Solberg before he suddenly jokered, leaving Petter Solberg with an open track. Petter tried to push, but ended up with a destroyed rear suspension, and had to see the podium spot slip after going in the joker in the last lap. Timmy Hansen and Johan Kristofferson got the remaining podium spots behind Topi.
Toomas Heikkinen - 04:05.840
Timmy Hansen +0.335
Johan Kristofferson +1.158
Petter Solberg +2.928
Anton Marklund +6.694
Pontus Tidemand - DNF
This, combined with the bad luck for OlsbergsMSE, means that we have some changes in the championship standings! Petter Solberg is back as the overall leader, and Topi goes past Bakkerud and up to third.
Petter Solberg - 125
Reinis Nitiss - 122
Toomas Heikkinen - 117
Andreas Bakkerud - 99
Anton Marklund - 85
Timmy Hansen - 78
Timur Timerzyanov - 76
Tanner Foust - 42
Robin Larsson - 40
Pontus Tidemand - 37
The next race is actually on another continent, North America to be specific! It will held in Trois-Rivieres, Canada, close to Montreal and Quebec August 7-8th. I'll be back with a preview when entry lists arrive. Until then, have a good summer!