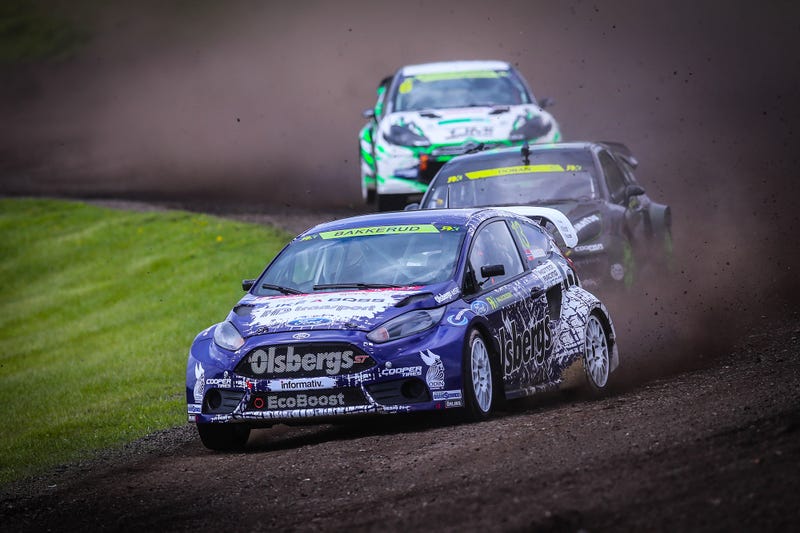 The second round of the World Rallycross Championship at Lydden Hill in England promised a lot with the huge entry. And how it delivered. Fires. Punctures. Awesome Interesting start moves. Wildcards. Saabs. Forgotten joker laps. This event had it all.
Cramped inbetween the F1 Monaco Grand Prix and the Indianapolis 500, WorldRX could not have a better timing. Even if the finals got overlapped by the Indy broadcast, a lot of motorsport fans without a relationship with WorldRX found the livestream. For those that missed out: it's still availible on livestream. No excuses. Go watch it after you've read this.
After day 1 Andreas Bakkerud lead the heat sessions in front of Tanner Foust and Topi Heikkinen. It was still quite close, so they all had to do well in heat 3 and 4. In H3 Foust was in the same race as Montalegre winner Petter Solberg. Solberg had proved to be one of the fastest drivers at Lydden as well, but a stall in H1 meant that Solberg was a bit behind the leaders. Of course he wanted to do something with that. After three good laps Foust and Solberg were leading with a good margin, though they still had to take the joker.
The joker lap is, as mentioned in a previous article, a longer alternative route than the normal lap. The drivers have to take this route once a race, twice in case of a head start. At Lydden Hill the joker lap was right after the start, splitting the first corner into an inside gravel line and an outside line tarmac line with a tight chicane. That way some of the grid positions implies a joker in the start, while some positions makes the regular line faster.
All of the drivers have radio communication with a spotter that tells them when to go in the joker. Just before Petter Solberg is about to enter his last lap, his last opportunity to take the joker, we see Pernilla Solberg (his wife and spotter) speaking in the radio. But what happens? Petter continues as usual, in the regular faster line. Foust follows, though he was also supposed to take the joker. In an interview after the race Solberg says that he didn't hear anything. So, what happened? Radio problems? Sabotation? Who knows.
Anyway, lets get on with the event. Foust and Solberg went on to win their heat races in H4, also setting the fastest times. Solberg even got the inside lane after starting in the outer position. Not sure how he managed that, but he is after all Petter Solberg. He does those things. That means top 16 after the heats were like this, with the top 12 going to the semifinals:
Andreas Bakkerud
Robin Larsson
Toomas Heikkinen
Reinis Nitiss
Petter Solberg
Jerome Grosset-Janin
Tanner Foust
Andrew Jordan
Henning Solberg
Andy Scott
Timmy Hansen
Anton Marklund
Fabien Pailler
Koen Pauwels
Alexandre Theuil
Lukas Walfridson
Semifinal one saw no less than three Norwegians, including the Solberg brothers and heat winner Bakkerud. Tanner Foust and Topi Heikkinen also raced in this final, as well as Fabien Pailler. Timmy Hansen should have raced in this final, but electrical problems meant that the spot went to the Frenchman. Bakkerud and Petter Solberg took the start, while Foust stalled. Heikkinen went straight into the joker, and got a clean track ahead of him. Meanwhile Petter got past Bakkerud, but had to see Heikkinen pass him after he took the joker in the last lap. Foust had meanwhile worked his way up to fourth place. In the hunt for semifinal victory (and front row in the final) Solberg made a mistake and Bakkerud could pass him. That means Heikkinen on front row, Bakkerud on second and Petter on third.
In the second semifinal we saw OlsbergsMSE drivers Reinis Nitiss and Andrew Jordan, as well as surprise of the weekend Robin Larsson. Anton Marklund, Andy Scott and Jerome Grosset-Janin completes the final. Both OlsbergsMSE drivers went into the joker in the start, and missed a crazy amount of going flat out, missing braking and contact. That meant that the time they got behind in the joker was made up before everyone else had taken the joker! Grosset-Janin suffered a broken rear wheel and was out, and Andy Scott went out in the ditch a bit too often. This meant Nitiss, Larsson and Jordan got through to the final, in that order.
Reinis Nitiss did however encounter problems with his car, and couldn't make it to the final. That meant Tanner Foust got his place in the final! It seems like most of the guys wanted the inside line in the start, but Bakkerud and Foust went into the joker, thus getting a clean track ahead of them. Out of the drivers that took the ordinary line, Larsson was smartest through turn 1 and got an early lead. Solberg got caught in third place and decided to go to the joker, only to get out on the side of Foust. As both were having a late braking contest Petter slid into Foust, and both spun. Meanwhile Bakkerud were having a clean, fast race and had caught up with Marklund and Jordan. Those two and Larsson still had their jokers left, but Larsson still had a big enough gap to keep his lead.
So, what to do? Pass Marklund before he takes his joker, of course! In an incredible pass with a slight bit of contact he makes it through, though with the rear wheelarch rubbing the tire. A puncture is likely to come, but Bakkerud floors it and only just gets past both Jordan and Larsson when they take the joker. As this is the last lap, Larsson has no overtaking opportunities left and Bakkerud takes the victory!
Andreas Bakkerud - 04:25.428
Robin Larsson +0.541
Andrew Jordan +1.389
Toomas Heikkinen +6.370
Tanner Foust +10.075
Petter Solberg +12.557
With this win Bakkerud takes over the overall lead in the championship, three points ahead of Petter Solberg. Heikkinen is in third, and Nitiss in fourth. Those are the top drivers after two events, though things can change quickly. Top 6 drivers:
Andreas Bakkerud, 49
Petter Solberg, 46
Toomas Heikkinen, 44
Reinis Nitiss, 43
Anton Marklund, 26
Robin Larsson, 25
Timmy Hansen, 20
Timur Timerzyanov, 19
Koen Pauwels, 17
Andrew Jordan, 17
Bakkerud also stated that if he lead the championship after the first two rounds, he would grow a moustache for the round in Hell. I have no idea if it is to honor rallycross legend Martin Schanche or just making fun of mustache traditions in that part of Norway, but still a funny idea. I'll keep you updated, that's for sure.
Will Andreas Bakkerud (left) look like Martin Schanche in a few weeks time?