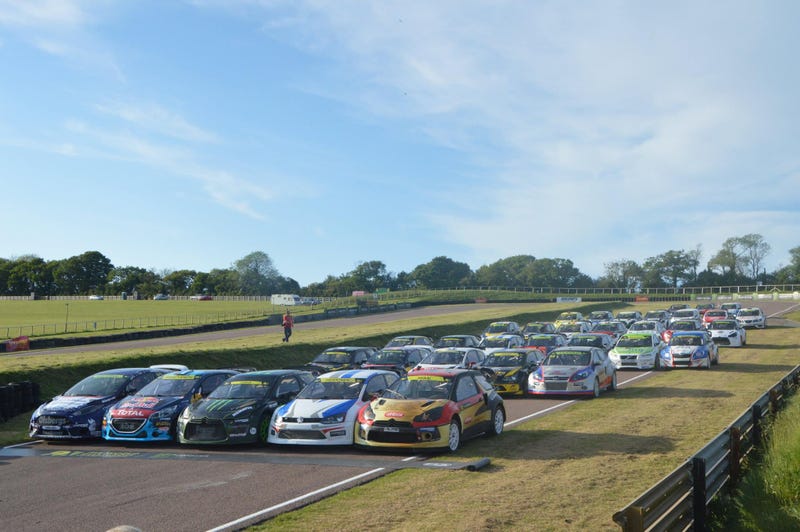 The first day of the second round of WorldRX is done, with results from heat 1 and 2. You won't win the event on day one, but you can lose it if you have bad heats. One of the more dramatic events happened in the free practice session though, as Anton Marklunds car caught fire:
Not that much drama in the first heat, though championship leader Petter Solberg had a stall. Despite the problem he got up to second place in his heat and 12th time overall. Andreas Bakkerud was dominant, nearly a second faster than Topi Heikkinen in second place. Current European champion Timur Timerzyanov was third, with Tanner Foust in fourth. Not a lot between the top 20 drivers in the first heat, so small mistakes can have huge consequences. Especially home favourite Liam Doran had a bad heat, placing in 27th. Ramona Karlsson will also have to improve her 28th position, as well as Alexander Hvaal in 23rd.
Between the two heats the racetrack saw a bit of rain (rain in England?!), so some of the times in H2 was slightly slower than those in H1. Rain doesn't seem to affect Petter Solberg though, as he went another second faster than what Bakkerud did in H1. That was also the fastest time in this heat. Tanner Foust won his race, securing him the second fastest time in this heat. Could he make it three in a row at Lydden? Rookie Robin Larsson took third, with current BTCC champion Andrew Jordan at fourth.
Andreas Bakkerud still leads overall though, with Tanner Foust now up in second. Topi Heikkinen is in third, and Petter Solbergs H2 win secures him the fourth spot. Things are still very tight, and the drivers can't miss out on a heat if they want to get to the semifinal. Nothing is decided yet, as we'll see H3 and H4 as well as the finals tomorrow. Top 20 after H1 and H2 (expand for readable version):