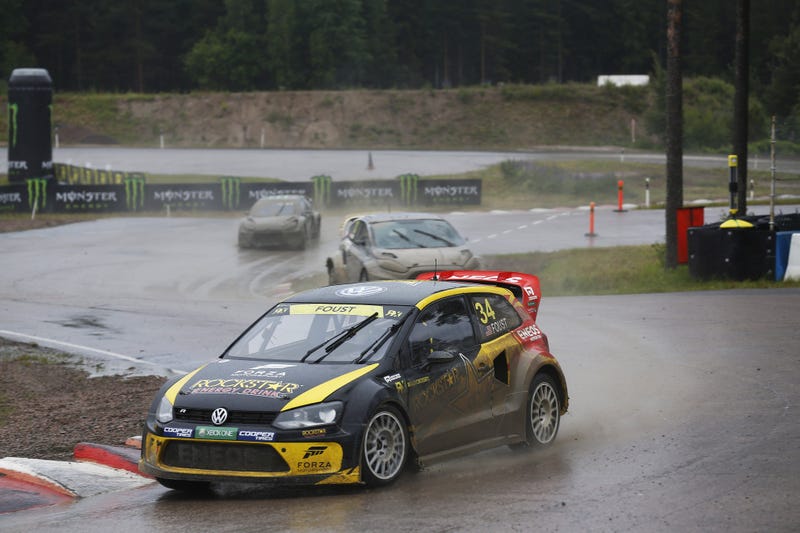 We're in the middle of the most important and intense part of the World Rallycross Championship, with the Scandinavian rounds in Hell, Kouvola and Höljes and then in Mettet in Belgium. Four events in five weekends. Since I'm a bit busy preparing for Höljes, this will be a slightly condensed version with both a review of Kouvola and a preview of Höljes in the same article.
When I say condensed, that's excactly what happened in Kouvola. Heavy rainfall on Sunday made the track extremely slippery. Wet surface, mad rallycross drivers and 600 hp rallycross cars doesn't mix that good, as there was more spins and crashes in this event than in the first three events combined. Timmy Hansen got rolled earlier in the event, and got caught by the tricky conditions in the first semifinal. Finnish wildcard Joni-Pekka Rajala and Timur Timerzyanov also encountered problems, and Nitiss, Bakkerud and Skorupski (!) could cruise to the final.
The other semifinal included Tanner Foust, Petter Solberg, Anton Marklund, Derek Tohill, Liam Doran and Topi Heikkinen. A huge crash in the second, tightening corner between Tohill and Heikkinen caught Doran and Solberg as well, and caused a red flag. Only Solberg (after some intense mechanical work), Marklund and Foust made it to the rerun, and since they were guaranteed a spot in the final they just drove around the six laps without much action.
So, the final saw Tanner Foust and Reinis Nitiss on the first row, with Marklund and Bakkerud on the second row and Skorupski and Rajala (!) on the third row. Rajala took Solbergs spot because Petter couldn't get the car ready in time, even though it was just a minute away. Everyone knew that the driver that could take the start would have a huge advantage because of the amount of mud thrown up by the cars in front.
Like in the semifinal, Tanner Foust took the start and kept an impressive speed through the whole race. Luckily for him, because his window wipers failed during the final! Andreas Bakkerud made some impressive passing and got up to second, with Reinis Nitiss in third.
Tanner Foust - 04:59.725
Andreas Bakkerud +3.675
Reinis Nitiss +5.455
Krzyzstof Skorupski +19.638
Anton Marklund +26.014
Joni-Pekka Rajala - DNF
This result means that Nitiss extends his lead in the championship, and Bakkerud gets back past Petter Solberg. Marklund Motorsport should also be very satisfied, with both Anton Marklund and Topi Heikkinen fighting in the top.
Top 10 after four rounds:
Reinis Nitiss: 96
Andreas Bakkerud: 82
Petter Solberg: 80
Toomas Heikkinen: 74
Anton Marklund: 61
Timmy Hansen: 48
Timur Timerzyanov: 48
Tanner Foust: 42
Robin Larsson: 25
Henning Solberg: 22
So, let's move on to Höljes then! The most popular event of the year together with Loheac in France, gathering up to 30000 spectators. This year I'm going to be one of them, since it's only three hours from where I live in Norway. This event always gathers the best from both Sweden and Norway, and getting to a semifinal here will be extremely challenging.
The track itself is just by the border to Norway, in the Finnskogen region in Värmland. It's one of the longer tracks with 1210 meters, and a width ranging from 10 to 16 meters. 60 % is asphalt and 40 % is dirt, like most rallycross tracks are. The track is surrounded by campsites, where spectators live and party during the weekend.
We've been talking about record numbers when it comes to entrants this year, but Höljes is something of its own. Here we will have 40 supercars. 40! I'm not sure if they have set a cap here, but it sure is a huge starting field. Remember, only 12 go on to the semifinal.
1: Timur Timerzyanov (RUS), Team Peugeot-Hansen - Peugeot 208
3: Timmy Hansen (SWE), Team Peugeot-Hansen - Peugeot 208
4: Robin Larsson (SWE) - Audi A1
5: Pontus Tidemand (SWE), EKS - Audi S1
8: Peter Hedström (SWE), Hedström Motorsport - Skoda Fabia
10: Mattias Ekström (SWE), EKS - Audi S1
11: Petter Solberg (NOR), Petter Solberg World RX Team - Citroën DS3
12: Alexander Hvaal (NOR), Petter Solberg World RX Team - Citroën DS3
13: Andreas Bakkerud (NOR), OlsbergsMSE - Ford Fiesta ST
14: Frode Holte (NOR) - Hyundai i20
15: Reinis Nitiss (LVA), OlsbergsMSE - Ford Fiesta ST
17: Mats Öhman (SWE) - Citroën DS3
21: Bohdan Ludwiczak (POL) - Ford Fiesta
23: Teemu Patsi (FIN) - Ford Fiesta
24: Tommy Rustad (NOR), HTB Racing - Volvo C30
25: Jacques Villeneuve (CAN), Albatec Racing - Peugeot 208
26: Andy Scott (GBR), Albatec Racing - Peugeot 208
27: Davy Janney (FRA), LD Motorsports - Citroën DS3
31: Tore Kristoffersen (NOR) - Ford Fiesta
33: Liam Doran (GBR), LD Motorsports - Citroën DS3
35: Ole Håbjørg (NOR) - Renault Clio
39: Åke Holtet (NOR) - Ford Fiesta
40: Eric Faren (SWE) - Citroën DS3
42: Ludvig Hunsbedt (NOR) - Ford Focus
45: Atro Määttä (FIN) - Ford Fiesta
47: Ramona Karlsson (SWE), Per Eklund Motorsport - Saab 9-3
48: Lukas Walfridson (SWE), Helmia Motorsport - Renault Clio
49: Rene Münnich (DEU) - Skoda Fabia
52: Ole Christian Veiby (NOR), Kristoffersson Motorsport - VW Polo
53: Johan Kristofferson (SWE), Kristofferson Motorsport - VW Polo
54: Jos Jansen (BEL) - Ford Focus
57: Toomas Heikkinen (FIN), Marklund Motorsport - VW Polo
60: Joni-Pekka Rajala (FIN), Hedström Motorsport - Skoda Fabia
63: Roman Stepanenko (RUS), TT Motorsport - Citroen C4
64: Stian Haugan (NOR) - Citroën C5 (?)
65: Fredrik Tiger (SWE) - Ford Focus
66: Derek Tohill (IRL), LD Motorsports - Citroën DS3
73: Daniel Holten (NOR), OlsbergsMSE - Ford Fiesta ST
88: Henning Solberg (NOR), Per Eklund Motorsport - Saab 9-3
92: Anton Marklund (SWE), Marklund Motorsport - VW Polo
93: Sebastian Eriksson (SWE), OlsbergsMSE - Ford Fiesta ST
99: Tord Linnerud (NOR), Helmia Motorsport - Renault Clio
I don't really have time to write about every new driver here, but you should note that former European champion Ludvig Hunsbedt is making a return to the sport. Andy Scott should also be back after loaning out his car to Villeneuve for a few events, and the dominant team OlsbergsMSE will enter two additional cars here with Daniel Holten and Sebastian Eriksson. Davy Janney will also replace Skorupski in the LD Motorsports team. All I know is that it will be a huge level of competition in this round as well!
As always you can watch the action on livestream, with a summary of the heats and live finals. I'm not quite sure when the stream starts, but it's most likely around 14:30 CET on Sunday.
I'll keep you updated via my twitter account during the weekend about the life at a rallycross event. Feel free to make your prediction in the comments as well!