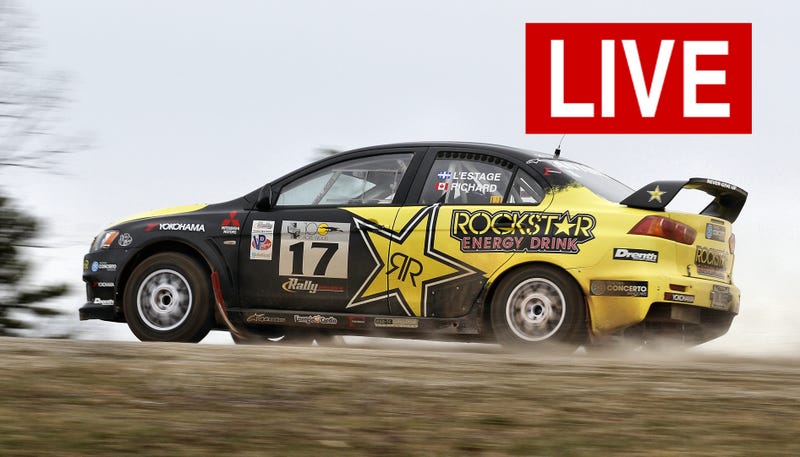 It's impossible to talk about the best rally drivers in North America without mentioning Antoine L'Estage near the head of the list, and with good reason. Over the course of the past decade he has become the yardstick (or perhaps meter-stick) for North American competitors. A second-generation rally driver from Quebec, Antoine grew up watching his father compete, instilling the rally bug in him early. In the late 90's Antoine began racing himself, doing some of the Eastern Canada events in a 1985 Toyota GTS. With a move up to an all-wheel drive 1990 Eagle Talon in 2001 Antoine gave the first real indication of his abilities, winning the Novice class of the Canadian Rally Championship and finishing an impressive eighth in the overall points. Five years later, after two runner up finishes, Antoine would claim the Canadian national title, beginning his run of Canadian rally domination.
Since that first championship in '06 Antoine has been crowned king five of the last seven years, only missing the top step in 2008 and 2009. In 2010 he became a multinational champion by unseating the factory juggernaut Subaru Rally Team USA and winning the Rally America National Championship, becoming only the second ever privateer to win the American national title since Rally America took over championsip duties from the SCCA at the start of the 2005 season (the first was fellow Canadian Pat Richard in 2005) and the only non-Subaru driver to win the Rally America title. By winning both the American and Canadian rally championships Antoine easily won his third North American Rally Cup (a title that goes to the best performer on both sides of the border), making him only the second driver in history to win all three titles in the same year. At X Games he rounded out his 2010 dream season with a bronze medal in X Games Rally. Though he missed the 2011 Rally America national championship by a mere 5 points to Manx driver David Higgins he did win his fourth Canadian Rally Championship and North American Rally Cup, repeating the same performance again in 2012. Between the Canadian championship, Rally America, and the North American championship Antoine has a total of 11 titles and an incredible 38 national event wins, the most of any currently active North American driver.
Antoine recently made Jalopnik fame for his crash of an ex-WRC Mitsubishi Lancer at this year's Oregon Trail Rally, his first big off in eight years, but despite this one incident he is still considered one of the most consistent and fast drivers at any event.
Antoine will be here from 2-3 PM today to answer any and all questions. The floor is officially yours.
UPDATE: Antoine had to leave but he had a lot of fun. Thanks for all your questions!
Lead photo credit: Scott Rains
Second/third photo credit: Aaron Kathman