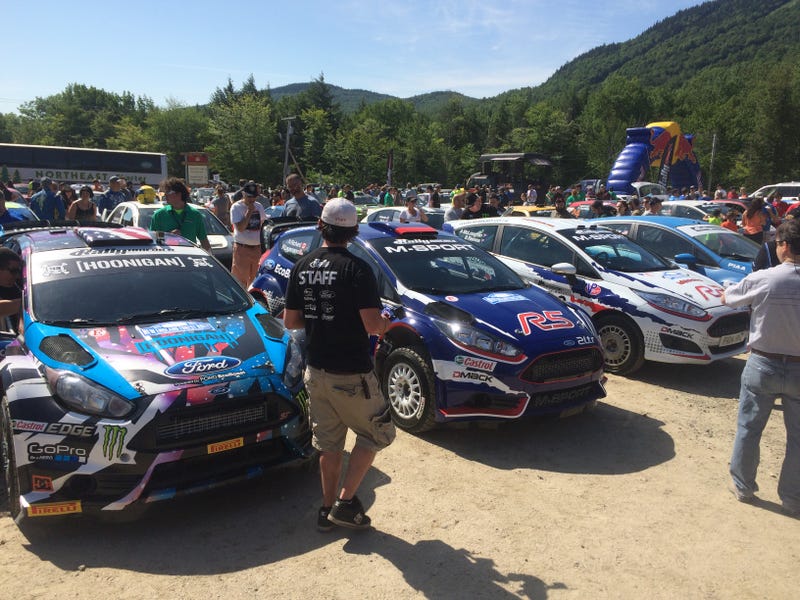 It all started with Raphael Orlove and an inside joke. A few years back I invited Raph, who hadn't been to any rally events at the time, to join me at Team O'Neil Rally School for a day and a story. This little expedition planted the rally bug in Raph, and as it burrowed he both attended more rally events, and also seemingly posted more rally content on Jalopnik. I jokingly called this "The Rally Takeover," announcing that I had indoctrinated Raph with rally and would not stop until the entire Jalopnik staff had been infected. The joke became a hashtag, then when group theme blogs became possible through Kinja the hashtag became an actual site.
At first it was unclear what form The Rally Takeover should take, beyond "nothing but rally content." The early days were a few Q&A sessions, the story of the Nameless GT86 Rally Car, and shares of Jalopnik's rally-related posts. As time passed though, we found our voice and our place. The Rally Takeover is, first and foremost, stories told by the people who love rally, be them competitor, crew, organizer, volunteer, or fan. This is not a place for press releases or sanitized reports, but for news and stories with individual perspective and emotion. There is no advertising here, nobody makes money in any way for this, it is entirely about the love of rally.
We have been fortunate enough to assemble a varied collection of enthusiasts (more than I can mention here) who have decided to devote some of their free time to writing on here. We have a number of authors who are actively competing in the North American rally scene (including myself, PeliJep, Santiago, and Tachyon Racing), as well as our superstar ("semi") professional international co-driver Alex Kihurani. We try to tell the stories of being a competitor, and in particular the aspects that often aren't seen or explained. We also try to give advice to those interested in getting into rally, because we all want to see more people partaking in this magical sport (note: no guarantees all our advice is "good").
Justin Hughes is our Swiss Army Knife of rally input. He rallycrosses, runs radios at stage rallies, and sometimes drives the stages as one of the course open cars (sometimes in a Mustang press car). He provides both good North American rally news and opinions, but also great info on how to take that first step into motorsports and rally/rallycross.
Hoccy is our Euro-style rallycross expert, and is arguably more passionate about World Rallycross and the GRC than the competitors themselves. He is a master at providing the rallycross news, stories, and rumors that we may miss here in the states. Also snark.
Going forward our goals are simple, to share rally news and rally stories, particularly the news and stories you might not see on other sites. We're less "here's the summary of Rally Monte Carlo" and more "Loeb's going to World Rallycross to resume job as Petter Solberg's personal nightmare" or "here's how I ended up upside-down in a Welsh sheep pen." We will also continue to share rally content written by our indoctrinated sleeper agents at Jalopnik. In part because they have the same sense of choosing the more exciting stories and media that exists beyond the results, but also because these people our ours and the uprising is coming.
I would like to close with an invitation. Despite the miniscule amount of coverage it gets rally is a massive sport, with each event producing a million stories that never get told (at least not outside of a pub). So, for anyone passionate enough about rally that they'd be willing to sit down at a keyboard from time to time, we want you. We want your help telling the stories, be they personal tales, stories of people/teams/cars you know, half-forgotten rally history (rally history is grossly underrepresented in this world), or news that just isn't getting the attention it deserves. If you are interested, comment here or send a message to our Twitter. Ultimately we'd love to have competitors and fans sharing news and stories from around the world and from every level of competiton, from grassroots to international and (dare we dream) world championships.

Resistance is futile. The takeover has begun.