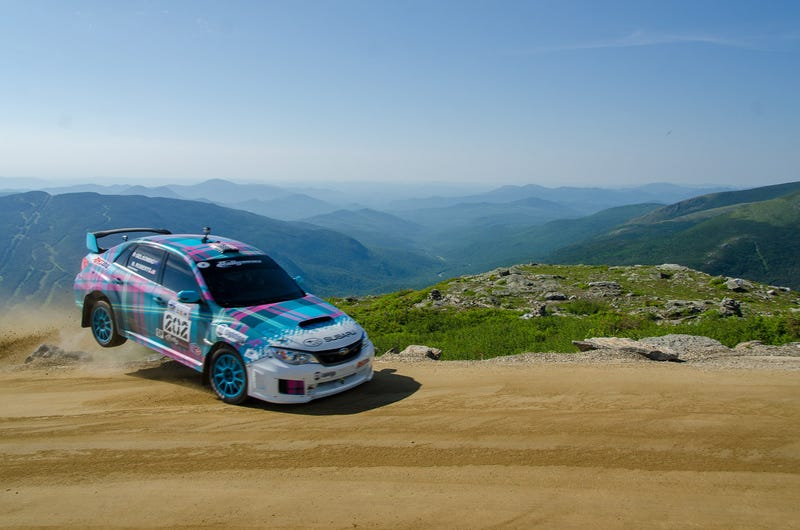 It's July, and we all know what that means! Summer! Sunshine! Freedom! Trying to find some way to keep your kids entertained now that they're out of school! What better way to combine all that than going out and witnessing a bunch of maniacs enjoying the freedom of driving balls out on gravel roads? (See what I did there?) That's right, it's time to see what July has in store for us in the world of U.S. and Canadian rally.
Black Bear Rally - Gilmour, ON - July 12-13
It may be called Black Bear, and it may be based in Gilmour instead of Bancroft, but those in the know can tell you what this really is: a chance to run the roads of Rally of the Tall Pines in the summer. I did Tall Pines for the first time November and I can tell you there are basically two types of roads, the bonkers roller coaster roads that can make rally drivers carsick to the west, and the endless, narrow, twisting, rough, water-crossing, more-technical-than-building-a-space-shuttle roads to the east. Black Bear uses these east roads, creating a situation where the road condition (no ice!) makes you want to go as fast as possible, but the second you fuck up you'll either find a tree in your lap or your wheel ripped off thanks to the Canadian Shield (unforgiving bedrock). Ludicrous speed and unforgiving precision, that's my kind of rally.
New England Forest Rally - Newry, ME - July 18-19
As my "home" rally NEFR will always hold a special place in my heart. That said it's not an event for wimps. The rally kicks off with the Concord Pond stage, widely considered one of the best rally stages in the country. From there it's two full days of competition on fast, tough logging roads. It's not unusual for top competitors to see speeds as high as 110 mph, but at the same time caution and awareness are key as wide roads can suddenly become narrow and it's not unusual to go over a crest and discover a basketball size rock half buried in the middle of the road. These "big baby head" rocks are one of the leading causes of retirement from the rally, and a prime example of why it's important to pay attention on recce.
From a spectator standpoint this is an event that needs extra research and planning. Because most of the stages are held on private logging roads in privately owned forests stage access is limited compared to events like STPR. In some cases the only real way to get to the stage is via shuttle bus. If you're thinking about attending be sure to take a careful look at the spectator guide, stage schedule, and website before you go.
Mendocino Rally - Clearlake, CA - July 25-26
Do you live in northern California? Are you frustrated that there aren't any rally events around you? Then I have great news! Up in the hills around Clearlake, CA, less than two hours from Sacramento, is a great event known as the Mendocino Rally. With mostly smooth, twisty roads covered in loose gravel this is a fast and sideways event. I've never been, but everyone I've talked to has touted it as a great rally. So you, Mr Californian! Go check it out!
This month in rally is a monthly series where we highlight upcoming rally events in the U.S. and Canada. For more information on an event, including spectator points and event contact info, click the link in the event title.