The plan was to try and get a top 5 finish in regional group 2 through safe and consistent driving. That plan went out the window real quick.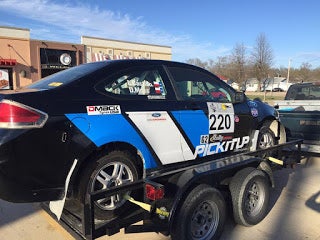 We arrived in Salem Wednesday night with a new, not thoroughly tested setup on the car, a co driver who hadn't even heard of stage rally till 2 months prior, a small handful of spare parts, a handbag full of tools, and a crew consisting one man who drove from North Carolina whom I had not met in person until the day before the rally.
Immediately after registration I received several panicked messages from a team member in California telling me my NASA log booked roll cage would not be accepted by Rally America. We stayed up late looking through rulebooks and locating fabrication shops around town and leaving messages that we may need last minute work. Thursday morning we did not attend recce and instead waited at the scrutineering location to have the car looked at as early as possible so we could make additions last minute if needed. After a short meeting with the Chief Scrutineer it was determined that my roll cage was well beyond minimal requirements, but I would need to add a couple of gussets before attending another Rally America event.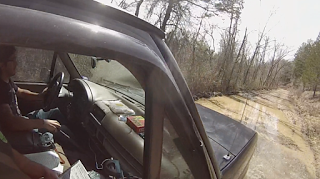 We immediately departed for recce, but were only able to see three of the ten different stages in the rally. We returned to town and made short work of scrutineering. However, a small mishap resulted in a severe crack in our windshield. My Co Driver Logan contacted about 15 shops attempting to locate a new one. We did. To have it installed it required us to be up at 3 am the day of the rally and drive to a shop an hour away. After a few hours of a sleep and a very early morning, we had the windshield on and were ready to start the rally. Although, the time used prevented us from attending the shakedown stage.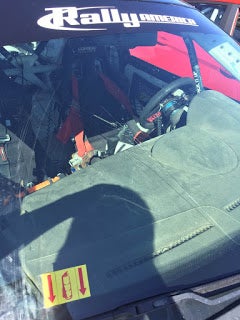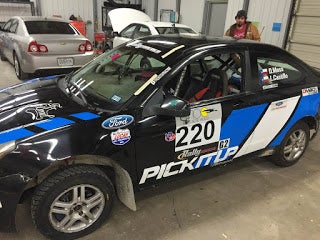 So we started stage one, without a proper recce and no full speed testing for the car or our communication in actual rally conditions. The first few stages went as well as they could as we tested grip levels and worked on our communication with stage notes. We decided that if we ever were to take a stage win it would be on the super special as it is just like rallycross. So we drove flat out and found ourselves in a three way tie for the win. Our confidence was a little too high after the super special and on the following stage we put the car into a dirt berm backwards around a downhill right four at about 60 mph. The damage was minimal with a bent exhaust. We continued on and decided to pace ourselves the remainder of the day. We drove very conservative as the nighttime came and the rain began. The water had little effect on grip levels and after small scare when passing a limping car we finished day one. We returned to the hotel and after seeing the unofficial results, We realized we set good times before being given 1 minute 40 seconds in penalties for time card errors.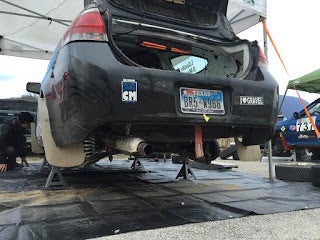 Knowing that we did so well with a small crash and working through teething issues with driving and stage note delivery, we decided on day two we were going for the win.
Stage one of day two (stage 10 in the overall rally) was cancelled due to a car having a severe crash after the cattle guard jump and blocking the stage. We drove through the stage at transit speed and when passing the car of Piotr Fetela, we got our first real look at how serious a crash can be. Before that the idea of the bad crash was just something you see on youtube videos. Seeing the mangled Subaru was stomach turning as we wondered if the crew was ok.
We arrived at and completed the second and last stage of loop one without incident and in 4th place 13 seconds off the lead. In the following loop we finished stage 3 with the 3rd fastest time in class, stage 4 with the 2nd fastest time. Two thirds way through stage 4 our intercom turned off and when flipping the on/off switch didn't work we were forced to finish without it. During transit to stage 5 we discovered that the power cable plug had broke off at the connection point. A problem that could have been solved had the wires not touched and also blew the fuse for the comm.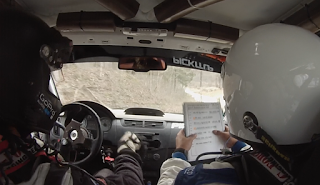 We started stage 5 (stage 14 overall) with me giving Logan the simple instructions of, "say the notes as loud as you can using your lungs, but do not scream them. I will not be able to understand if your voice is to raspy." We started the stage bouncing off the launch control with no intentions of driving slow. It became very clear very quick that I would not be able to understand precise instructions in the conditions and that Logan would not be able to read every line in its entirety without loosing his voice before the end of the rally. But he responded to this by giving a mixture of short hand notes and hand signals to get me through. I continued to drive as flat as possible with some side of caution as I could hear the severity of the turns but not the direction they were going. As we came into the first major water splash I let off the throttle in an effort to not suck in water. This was a mistake. The car turned perpendicular to the direction of the road and we slid downhill into the water preparing ourselves to roll. It was luck that kept us on our wheels.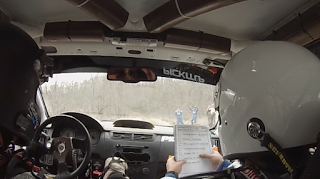 Within a moment of the car stopping I was putting it in reverse to correct my direction and continue. The drivers broken down on location seemed to be excited for our lucky escape. After the following major water splash across a low bridge the car began to misfire. We assumed we had sucked some water into the intake and continued to drive flat hoping to blow out the engine. Mean while Logan is still doing his best to yell stage notes and guide me to the finish. We finished with the 2nd fastest stage time in class.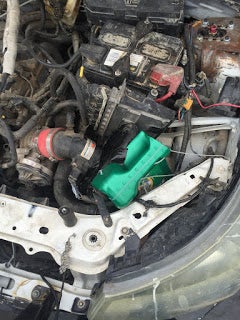 In service, with Logan being an Engineer, he built a custom airbox for our intake filter out of an old oil jug and repaired the intercom. The car ran fine during most of the 47 minute transit to the first stage of the final loop. As we closed on the stage start, the misfire returned. We could do nothing by then but hope it sorts itself out. At the stage start we lost a cylinder completely. We raced the 6.84 mile stage with 3 cylinders, carrying as much speed as possible into the corners and finished with a 3rd fastest stage time. During transit to the next stage the idea came to me to unplug the engines coil packs and blow them out… We were firing on all 4 cylinders again.
We began the next stage with a new found confidence after realizing how much speed we could carry into corners when down on power. By this time our communication was on point and we finished the stage 1.5 seconds behind the stage winner as we drove absolutely flat out. Or so we thought at the time.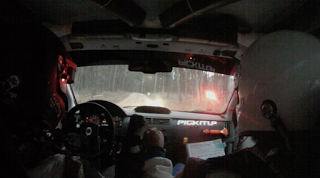 A fist bump and the words, "lets do this," is what preceded the 10 second count down into the final stage. What happened after the count down hit zero could not have been foreseen by us or anyone else who cared to follow our progress. The phrase, "a bat out of hell," comes to mind, but I don't believe it is a powerful enough statement. The car was perfect, our communication was perfect, the roads were perfect.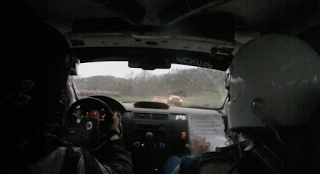 We were carrying more speed into corners than we had been all weekend, we were staying flat over every blind crest, we did not make any mistakes. Somewhere mid stage we caught the dust of the slowing Subaru BRZ in front of us with a flat tire. Driving blind we continued to push flat out. Soon after we saw tail lights. We followed the Subaru into the long water crossing over bridge sideways with no intentions of lifting off the throttle. The driver identified us behind him and pulled aside. This somehow encouraged me to push harder. The next few miles were wet and slippery. This didn't slow us down. A few minutes later the conditions were dry and we were in the dust of the next car up the road who started 2 minutes before us. We crossed the finish line hollering and trying to wrap our brains around what just happened. We won the stage for regional group 2. We were the fastest regional 2wd car by 13 seconds. We set the 3rd fastest time against the National 2wd drivers and the 14th fastest overall out of 41 cars. All this in our 150hp Ford Focus with a stock gear box and open differential being co driven by first time co driver and a driver who only had 120 stage miles under his belt before the start of the weekend.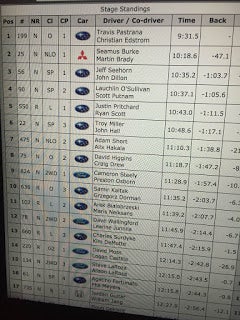 The park ferme' was exciting as we met up with all of our fellow competitors and told stories of our speed, crashes and good times throughout the weekend. Some time after we loaded the car up and proceeded to the post rally dinner and award banquet were the final results would be posted.
Upon hearing the results were up, I rushed across the room to observe my final stage time and see my class finish. I was shocked to see I had somehow accumulated 1 minute and 20 seconds in penalties. Upon protest it was revealed to me that we overlooked an incorrect time on our time card. It had us as reporting 8 minutes after our set arrival time to ATC 14. Without the penalty I would have won my class by 24 seconds. At the time I wasn't quiet sure how to feel. I had just had the best most enjoyable drive of my life and had only intended to get a 5th place finish tops before the weekend started. It was bitter sweet because I just made it onto the podium at the event that at one point I only dreamed about. When I started competing in grassroots rallycross 5 years ago, the dream was to make it to the 100 Acre Wood rally. The rally that was consistently won by Ken Block, the man that I've followed and looked to mimic since first discovering a gymkhana video.
Logan and I walked up to retrieve our trophies after being announced as, "the boys from Texas," (which made me feel proud that we could represent our state and all of its drivers) and after posing for a quick picture I had to look down as I walked to my seat to hide the tears under the bill of my hat. The evening was very emotional for alot of reasons. We ran into so many issues and let none slow us down and I'm not sure if we had something to prove, but if we did I would say we succeeded.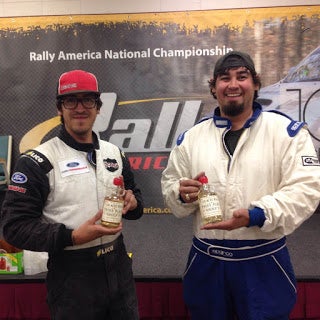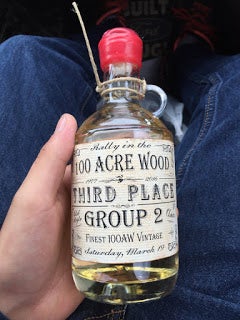 It took my first good nights rest in days for me realize what we accomplished was incredible no matter what position is written on the trophy. We walked out of our hotel the morning after to see it was snowing, which made our moods even better and we soaked in the sight. Then we loaded up our gear and began our drive back to Texas, with smiles on our faces and talks about our next event together. We became a team that I hope never parts after just one weekend of rally.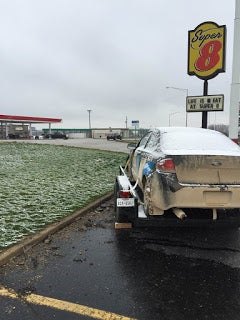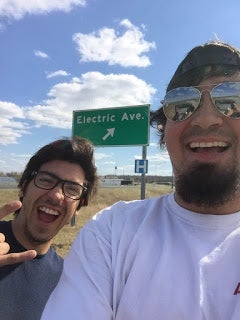 I would really like to thank Logan for participating in the event with me and working through everything that happened with a high spirit. Thank you Jake for driving all the way from North Carolina to be our only crew member and making those services run as smooth as they did. Who knows how different the event would have gone without you.