Welcome to Rally Flashback, where we revisit an old edition of the upcoming round of the WRC. For this event we revisit the 1982 running of Corsica.
France's famous island rally this weekend presents us with an opportunity to indulge in the first year of Group B, as the possibilities under the new rules were just becoming apparent, and the field varied wildly. Held on the technical tarmac in the hills surrounding Corsica's capital city of Ajaccio, the Tour has been held since 1956, though it fell from the WRC schedule from 2011 to 2014.
By 1982 it was clear: AWD was the future of rallying, as amply demonstrated by Audi's famed Quattros. However they were not without fault, and there was still hope for 2WD entries in tarmac rallies such as Corsica. In these events the traction advantage of AWD could be mitigated, and the inherent front weight bias and handbrake-averse drivetrain of the Quattro became a liability on the rally's numerous hairpins. To that end, in addition to the Renault R5 Turbos, 911SCs, and Ferrari 308s, this event would see Lancia debut their bonkers insane 037, and Frenchman Bernard Darniche would field an ex-Group 4 BMW M1.
Unfortunately the M1 did not live up to its promise here, losing an oil line that ended its rally prematurely. Darniche was a six-time winner of the event, including 1981 in a Lancia Stratos, the last top-level victory for that remarkable car.
The amazing Michele Mouton pedaled her Audi furiously, but would end up finishing no better than seventh, 32 minutes behind the winner, the long-wheelbase and inherent understeer frustrating on tarmac. Indeed, nimble, well balanced 2wd cars would prove their worth here, taking the top six spots over Mouton's Audi, but which would prevail?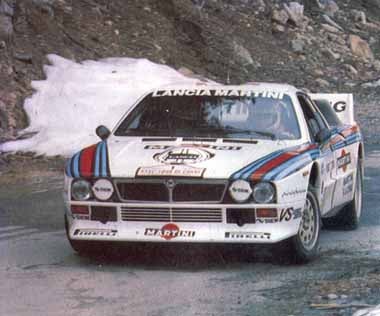 It was not to be Markku Alen's Lancia 037, the only one to finish its debut event. It showed raw pace, but suffered teething problems and had to settle for 9th overall. Still, this was a taste of Group B's and indeed Lancia's full madness on the horizon. As to the coming danger, the world had been warned when Alen's teammate, Italian Attilio Bettega, suffered a significant wreck, the car proving difficult to tame on Corsica's tight stages so early on. They would be sorted for it the following year, with the 037 taking the top four spots in 1983. Tragically, Bettega would lose his life here in an 037 in the 1985 running, one of the wrecks that hastened the end of Group B, along with that of rising superstar Henri Toivenen in his Lancia Delta S4 here in 1986.
1980 Champion Walter Rohrl had been rather made to settle for a contract with Opel after missing the 1981 season due to another contract dispute, but his transcendent driving and the well-sorted Opel's durability put him in good stead to that point in the season. As good as they were, the venerable Ascona 400 was at a disadvantage to the more agile mid- and rear-engined cars here, and though Rohrl won SS25 (the only non-Frenchman to win one in the event) he was relegated to a still respectable fourth. Rohrl would go on to win the 1982 WRC Driver's Championship, the last driver to do so in a traditional front engine/rear drive car. He would defect to Lancia the following year.
Porsche's evergreen 911 had established its suitability for rally work back in 1968 with Vic Elford's victory at Monte Carlo and in fact won here in 1969 (Gerard Larousse) and 1980 (Jean-Luc Therier). It remained a popular choice for specialized events like this where its pendulum handling characteristics could be used to one's advantage. Bernard Beguin would thus put his faith in one, and piloted his Kenwood liveried 911SC to Stage wins in SS16, 26, and 27 (the final) to take 3rd overall, no small achievement for perhaps the most production-based car in the WRC field.

At the top of the order, Jean Ragnotti and three-time winner Jean-Claude Andruet put on a remarkable battle, trading stage wins for the first fifteen stages until the aforementioned Beguin broke through. Andruet led overall in his iconic Pioneer Ferrari 308 through SS5, before Ragnotti won Stages 6-8 on the trot in his factory Renault R5 Turbo, building a small lead.
Despite taking ten stage victories and driving what I consider to be one of the single greatest automobiles ever built (Here's why), Andruet would take second at the end in the 308. It was still a validation for the Group 4 version of the car, which Andruet had pushed for personally with il Commendatore, Enzo Ferrari.
It was the Renault's short wheelbase, light weight, and explosive turbo torque which gave it the edge in tighter stages. These attributes, in addition to a wet tire miscue suffered by the Pioneer Ferrari, enabled Ragnotti (right, above) and longtime co-driver Jean-Marc Andrie (left) to ultimately bag twelve stages and build a lead of over five minutes to take the win, their first of two here in R5s.
I was amazed to find these very period videos of the event from Youtube, enjoy!
Thanks to the very useful www.ewrc-results.com for event statistics, Hyppyrally for great history, and Tour de Corse Historique for further background.
Stay up to date on this weekend's action with TourdeCorse.com and WRC.com, and with daily live streams from the service parks available on WRC Live. Enjoy Stage 10 live and free this Sunday on WRC+ HERE.