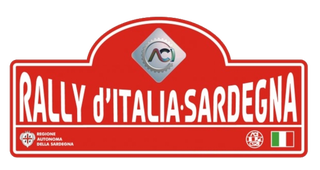 Welcome to Rally Flashback, where we look back to a previous edition of the upcoming round of the World Rally Championship. Today we go back to the WRC's first running of the Italian round on the island of Sardinia, after 30 years as a famed tarmac event in San Remo. Fortunately, the San Remo rally lives on as both a historic event and a round of the European Rally Championship.
By this point in the 2004 season, it was all about the ascendant Frenchman Sebastian Loeb, whose true gift was only just becoming apparent. Sardinia was the 13th round of the season, and Loeb enjoyed a commanding lead in the championship after a dominant year of no less than nine podiums and five wins to that point. With a win here, he would clinch his first of nine consecutive championships. Could anyone stop him?
Many drivers and teams would find the punishing loose gravel surface difficult to come to grips with (heh), lamenting the ever-changing traction and rocks very near the course. Thus, this rally would be one of attrition, ultimately seeing DNFs for both factory Skodas, and one apiece for the works Subaru and Peugeot teams. Those who could adapt quickly and run early before the conditions deteriorated would hold an advantage.
One such driver was Marcus Gronholm, who showed furious pace and looked to have the measure of Loeb until his Peugeot 307 WRC suffered a turbo failure in Stage 8, costing him over 20 minutes. Once repaired, his pace was enough to win stages, but it wasn't enough to make up the gap to the leaders and he would finish a disappointing 7th.
Markko Martin was looking to consolidate his 3rd place standing in the championship and was on pace for a podium finish here, but was let down by a fiery turbo failure three stages from the end, ending his rally. Teammate Francois Duval would finish, but well down the order.
Carlos Sainz picked up the pieces of Martin's DNF, and not only drove his works Citroen to 3rd place, but surpassed Martin for 3rd in points. However, Martin would later claw that place back with wins in France and Spain to finish 3rd for the season.
Loeb didn't put a wheel wrong, but never quite found (or perhaps looked for) the speed to make the top step of the podium. Not a bad strategy in such difficult conditions when one is looking to clinch a championship. Perhaps the reason for that strategy was the blinding pace demonstrated by the eventual winners, below.

That would be none other than one of my all-time favorite rally drivers, the inimitable Norwegian Petter Solberg and his Co-Driver, Phil Mills. Though behind in the points, they still had a mathematical chance at the championship and drove like it. The defending 2003 champions were fast from the off, forcing Loeb to settle for second, even admitting that he couldn't match Solberg's incredible pace. The iconic Subaru would go on to take 13 of 19 stages to win the rally by an incredible 2 minutes and 8 seconds. This makes the 2004 event the only one thus far not won by a person from France or Finland, so keep that in mind for your Fantasy WRC picks.
Check out the event highlights here on Youtube:
To get an idea of the challenges faced by drivers at this event, check out this in-car video from Solberg's Subaru on SS9 of the 2005 event:

For further reading, here is Motorsport.com's excellent article on the rally, without which this Flashback would not have been possible. Credit to them for excellent photography as well.
You can follow this year's running on WRC+, with SS17 and SS19 both live on Sunday:
Special thanks to Hoccy for the opportunity to do Flashbacks for Italy and Poland.