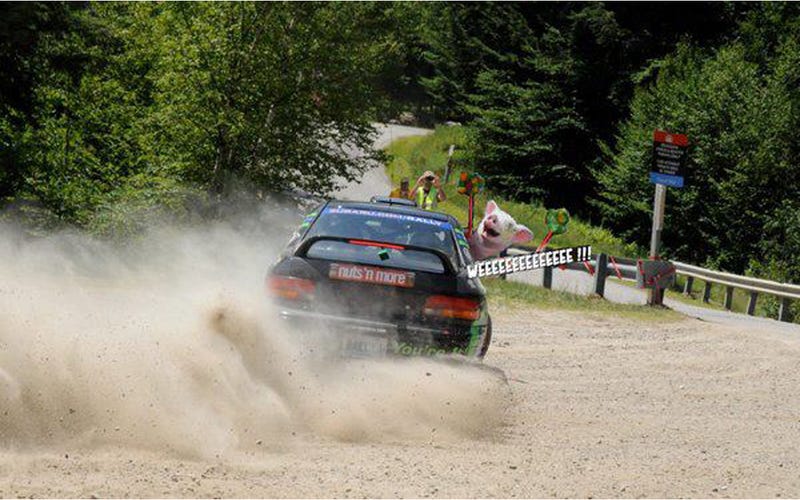 So far I've spoken about a co-driver's process when preparing for a rally. But what about an aspiring co-driver? How do you get from standing roadside watching to riding along in the silly seat? I figured I'd take the moment to talk about getting started in rally. I'm going to talk a bit about my path to the right seat, what I've learned, and tips ranging from being a spectator to being a co-driver.
Behind the scenes part 1: (Part 1)
Behind the scenes part 2: (Part 2)

First off, a bit about me. Yes I am that co-driver. Fortunately in rally you're usually too busy to be scared (or at least too busy to be as scared as you should be), even when the wheel falls of. Anyway, at this point three years ago I was not a rally racer, or even that much into rally. I was actually an aspiring desert racer (which is a different and possibly even more interesting backstory but can be summarized as "it's Dust to Glory's fault") and had never been anywhere near a stage rally event. I had little knowledge of pace notes, no knowledge of Group B, no knowledge of stages or transits or routebooks. All I really knew about it was that it was about going fast on dirt (like desert racing), had co-drivers (like desert racing), was point-to-point instead of laps (like desert racing), and unlike desert racing took place a few hours from my home in Massachusetts. All of which is why I decided to give it a look, attending my first rally in May of 2010. In the less than three years since that time I have attended eighteen events in eight states spread throughout all four U.S. time zones, as well as two Canadian provinces. Two of these events were as a spectator, two as event volunteer, nine as service crew, and five as a co-driver.
Spectating
So let's start where I started, as a spectator. The biggest complaint I hear from people is having no idea how to find out where/when there's a rally or there not being any events nearby. Most of these people only know of the Rally America national schedule and are unfamiliar with the other organizations like the rapidly growing NASA Rally Sport and the California Rally Series. Fortunately Rally Racing News provides this annual Combined North American Rally Schedule which tells of every rally event taking place in the U.S. and Canadaland. You're still pretty much out of luck if you live in Florida, but you don't have to strictly be in New England, Michigan, or Oregon/Washington to find rally. These events don't have the car counts of Rally America nationals and you're not going to see Ken Block or Subaru Rally Team USA show up, but the events and action is still great, plus with the smaller crowds it's easier to actually converse with the drivers at parc expose (a sort of pre-race car show) and service instead of just getting a quick autograph.
A few spectating tips:
Only spectate in approved spectator areas. I know this doesn't sound like much fun when there's mile upon mile of roadside and you're forced to watch from one of a half dozen or so crowded viewpoints, but this is done both for your safety and for the safety and survivability of the sport. These locations have been chosen because they're relatively safe and because they're either on public land or the land owner has given permission to use his property. A bad spectator-related accident or property owners no longer allowing rallying on their roads because of spectators trespassing on their land could end rallying in America.
Plan like a co-driver. Figure out well in advance all the lodging and logistics. Be sure to figure out which spectator areas you want to hit and what time you'll have to be on the road to get to the spectator area before the cars come through. Be sure to plan to arive to the spectator point early, especially at a Rally America national event. Due to the number of spectators and spectator vehicles the walk in could be up to a mile and if you don't get there early the best spots to watch will already be taken.
Read everything. Most rally websites have a section marked "spectators" which will provide things like directions to the spectator locations and general spectator information (how to behave, what to expect, etc). That's a good start, but I always read the website info in the "volunteer" and "competitor" tabs as well, including the competitor Supplimental Regulations. Most of that stuff you'll never need to know, but you're sure to find some bits of information that prove helpful (like a more detailed schedule). Plus being knowledgeable, and more specifically sounding knowledgeable when talking to teams, is a good way to get noticed.
Obey the course marshals. I know some of them seem like the rally gestapo or something but they're all doing their best to keep the event flowing smoothly and keep everyone safe.
Take out what you bring in. Don't leave any wrappers, bottles, or trash behind. Again getting land and road permission to run the rally and allow spectators depends on people cleaning up after themselves.
Don't try to stand in/walk across the course. This seems like a no-brainer but it still happens way too often. Some rally cars can be heard a mile away, but some can sneak up on you, especially in a thick forest. Stay safe and stay off the course.
Stay alert. Don't have your back to rally traffic. There is no such thing as a 100% safe place to watch a rally. Be aware, not only of the rally car itself but of any rocks/debris it might throw. There aren't any walls or catch fences like in NASCAR.
Volunteering
If you're already planning to attend the rally you really ought to at least consider volunteering to work the event. Rally relies on volunteers and without people like you stepping up the events literally can't take place. I've been to rallies where they had to cancel stages because there weren't enough volunteers. It's true that if you volunteer you won't get to choose where you watch the rally from, you'll have to get up early for the volunteer meetings, and you'll likely have to help set up or take down the banner tape and signs on some of the stages. But on the bright side, you'll likely get to watch the rally from a spot normal spectators can't (road junctions for example). If you're working start control you'll get to launch the cars into the stage, which is a thrill when one of those open class cars with the popping anti-lag and launch control lines up. As an added bonus most events have deals with area hotels to provide lodging discounts to volunteers, some even have prize raffles for volunteers (I remember one event raffling off a paddleboard). Additionally, and somewhat critically, volunteering for the event gives you free admission to the post-event party and awards dinner. This is your chance to get unfettered acces to drivers, co-drivers, and teams. You'll get to sit down and eat with the competitors, ask questions, get advice, and make contacts. This is critically important when working toward step 3...
Service Crew
I got my first gig as a service crew member when one of the rally drivers I'd befriended at a previous event posted on Facebook that he needed an additional person for his service crew at an upcoming rally. I'm no master mechanic, but all he really needed was someone who knew how to efficiently change tires, adjust tire pressures, and clean windows, so I volunteered. Looking back this was a critical step on my path to becoming a co-driver, because when you start working as a crew you're working directly with the teams themselves (it was doubly beneficial because in addition to crewing for 555 Rally Sport, the team that had posted online, I ended up crewing at that rally for the newly-formed TAG Rally Sport, thus beginning my partnership with them and making it possible to slide into the co-driver's seat when they expanded into a two car team the following year. They haven't been able to get rid of me since). By working with the team you're showing them what kind of a worker you are, your attention to detail, how well you handle fast-paced and stressful situations. Teams talk to eachother, including talking about what people are good crew members. Do a good job early and you could reach the point where teams actually contact you directly asking if you can crew for them. It's true that as a crew member you won't get to see any of the racing action (unless there's a super special stage next to the service park or something), you'll have hours of downtime while the car's out on stage and you can only neaten the tool boxes and clean the wrenches so many times, but the service crew gig is definitely nothing to scoff at. In between services you have a hundred fellow crew members sharing the service park that you can network and swap stories with. And when the rally cars arrive it's anything but boring. Services are timed, and exceeding that time limit incurs a penalty. Nothing gets your blood pumping like trying to swap out a control arm in 20 minutes. Additionally, it's considered good manners for the team to cover the expenses of its crew members. This typically included lodging, transportation (within reason), and if possible meals. This means you could attend rallies at little personal cost. And again, it's a good step toward getting in a rally car. If you show yourself to be intelligent and professional in the service park it suggests a likelyhood that you'll be intelligent and professional as a co-driver.
Bonus tip: if you get the chance be sure to steal the co-driver's pace notes (with permission) and study them. If they're Jemba notes there will be a glossary in the front telling what all the notes mean. Particularly useful when you come across a more obscure note like ][ (bridge), ? (maybe), or o.c. (off camber). Practice reading them aloud and getting a rudimentary feel for pace.
Co-Driving
Ironically my first co-driving gig was in the very first rally car I ever set eyes on. When I stepped out of my hotel at the first rally I attended as a spectator this car was in the parking lot. 364 days later I was strapping into it as a co-driver. But how? Well fortunately for me the team, Greasecar Motorsports, was based about ten minutes from my home. I offered my services as service crew for a few rallies as well as helping work on the car at the shop a couple times (helping at the shop probably helped get me into the car faster, but don't fret if there isn't a team near you. Crewing at rallies should be enough to get noticed and get a foot in the car door). While crewing I noticed the car had a different co-driver every event. While most people imagine every car has a dedicated driver/co-driver team, the truth is about half the drivers out there have a different co-driver every few events, usually due to schedule conflicts or work requirements on the side of the co-driver. This means there's always a few drivers looking for co-drivers. These are the teams to focus on when looking for potential rides. Don't expect to get into a fast car like a WRX or an Evo right off the bat. A fast driver won't take an inexperienced co-driver, and even if they did it's virtually guaranteed you won't be able to keep up in the notes. If you saw James May trying to read pace notes to Kris Meeke in the season 19 opener of Top Gear then you have some idea what you would be like as a new co-driver in a fast car, even if you have studied the pacenote language religiously. Focus instead on the slow cars toward the back of the pack. These are the drivers competing for fun, not for wins and podiums. They'll be much more likely to accept a new co-driver and you'll find it much easier to keep up and get the feel for reading notes while sliding around corners. When you get to your first event try to find a more experienced co-driver to shadow and ask questions of. This is very much a community and competitors are always more than happy to help.
Once you've made it to your first event it's all about figuring out what works for you. Talk to other co-drivers and pay attention to how they operate but at the same time figure out what works best for you. Every co-driver does things a bit differently and if you try to clone someone else instead of adjusting their methods to suit yourself you'll never be truly comfortable and you might not even have fun. There is, of course, more you need to know before you're truly ready to strap into the car, but these are mostly technical items such as dealing with time cards, transits and services, the pacenote language (which has already been covered by Bill Caswell), and safety gear, all of which should (and will) be discussed in its own post instead of being crammed into this one.
Fellow co-drivers (I know a few of you have started reading this series), I invite you to post below and share how you got started in rallying. Did you work your way up like I did or did you jump straight into the car? Do you have any tips for the aspiring co-driver that I forgot to mention? Share them!
You can follow Dusty Ventures on Twitter at @DVMSteve and TAG Rally Sport at @Tagrallysport1