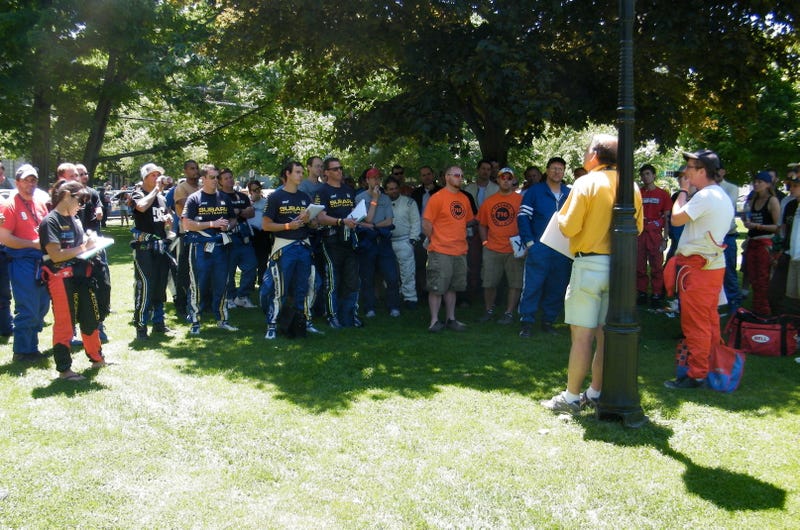 I'm back for part 2 of Co-driving Behind the Scenes and today we're going to talk about one of the most important pieces of equipment for a co-driver; the co-driver bag. From the start of recce (pronounced wreck-E, short for reconnaissance, refers to the period before the rally when competitors can slowly drive the stages in order to write/modify pace notes) to the end of the rally the co-driver bag pretty much never leaves your side. It contains everything you will need while doing your job as co-driver (and a few things you hopefully won't need).
(If you missed part 1 you can check it out here)
Every co-driver bag is different and often speaks to the mentality, methodology, and experience of the co-driver. Bags containing everything but the kitchen sink often belong to new co-drivers who wanted to make sure they didn't forget anything (roll of duct tape, bag of zip ties, big poncho, rescue whistle, matches, first aid kit etc) while a nearly empty bag suggests a more experienced co-driver who is mostly in it for the enjoyment. A bag with a red dinosaur in it means you've likely found me.
Let's start with the bag itself. You can buy specially designed co-driver bags and with a quick Google search you'll find yourself with a multitude of options, ranging from about $10 to over $60. I bought my bag as part of a clearance sale off the Rally America website for $7. It's definitely not the best bag out there and I'm having some issue with the stitching on the front zipper pocket, but it does everything I need it to do. If you don't want to hunt down a purpose-made co-driver bag a standard messenger bag will do just as well. It's what's in the bag that's most important anyway.
As stated, no two co-drivers carry exactly the same thing in their bags. Some of what I have in mine is personal preference items, some are things YOU SHOULD ABSOLUTELY HAVE! Let me go through the contents of what I carry on a rally weekend.
Rulebook - This is definitely one of those things you should absolutely carry (and hope you won't need). You never know when knowing rule 7.11-J-2 will come in handy, either in order to defend yourself against accusations or to point out a violation.
Mechanix gloves - Not required but highly recommended. You never know when you're going to have to do some roadside repairs.
Watch - You will NEED to have a timepiece, either a wristwatch or a stopwatch. It has to be something that shows seconds and, more importantly, that can be adjudsted to the second to make sure it matches official rally time, which means your iPhone won't cut it. I use a standard Timex wrist watch for rallies, but never wear a watch at any other time (I use my iPhone to tell time), so it lives in my co-driver bag so I don't lose it between events.
GoPro and spare battery - Obviously a personal choice item here. Much like the watch I keep it in my bag until I'm at the rally and ready to use it.
Multitool - Not required but sometimes very handy
Wallet - While my firesuit does have pockets they're not very accessible when I'm sitting in the race seat.
Phone - Like the wallet I can't carry it in my pocket like I do on a normal day. That said, my phone only lives in my bag until I'm set up in the car, then I stick the phone in my Ram mount and use it for telemetry and tracking.
Ram mount - As implied above, this lives in the bag between rallies but gets attached in the car during the rally. It hooks to the roll cage and securely holds my phone, allowing me to use it for a stopwatch and datalogger during rally stages and a speedometer on transits.
Multi-pocket Folder - I carry this so I have a place to put the supps, start order, entry list, and any other paperwork associated with the event
Supplimental Regulations - Put it in the folder
Clipboard - This is actually something I'll be trying for the first time at 100 Acre, it's something another co-driver suggested. The clipboard is to hold the timecard (which will be mentioned in greater detail in a later post) during the rally. By handing the workers at the time controls my card on a clipboard I will be providing them with an easier surface to write on, and hopefully having the timecard on the clipboard will make it easier to slip the whole thing between the roll cage and the side of my seat (the most convenient place to keep it).
Notebook - If you're attending a rally where you have to make your own pacenotes, well first off you're probably Canadian, European, or an Oz (eliminating other countries since this is all written in English). Secondly, you will NEED a notebook. If you're just starting off your standard spiral bound from the local CVS will work fine. Once you get serious you might want to invest in a purpose-designed pacenote book. If you're rallying in the United States of Jemba and are having notes provided for you it's still a good idea to carry a notebook. Sometimes you need to write things down, be it stage times of your competitors or the phone number of the cute course worker.
Flashlight - Strongly recommended. My light of choice is a Coleman LED headlamp because it can be used hands free if need be.
Band-aids - There's a first aid kit in the back of the car but I still like to carry a few band-aids in my bag for the sake of convenience.
Zip ties - Again there's more of these in the tool kit in the trunk, but I carry a few anyway.
Snacks - It's a long day ount on the stages, make sure you have something for both yourself and your driver to munch on. I tend to go for granola bars/cliff bars. They're easy, hold together well, and decent for energy and nutrition.
Water/Gatorade - I can't stress enough how important it is to stay hydrated out there. If you're not pissing while waiting for the stages to start you're not drinking enough. Again, carry enough for the two of you.
Post-it flags - I use these to mark the start of each stage and set of directions in the pace notes and transit route books. Adding stage numbers to each flag makes it quick and easy to flip to the right page and start giving instructions.
Writing utensils - You're going to NEED some assortment of these, though what you choose exactly is up to you. I personally keep it simple. I carry two Sharpies (redundancy in case one dries out), one yellow highlighter, and one mechanical pencil (PaperMate ComfortMate Ultra, best I've used so far). I keep a spare highlighter and mechanical pencil in my backpack which stays in service. In a later post I'll get into the specifics of note creation/modification and how I use each of these.
Bacon the Dinosaur - To rally without my sidekick is to invite disaster.
The following are things I don't put in my bag before the rally because they're provided by the rally itself but do live in my bag once I have them:
Pacenotes - Ok, so technically these are "stage notes" not pacenotes because they're standardized descriptions of the stages and aren't tuned to the driver and don't tell him how to take corners/lines the same way true pace notes do. But they're still in the same indecipherable language and serve the same overall purpose. If the book isn't in my lap being read then it's in the bag.
Route book - If the stage notes are in the bag odds are this one's out in my lap, and vice versa. The route book tells how to get from the end of one stage to the start of the next (or to service/the finish/etc). You don't want to get lost and therefore you don't want to lose this book.
Start order - this will be handed out the morning of the start, usually during parc expose. I keep it in my aforementioned folder.
That's it for this round. Keep your eyes peeled for part 3 later in the week.