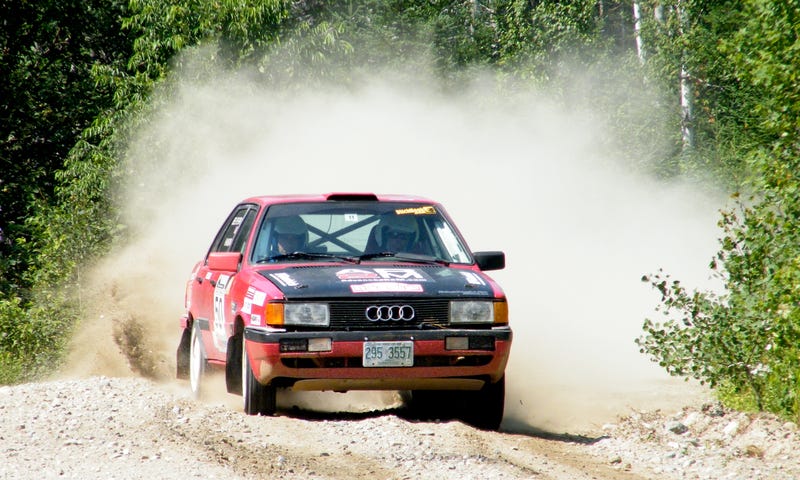 Welcome to Rally Co-Driving Behind The Scenes, the series where I will be giving an inside look at the experiences and duties of a grassroots rally co-driver. From the planning which begins weeks in advance, to traveling to the event, to the duties and paperwork of the day before, to recce and preparation of notes, and finally the rally itself (and the party afterward). I'm often asked about what a co-driver does, how to become one, etc, so I hope this series will provide some insight and possibly create a few new co-drivers.
So, I got a message from TAG Rally Sport Monday night saying Rory, who I've been co-driving for since his first race in 2011, is going to run the Rally in the 100 Acre Wood and they want me to co-drive for him again. This was surprising and exciting news because 1) TAG is no longer 90 minutes away from me over in Rhode Island but now out in Denver, 2) I've done well enough that even though I'm no longer nearby they still want me to be part of the team, 3) I've reached the point where drivers call me asking me to co-drive/crew for them, instead of me having to hunt them down (I've received messages from two other teams already this year asking if I could crew, one of them being a multiple-event deal with possible co-driving as well), and 4) Rory's running the team's newer, faster, better-handling Subaru, which means we should be quicker than ever, great news since last year we won the regional Open Light class championship. And 100 Acre is the best event I can imagine for our first run. It's probably the fastest gravel rally in the country (certainly based on last year's stage times). The roads are smooth and flowing, mostly fairly wide, and with enough jumps and crests to keep it interesting. These are exactly the kind of road conditions Rory excells on.
So, I get the call to co-drive and accept. The event is just over two weeks out, so I've got a lot to do in very little time. First up, transportation. I could fly out like the bigshot international rally co-driving star I am, but the airlines will gouge me for booking this close to my travel date, plus I'd still need a way to get from St Louis, the nearest airport, to the rally rally in Salem, 130 miles away. Which would mean renting a car for five days. This is both expensive and mostly useless since once I reach Salem I wouldn't be using the rental car at all. So I check the entry list on the Rally America website, look for drivers from my area who I know and are entered, and shoot them a message asking if any of them will have an extra seat in their tow rigs for the ride out. I find a ride and a back-up ride. Transportation: sorted.
Step two, safety gear. I haven't used any of it since Black River in September, so I go through it all to make sure everything looks good. No tears on the suit, no scrapes on the helmet, etc. I'm on a rent-to-own program for my neck restraint (because the damn thing is $1200), so I place my order from Safe Drives. Technically since they ship on Mondays I'm giving them less than the two full weeks of advanced warning they ask for, but Charles (owner of Safe Drives) is a class act and is always willing to help out a competitor in need. So, safety gear: sorted.
Next up is renewing my rally license. Rally America licenses now expire at the end of the year (previously they expired a year from when you acquired your license), so mine is due. Regional license cost is $150, and this year comes with a USAC membership as well.
Depending on the team you're working with and the preferences of the driver, the next step may or may not be logistics. On some teams it's the co-driver's job to make hotel reservations for the event, handle event registration and providing all the information the organizers need, calculate travel times and fuel costs for the weekend, and create movement schedules for every attending member of the team. Some co-drivers will end up making 20+ page information packets to be handed out to the team, including everyones' contact info, emergency contacts, schedule, etc etc. In the case of TAG all that is handled by team manager/husband/father Alan, so I don't need to do any of that. All the same it's important to note this sort of thing is sometimes expected of you as a co-driver.
So now onto the specific details of the event. First stop is over at the event website to take a look at the supplimental regulations, often referred to simply as suppregs or supps. Studying these carefully is critical in competitor event preparation (some of the information is useful even for spectators/volunteers). The supps include an event description, contact information for the organizers, event-specific rules, a detailed event schedule (recce is from 7 AM to 5:30 PM? Yuck), event entry costs, event-specific rules, and a crap ton of other information. Go through it, print it out, stick it in the co-driver bag.
Lastly for now, and this isn't required but something I personally like to do, go to the Rally America site and check the entry list. Take a look at how many competitors have entered, their speed factors, how many are in the regional, and how many in our class. I like to pick a few I think we should be competitive with so I can compare our times with theirs during the rally.
That's it for the moment. Over the rest of the week (and likely part of next week) there will be more coordinating with my possible rides and with TAG, along with repeated checks of my co-driver bag (I always feel like I forgot something). Also repeated checks of the 100 Acre Wood site to see if any additional rule bulletins have been posted and repeated checks of the weather conditions for Salem. There is a lot of checking and re-checking leading up to a rally. I will post part 2 when there is more to report.