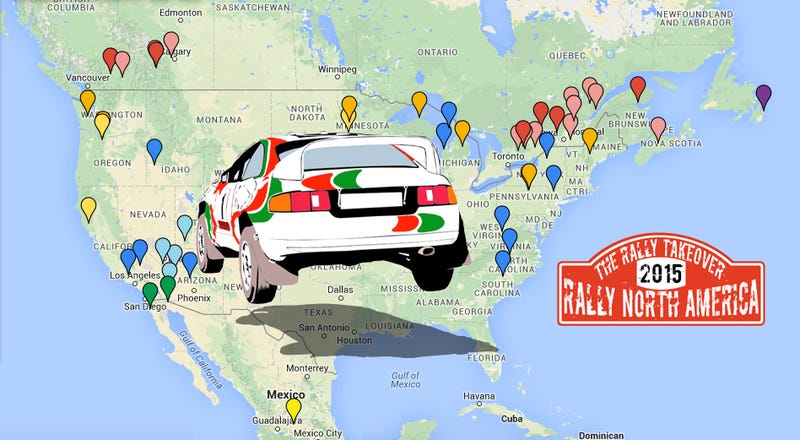 One of the complaints I hear most often from aspiring rally fans is the all too common "there's no events near me!" Last year I attempted to help fix this by creating a map of all the stage rallies in North America. Now, with the 2015 rally season having officially started with Michigan's Sno*Drift Rally (I was there, our car broke. It sucked), it's time for a new updated map.
There are a few changes to the 2015 map compared to 2014, including a few new events. Some areas are still sans rally (c'mon, Texas! Get your shit together!), but Virginia has picked up an event (with the Hyperfest Rally Sprint moving from West Virginia to VIR), Quebec has yet another rally, Missouri has added a new regional event, Michigan has added a NASA-sanctioned hillclimb, and we see the returns of Mt Hood Rally, Rally Utah, and Rally West Virginia.
There are also a few events that seem to be up in the air. I couldn't find any info on 2015 returns of Rally Florida or Shannonville Stages, and the U.S. Rally Association still hasn't revealed any of their 2015 dates. I'll update the map when I hear word of any of these events (or any others).
To find out when an event is just click it for the dates and championship info. While this is meant to be a "complete" schedule I'm sure I've missed a couple events, or listed an event as one day when it's really two. I will be sure to come back and add/correct events as need be.
Click here for the full rally map
Flying Celica image made by our own resident automotive artist, Arch Duke Maxyenko