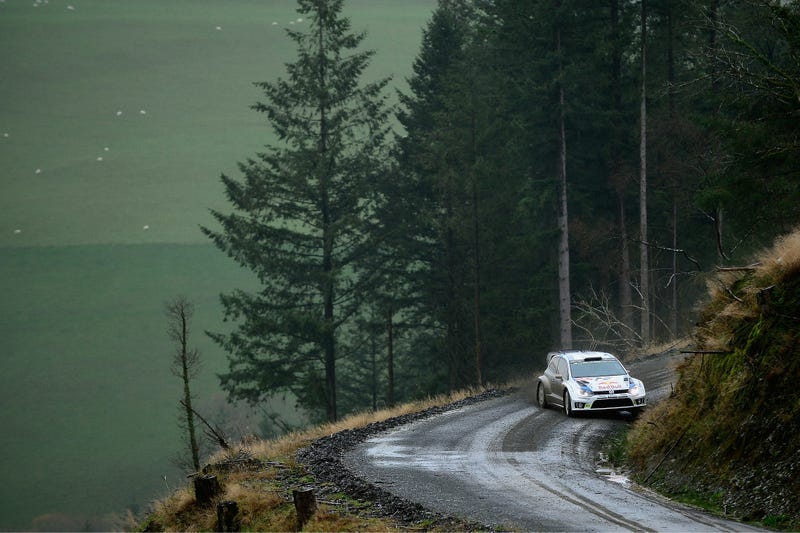 Here it is, folks. The final round of the 2015 WRC season. The time has come to crown a champion and dole out some fabulous prizes. And what better place to end it all than the exciting, unpredictable, and muddy roads of Wales.

Let's talk about the points. Marric currently leads, but thanks to the drop format it's actually McNewbie who's sitting pretty and looking good for one of the two prizes. Since Marric's next drop round will be his 52 from Sweden, and McNewbies is a 42 from Italy, Marric actually needs to outscore McNewbie by at least 9 points to take the title.

Realistically the top seven are all in with a shot, and they're all chasing McNewbie. Marric and Nealman will need to outscore her by 9, Dusty by 16, Timmybings by 19, Sliding-Sideways by 20, and TFritch by 27. (All this is void, of course, if McNewbie scores below 42 in the final round, in which case things become much easier for the others.) It will be interesting to see if any of these players throw a "Hail Mary" and choose a high-risk, high-potential oddball roster in an attempt to get those points.

As for the other prize, OregonWings, despite being a bit of a jinx for much of the season, is looking good for having the highest single round score at 83 points. The theoretical highest score possible is 99, so there's still a chance, but it'll take a hell of a performance to oust the Winged one.
Wales Rally GB is known for two things: being muddy and being unpredictable. It has defeated the best, destroyed dream, and determined championships, even when both championship contenders failed to finish the rally. Choosing between Ogier and Latvala won't be easy, the two have won the last four rounds here, with two victories each. While one would still normally give Ogier the edge, he's coming off two straight rounds of scoring zero points, including his final stage crash-from-the-lead in Spain. Latvala, meanwhile, is coming off a win and a close second in his last two events. But Seb is still Seb, and recent poor performances often mean nothing. Picking the rest of the roster won't be any easier. So, with everything to play for, let's get right to it.
Here's the official Entry List, and the always useful points spreadsheet is here, just waiting for your analytical eyes pretending to look at something important while your boss walks behind you. And while you're at it, you can also look at the driver's data and statistics.
If you're new to our game, welcome! You can check the rules and awesome prizes here.
VOLKSWAGEN MOTORSPORT - VW POLO R WRC
Sebastien Ogier (FRA) - Avg last 10 rounds: 16.1 - Avg Wales: 8.3
Jari-Matti Latvala (FIN) - Avg last 10 rounds: 14.7 - Avg Wales: 12.4

CITROËN TOTAL ABU DHABI WRT - CITROËN DS3 WRC
Kris Meeke (GBR) - Avg last 10 rounds: 8.0 - Avg Wales: 10.0
Mads Østberg (NOR) - Avg last 10 rounds: 9.6 - Avg Wales: 6.6

M-SPORT WORLD RALLY TEAM - FORD FIESTA RS WRC
Elfyn Evans (GBR) - Avg last 10 rounds: 6.7 - Avg Wales: 10.0
Ott Tänak (EST) - Avg last 10 rounds: 4.8 - Avg Wales: 3.0
HYUNDAI MOTORSPORT - HYUNDAI I20WRC
Hayden Paddon (NZL) - Avg last 10 rounds: 6.4 - Avg Wales: 1.0
Dani Sordo (ESP) - Avg last 10 rounds: 6.6 - Avg Wales: 8.9

SINGLE CAR TEAMS AND INDEPENDENTS:
Andreas Mikkelsen (NOR) - VW - Avg last 10 rounds: 11.5 - Avg Wales: 2.5
Thierry Neuville (BEL) - HYUNDAI - Avg last 10 rounds: 5.9 - Avg Wales: 11.0
Lorenzo Bertelli (ITA) - FORD - Avg last 10 rounds: 0.1 - Avg Wales: N/A
Kevin Abbring (NDL) - HYUNDAI - Avg last 10 rounds: 0.0 - Avg Wales: N/A
Stephane Lefebvre (FRA) - CITROEN - Avg last 10 rounds: 0.5 - Avg Wales: N/A
Robert Kubica (POL) - FORD - Avg last 10 rounds: 0.6 - Avg Wales: 0.0
Martin Prokop (CZE) - FORD - Avg last 10 rounds: 3.7 - Avg Wales: 3.0
Josh Moffett (IRL) - FORD - Avg last 10 rounds: N/A - Avg Wales: N/A
Sam Moffett (IRL) - FORD - Avg last 10 rounds: N/A - Avg Wales: N/A