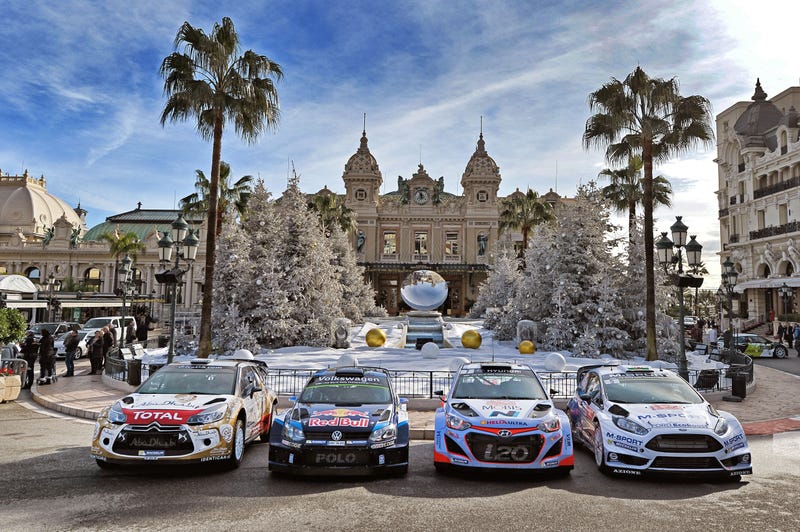 We're back! 2016 is upon us and with it the new World Rally Championship season! Time to start making wild assumptions about which car's gonna dominate.
I want to start by saying welcome back to our returning players and welcome to anyone joining us for the first time. If you're new please be sure to take a quick look at the rules (and prizes). If you played last year you probably know what you're doing. Unless you're Orlove.
Monte is a spectacular rally, but also a tough one for both competitors and fantasy players. Tire selection is critical as drivers will encounter dry tarmac, wet tarmac, ice, slush, and snow, sometimes all on the same stage. These condition changes can cost a driver precious seconds if not the entire rally. In other words: choose wisely, folks, because someone's gonna eat it.
And with that, we begin a new season. Here's the official Entry List, and the current fantasy points spreadsheet (don't get excited, it's blank). And while you're at it, you can also look at the driver's data and statistics.
And again, go read the rules!
VOLKSWAGEN MOTORSPORT - VW POLO R WRC
Sebastien Ogier (FRA) - Avg last 10 rounds: 16.1 - Avg Monte: 22.7
Jari-Matti Latvala (FIN) - Avg last 10 rounds: 14.7 - Avg Monte: 4.7

ABU DHABI TOTAL WRT - CITROËN DS3 WRC
Kris Meeke (GBR) - Avg last 10 rounds: 9.8 - Avg Monte: 8.0
Stephane Lefebvre (FRA) - Avg last 5 rounds: 1.0 - Avg Monte: N/A

M-SPORT WORLD RALLY TEAM - FORD FIESTA RS WRC
Mads Ostberg (NOR) - Avg last 10 rounds: 10.1 - Avg Monte: 10.7
Eric Camilli (FRA) - Avg last 0 rounds: N/A - Avg Monte: N/A
HYUNDAI MOTORSPORT - HYUNDAI I20 WRC
Thierry Neuville (BEL) - Avg last 10 rounds: 5.5 - Avg Monte: 2.5
Dani Sordo (ESP) - Avg last 10 rounds: 6.8 - Avg Monte: 9.0

SINGLE CAR TEAMS AND INDEPENDENTS:
Andreas Mikkelsen (NOR) - VW - Avg last 10 rounds: 11.5 - Avg Monte: 10.5
Ott Tanak (EST) - FORD - Avg last 10 rounds: 4.8 - Avg Monte: 2.0
Lorenzo Bertelli (ITA) - FORD - Avg last 10 rounds: 0.2 - Avg Monte: 0
Felice Re (ITA) - CITROEN - Avg last 0 rounds: N/A - Avg Wales: N/A
Robert Kubica (POL) - FORD - Avg last 10 rounds: 0.9 - Avg Monte: 0.0
Bryan Bouffier (FRA) - FORD - Avg last 6 rounds: 5.7 - Avg Monte: 9.3
Hayden Paddon (NZL) - HYUNDAI - Avg last 10 rounds: 7.4 - Avg Monte: N/A