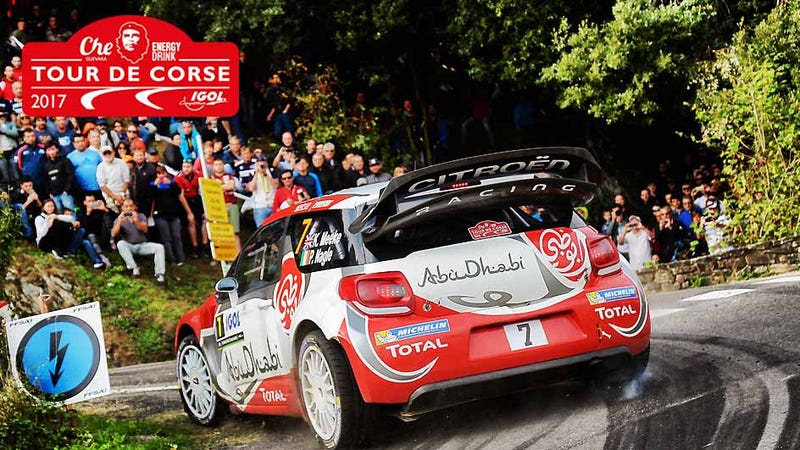 Whoever set up the start of the 2017 WRC season certainly was in the mood to mix it up, as the all-tarmac Tour de Corse is our fourth different surface type in as many events. And boy is it a doozy.
If you put your faith in Kris Meeke and Citroen to finally sort the bugs out and put in a good performance in Mexico then the fantasy gods probably rewarded you well in the last round. TurboThomi, whose drivers finished first, second, third, fourth, sixth, and won the power stage, scored his maiden Fantasy WRC victory. The young squirrel, meanwhile, put in another strong score to maintain his grip on the overall season lead.

On to Corsica. This event is famous for one thing over all else: corners. Each stage is a seemingly endless series of lefts, rights, and hairpins, with straight sections few and far between. It is also an endurance event, with the 317 km race distance being broken up into just 10 stages (for those of you who are bad at math, that means the average stage length is 31.7 km, or 19.7 miles). That means the ability to maintain focus and maintain rhythm is critical here, the briefest distraction or mental falter can have disastrous consequences.

With his return to the championship lead Ogier will once again find himself first on the road, but in Corsica that's a good thing. With a win here last year he's certainly a favorite, but there's a number of other strong contenders to keep an eye on. Latvala, starting right behind Ogier, won the Tour in 2015, meaning the two each have a win here on the island (Latvala's worst finish on French tarmac in the past decade is fourth BTW). Neuville finished second here last year, and won it in 2011 when the Tour was an IRC event. Teammate Sordo also has an IRC Corsica win, along with two podiums from his Citroen WRC days. Breen calls Corsica his favorite roads outside of Ireland and demonstrated it last year with a fifth place finish in his first WRC Corsica event. Rally Mexico winner Kris Meeke has also shown pace here, finishing fourth in 2015 (and third when the Rally de France was in Alsace), and he'll be riding a wave of momentum from Mexico. And then there's Elfyn Evans. Corsica is almost certainly Elfyn's best event, he earned his best ever WRC finish here in 2015, battling Latvala for the win before settling for second. And last year he backed that result up with a WRC2 win.

And with that, let's get this party started If you haven't seen them yet, be sure to read the updated rules (in case you haven't heard, you can now pick up to two drivers per team!). Here's the official Entry List, and the current fantasy points spreadsheet. And while you're at it, you can also look at the driver's data and statistics here.

M-SPORT WORLD RALLY TEAM - FORD FIESTA RS WRC
Sebastien Ogier (FRA) - Avg last 10 rounds: 18.4 - Avg France: 13.8
Ott Tanak (EST) - Avg last 10 rounds: 9.6 - Avg France: 3.3
Elfyn Evans (GBR) - Avg last 10 rounds: 5.4 - Avg France: 13.0

HYUNDAI MOTORSPORT - HYUNDAI i20 COUPE WRC
Hayden Paddon (NZL) - Avg last 10 rounds: 9.5 - Avg France: 9.0
Theirry Neuville (BEL) - Avg last 10 rounds: 11.7 - Avg France: 9.2
Dani Sordo (ESP) - Avg last 10 rounds: 10.0 - Avg France: 10.3

CITROEN TOTAL ABU DHABI WORLD RALLY TEAM - CITROEN C3 WRC
Kris Meeke (GBR) - Avg last 10 rounds: 8.5 - Avg France: 6.8
Stephane Lefebvre (FRA) - Avg last 10 rounds: 2.4 - Avg France: 0.0
Craig Breen (IRL) - Avg last 10 rounds: 5.8 - Avg France: 10.0

TOYOTA GAZOO RACING WRC - TOYOTA YARIS WRC
Jari Matti Latvala (FIN) - Avg last 10 rounds: 9.9 - Avg France: 15.9
Juho Hanninen (FIN) - Avg last 10 rounds: 3.4 - Avg France: N/A

SINGLE CAR TEAMS AND INDEPENDENTS:
*Armando Pereira* (FRA) - FORD - Avg last 3 rounds: 0.0 - Avg France: 0.0
*Alain Vautier* (FRA) - FORD - Avg last 2 rounds: 0.0 - Avg France: 0.0

*2016-spec car