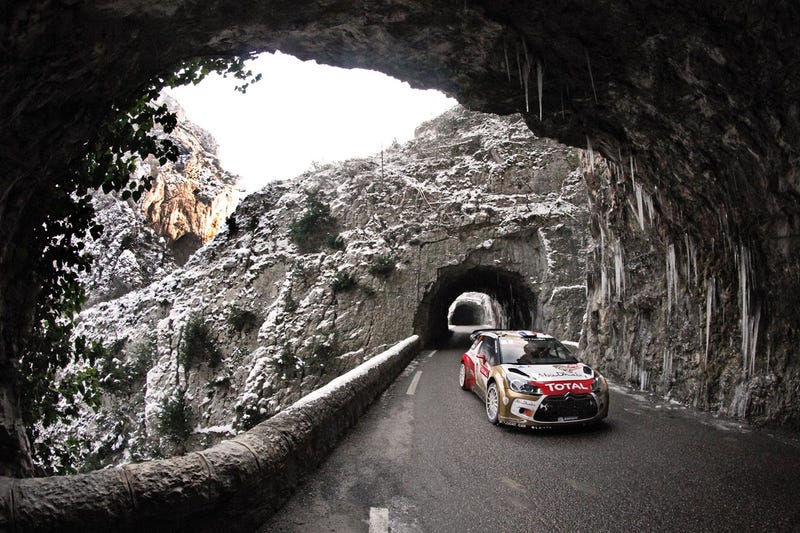 We're back! After the incredibly long 66-day off season (gotta love rally!) the WRC is ready to go again, and once again they're leading off with one of the oldest, most famous, and toughest rallies in the world, the now-104-year-old Rallye Monte Carlo.
Rallye Monte Carlo is a rally of unpredictability. While officially a tarmac rally competitors often find themselves dealing with dry tarmac, wet tarmac, slippery ice, and snow all in a single loop of stages. To succeed in Monte you need to not only be fast but anticipate the conditions and make your setup and tire choices accordingly. In the words of Kris Meeke, "60-70% of the time you're on the wrong tires, because it's a compromise, you need to choose the tires you think will lose you the least time over the loop." Of course if anyone knows anything about suddenly finding themselves on the wrong tires in Monte Carlo, it's Kris Meeke.

There are a few changes and talking points, both organizationally and in terms of the teams, that will make Monte and the 2015 season as a whole particularly interesting, and may lead fantasy players to make slightly different picks. First, there have been two key changes to the WRC rules. The road order will now mirror the championship standings the first two days (in other words first in points means first on the road), instead of only using the standings to establish road order on the first day, like was the case last year. This is significant because in gravel and snow events being first on the road means dealing with the slipperiest conditions, before a clean racing line has been formed. The second change is the elimination of splits being transmitted to the car. Previously drivers would drive based on the splits of the competitors, pushing harder or backing off based on the performance of the other drivers. Now they will have no idea of another driver's pace on stage. Monte Carlo has made a rule change as well, deciding to allow rally2 rules, which means if a driver retires he can fix his car and re-enter the rally the next day. Up until this year Rallye Monte Carlo was the only event that had not adopted rally2.
Now for the talking points of the specific teams:
Volkswagen is, of course, the odds-on favorite for the driver's championship, the manufacturer's championship, and for the event win at almost any given rally. They have the best car and the two best drivers in the series. That said, the rivalry between Ogier and Latvala will be something to watch this year. Latvala came into his own last year, showing he had the ability to beat Ogier on straight pace. Ogier, meanwhile, found himself making mistakes that showed he isn't, in fact, Loeb-bot Mk II and is human after all. He got stuck in the snow in Sweden, had a big crash in Germany followed by an even bigger crash the next day, and suffered a series of spins (plus a gearbox issue and a mistake by his co-driver) in France. Latvala could very possibly take it to his teammate this year.
Citroen has brought back Meeke and Ostberg, and may be VW's primary competitor. Meeke was the one driver who could regularly come close to the pace of Ogier and Latvala (at least until he crashed), a pace that resulted in four podium finishes in his first full WRC season, including a third in Monte. He'll be, at the very least, a podium threat at every event where he keeps it on the road, and may even challenge for a win or two, particularly in Finland. Ostberg meanwhile doesn't have quite the same pace as his teammate, but tends to be a more consistent driver, scoring points in 32 of his last 36 events. And let's not forget Citroen's ace in the hole for Monte, the greatest rally driver of all time. Nine-time champion Sebastien Loeb is back to try and win his eighth Rallye Monte Carlo. Loeb's career worst finish in Monte was second (2002 and 2006), and while he has been out of the car for over a year it's hard to imagine him not being a threat.
Hyundai has decided not to play musical chairs with their second car this season, opting to give Dani Sordo a full season alongside Thierry Neuville. Hyundai is, in my opinion, the biggest threat to VW from a team/equipment perspective. Since they re-entered the WRC Hyundai has given the impression that they're not afraid to put in the time, effort, and resources needed to develop a car and team that can win rallies (and possibly a championship). Whereas Citroen as an organization seems almost distracted, with some of their motorsports budget now going to the WTCC, and M-Sport now a quasi-factory program largely funded by the sales of their R5 cars, Hyundai is completely focused and all-in, going so far as to end their North America motorsports program in order to add funds to their WRC program. They also have a new WRC car currently in development, despite their current car only being a year old. The new car is set to enter competition mid-season. The team may not be quite ready to consistently match pace with VW this season, but they've got commitment and two very fast drivers, which means they'll be a team to keep an eye on, both this year and in the coming seasons.
And then there's M-Sport. I am very much an M-Sport fan, so it hurts me to say this, but of the four teams they look to be the weakest. With Mikko Hirvonen gone, Elfyn Evans is now the team's #1, and frankly he doesn't have the pace quite yet. New team member Ott Tanak meanwhile has proven himself to be ridiculously fast, but has also proven himself to be even more retirement-prone than Robert Kubica, though if, as he's claimed, this is a new Ott Tanak, he could be a regular podium threat this season. There is some good news for the team, they, like Hyundai, have a new car in the works, with a completely new engine, transmission, and suspension setup. Their new car is currently scheduled to debut at Rally Portugal.
There's a spate of privateers to keep an eye on this year as well. Kubica is back, looking to turn some of that promise he showed last year into points. Whether he'll keep it on the road more often this year is yet to be seen, but I'm cautiously optimistic. Martin Prokop and Henning Solberg intend to run most of the season as well, and while neither is a threat for the win both are regular points-scorers. Then there's the man with the best team name ever: Lorenzo Bertelli. Bertelli has zero race experience in a WRC-spec car, but he showed speed and consistency last year in WRC2, finishing third in the championship and just six points behind championship winner Nasser Al-Attiyah. It's really hard to say what to expect from him, but he has the potential to at least be the fastest man in a Ford.
And with that, let's get down to business. For those who played Fantasy WRC last year, you know how we do. For those new to the game, you can see the rules (AND PRIZES) right here. Below are the WRC competitors entered for Rallye Monte Carlo, and you can see the full entry list here (remember, any driver on the entry list is fair game for Fantasy WRC). And for you stat-jockeys, here's the usual stats spreadsheets.
VOLKSWAGEN MOTORSPORT
Sebastien Ogier - Avg points last 10 races: 18.6 / Avg points Monte: 21.5
Jari-Matti Latvala - Avg points last 10 races: 15.4 / Avg points Monte: 2.0
CITROEN TOTAL ABU DHABI WRT
Kris Meeke - Avg points last 10 races: 6.3 / Avg points Monte: 15.0
Sebastien Loeb - Avg points last 10 races: 18.6 / Avg points Monte: 23.8
M-SPORT WRT
Elfyn Evans - Avg points last 10 races: 5.8 / Avg points Monte: 8.0
Ött Tanak - Avg points last 10 races: 4.3 / Avg points Monte: 4.0
HYUNDAI MOTORSPORT
Thierry Neuville - Avg points last 10 races: 8.9 / Avg points Monte: 0.0
Dani Sordo - Avg points last 10 races: 8.9 / Avg points Monte: 7.9
SINGLE CAR TEAMS AND INDEPENDENTS
Andreas Mikkelsen (VW) - Avg points last 10 races: 12.0 / Avg points Monte: 6.0
Mads Østberg (CITROEN) - Avg points last 10 races: 6.1 / Avg points Monte 10.0
Robert Kubica (FORD) - Avg points last 10 races: 1.4 / Avg points Monte: 0.0
Lorenzo Bertelli (FORD) - Avg points last 0 races: N/A / Avg points Monte: N/A
Martin Prokop (FORD) - Avg points last 10 races: 4.2 / Avg points Monte: 2.7
Henning Solberg (FORD) - Avg points last 10 races: 5.5 / Avg points Monte: 0.5
Sebastien Chardonnet (CITROEN) - Avg points last 0 races: N/A / Avg points Monte: N/A
Bryan Bouffier (FORD) - Avg points last 4 races: 7.5 / Avg points Monte: 14.0
Yuri Protasov (CITROEN) - Avg points last 3 races: 0.0 / Avg points Monte: N/A