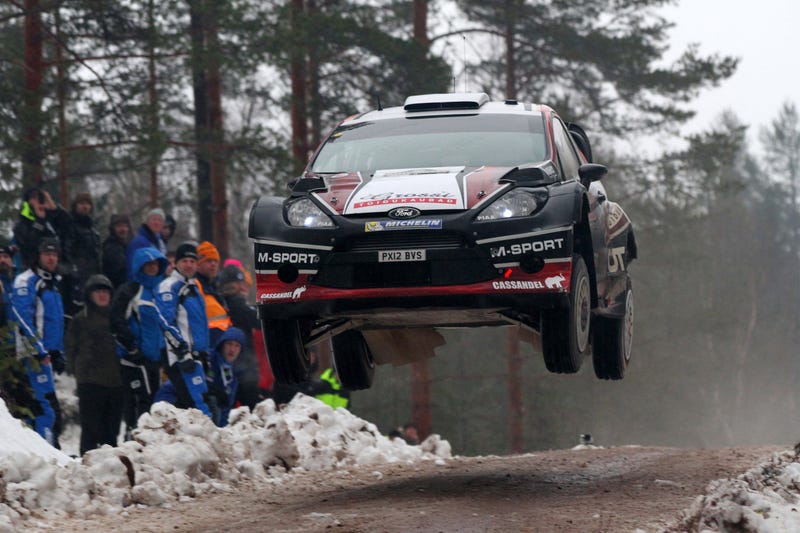 After a hard-fought first round it's off to Sweden for the WRC's only full-snow rally and one of the toughest events on the calendar, especially if you're not Scandinavian. Only two non-Scandies have won here, both named Seb, and each only managed to break the Scandinavian stranglehold once. With unique conditions and stiff competition this should be an exciting round.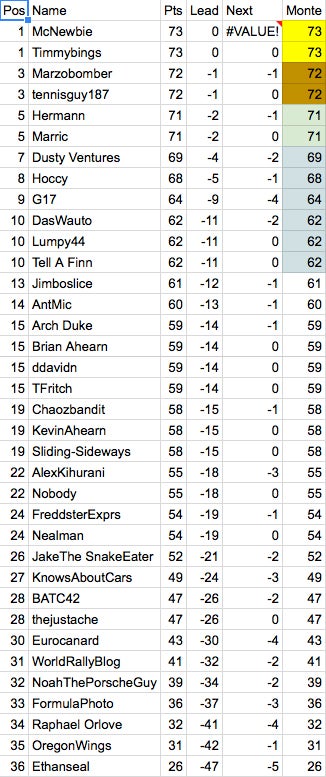 Speaking of excitement and hard-fought battles, we had thirty-six players make picks for the opening round of Fantasy WRC, and at the end of the rally the top 21 players found themselves separated by just 15 points. McNewbie and Timmybings managed to win the opening round, putting themselves in a tie atop the leaderboard with Marzobomber and Tennisguy just one point back.
As for Sweden, we already have our first plot twist. It's another strong field, with seventeen WRC cars entered, but Dani Sordo, Hyundai's most experienced driver, will be forced to sit out the event after breaking two ribs in a mountain biking accident. Hayden Paddon will step up and be the second driver on the Hyundai A-team alongside Thierry Neuville, and Hyundai test driver Kevin Abbring will make his WRC debut on Hyundai's B-team.
And with that, let's get down to business. For those who played Fantasy WRC last year, you know how we do. For those new to the game, you can see the rules (AND PRIZES) right here. Below are the WRC competitors entered for Rallye Sweden, and you can see the full entry list here (remember, any driver on the entry list is fair game for Fantasy WRC). And for you stat-jockeys, here's the usual stats spreadsheets.
VOLKSWAGEN MOTORSPORT
Sebastien Ogier - Avg points last 10 races: 18.6 / Avg points Sweden: 13.8
Jari-Matti Latvala - Avg points last 10 races: 15.4 / Avg points Sweden: 14.6
CITROEN TOTAL ABU DHABI WRT
Kris Meeke - Avg points last 10 races: 6.4 / Avg points Sweden: 1.0
Mads Østberg - Avg points last 10 races: 7.1 / Avg points Sweden: 13.4
M-SPORT WRT
Elfyn Evans - Avg points last 10 races: 5.2 / Avg points Sweden: 0.0
Ött Tanak - Avg points last 10 races: 4.1 / Avg points Sweden: 5.0
HYUNDAI MOTORSPORT
Thierry Neuville - Avg points last 10 races: 8.4 / Avg points Sweden: 3.3
Hayden Paddon - Avg points last 10 races: 3.6 / Avg points Sweden: N/A
SINGLE CAR TEAMS AND INDEPENDENTS
Andreas Mikkelsen (VW) - Avg points last 10 races: 13.5 / Avg points Sweden: 14.0
Kevin Abbring (HYUNDAI) - Avg points last 10 races: N/A / Avg points Sweden: N/A
Robert Kubica (FORD) - Avg points last 10 races: 1.4 / Avg points Sweden: 0.0
Lorenzo Bertelli (FORD) - Avg points last 1 races: 0.0 / Avg points Sweden: N/A
Martin Prokop (FORD) - Avg points last 10 races: 4.4 / Avg points Sweden: 2.7
Henning Solberg (FORD) - Avg points last 10 races: 5.1 / Avg points Sweden: 5.6
Juho Hanninen (CITROEN) - Avg points last 10 races: 3.2 / Avg points Sweden: 4.0
Michel Solowow (FORD) - Avg points last 4 races: 0.0 / Avg points Sweden: 0.0
Yuri Protasov (CITROEN) - Avg points last 4 races: 0.0 / Avg points Sweden: N/A