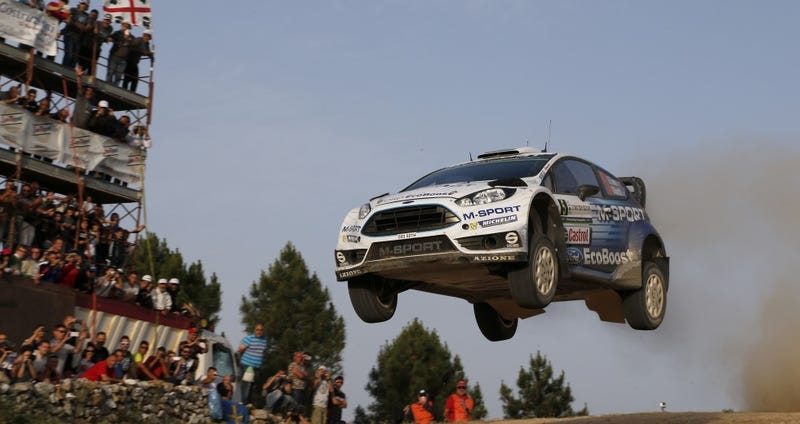 This is going to be another rush job, but I have (half) an excuse this time. As those of you following me on Twitter know, I was competing in a rally myself this past weekend. Usually I hand the preview off to Hoccy or Hermann when this is the case, but in the madness of preparing for the event I forgot to make the hand-off. So I'm writing this preview about an hour before post time.

Here's some points. I know you guys like points
What's Rally d'Italia like? It's like this:
Got it? Good. Here's that stuff I always copy/paste into the bottom:
HAVING A BAD SEASON?: We've got a new optional game category, titled the NOgier cup. A few players have stopped picking ogier out of principle (read: annoyance). Because I respect this (read: I am equally annoyed), I'm officially and retroactively implementing the NOgier cup. Any round where you don't include Ogier in any of your picks you'll automatically be added to the cup. Highest single round and highest season scores will each get two "Rally Takeover" stickers. Keep in mind that by making NOgier cup picks you're probably not going to score highly overall in this round.

And with that, let's get down to business. If you're new be sure to read the rules. Here's the official Entry List, and the current fantasy points spreadsheet. And while you're at it, you can also look at the driver's data and statistics.

VOLKSWAGEN MOTORSPORT - VW POLO R WRC
Sebastien Ogier (FRA) - Avg last 10 rounds: 17.6 - Avg Italy: 17.4
Jari-Matti Latvala (FIN) - Avg last 10 rounds: 11.2 - Avg Italy: 10.0

M-SPORT WORLD RALLY TEAM - FORD FIESTA RS WRC
Mads Ostberg (NOR) - Avg last 10 rounds: 10.5 - Avg Italy: 7.5
Eric Camilli (FRA) - Avg last 5 rounds: 2.8 - Avg Italy: N/A

HYUNDAI MOTORSPORT - HYUNDAI I20 WRC
Hayden Paddon (NZL) - Avg last 10 rounds: 9.3 - Avg Italy: 9.0
Dani Sordo (ESP) - Avg last 10 rounds: 10.1 - Avg Italy: 8.6

HYUNDAI MOTORSPORT N - HYUNDAI I20 WRC
Thierry Neuville (BEL) - Avg last 10 rounds: 4.3 - Avg Italy: 8.3
Kevin "Pancakes" Abbring (NLD) - Avg last 6 rounds: 0.0 - Avg Portugal: N/A

SINGLE CAR TEAMS AND INDEPENDENTS:
Andreas Mikkelsen (NOR) - VW - Avg last 10 rounds: 14.5 - Avg Italy: 3.0
Ott Tanak (EST) - FORD - Avg last 10 rounds: 3.7 - Avg Italy: 7.5
Lorenzo Bertelli (ITA) - FORD - Avg last 10 rounds: 0.6 - Avg Italy: 0.0
Martin Prokop (CZE) - FORD - Avg last 10 rounds: 2.3 - Avg Italy: 5.5
Henning Solberg (NOR) - FORD - Avg last 10 rounds: 3.4 - Avg 4.7
Federico Della Casa (CHE) - FORD - Avg last 0 rounds: N/A - Avg Italy: N/A
Valeriy Gorban (UKR) - MINI - Avg last 4 rounds: 0.3 - Avg Italy: N/A
Yazeed Al-Rajhi (SAU) - Ford - Avg last 2 rounds: 0.0 - Avg Italy: N/A
Mait Maarend (EST) - MINI - Avg last 0 rounds: N/A - Avg Italy: N/A
Roberto Tononi (ITA) - FORD - Avg last 0 rounds: 0.0 - Avg Italy: N/A