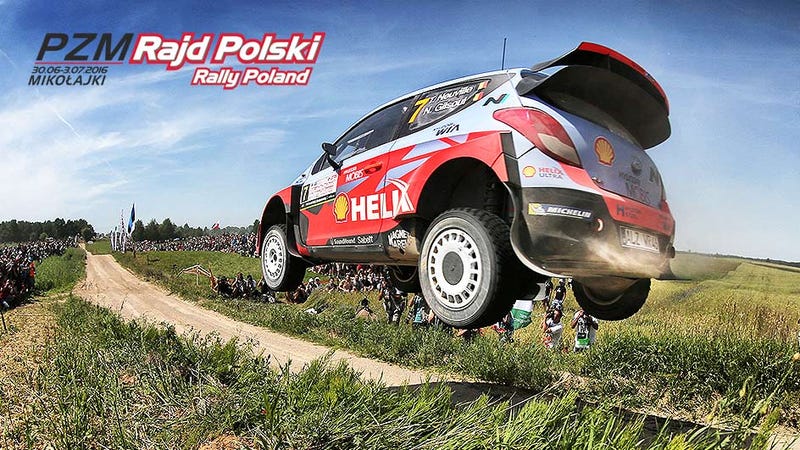 WHO WANTS TO GO FAST???
July is speed month in the WRC, as it features the two fastest rallies in the championship back-to-back. Last year's runnings of Rally Finland and Rally Poland were the fastest and the eleventh fastest rallies in WRC history respectively, clocking an average speed of about 78 at the former and 76 at the latter, a full ten miles an hour faster than the next fastest rally in the championship. How fast will they be in 2016?
First let's take a look at the points after Italy. With a number of the pre-event favorites having trouble and failing to score points (namely Mikelsen, Ostberg, and Paddon) it was a low-scoring round. There was no movement in the fantasy top 5, and overall nearly half the players stayed put.
Despite being the slower of the two month-of-speed events, Poland is, at least to my eye, the tougher of the two. The roads are narrower, and despite being smooth overall, have a few places where surprise holes and ruts sometimes develop (think Meeke's practice crash last year). Adding to the challenge is the lack of reference points when the stages go through the open fields. Without trees, buildings, or anything else to hint at which direction the road goes over the crests, listening to the notes (and trusting them at 100+ mph) becomes critical. The co-drivers earn their keep here.
From a fantasy perspective there's a lot of tough picks here, including every factory team:
•Ogier has won both rounds here since the event was re-introduced to the calendar, but has been struggling with road position this season.
•Ostberg has never had a good event here, with a best finish of ninth, but teammate Camilli has never raced here and is still very green.
•Paddon has been better over the past year than Neuville, but Neuville is coming off a win and has a podium finish in Poland to his credit
•Neither Breen nor Lefebvre have competed here in the WRC class.
So yeah. Good luck with that.

HAVING A BAD SEASON?: We've got a new optional game category, titled the NOgier cup. A few players have stopped picking ogier out of principle (read: annoyance). Because I respect this (read: I am equally annoyed), I'm officially and retroactively implementing the NOgier cup. Any round where you don't include Ogier in any of your picks you'll automatically be added to the cup. Highest single round and highest season scores will each get two "Rally Takeover" stickers. Keep in mind that by making NOgier cup picks you're probably not going to score highly overall in this round.

And with that, let's get down to business. If you're new be sure to read the rules. Here's the official Entry List, and the current fantasy points spreadsheet. And while you're at it, you can also look at the driver's data and statistics.

VOLKSWAGEN MOTORSPORT - VW POLO R WRC
Sebastien Ogier (FRA) - Avg last 10 rounds: 16.6 - Avg Poland: 25.0
Jari-Matti Latvala (FIN) - Avg last 10 rounds: 11.2 - Avg Poland: 11.0

M-SPORT WORLD RALLY TEAM - FORD FIESTA RS WRC
Mads Ostberg (NOR) - Avg last 10 rounds: 9.0 - Avg Poland: 1.0
Eric Camilli (FRA) - Avg last 6 rounds: 3.7 - Avg Poland: N/A

HYUNDAI MOTORSPORT - HYUNDAI I20 WRC
Hayden Paddon (NZL) - Avg last 10 rounds: 9.1 - Avg Poland: 7.0
Theirry Neuville (BEL) - Avg last 10 rounds: 5.8 - Avg Poland 11.5

ABU DHABI TOTAL WRT - CITROEN DS3 WRC
Stephane Lefebvre (FRA) - Avg last 7 rounds: 2.1 - Avg Poland: N/A
Craig Breen (IRL) - Avg last 3 rounds: 2.0 - Avg Poland: N/A

SINGLE CAR TEAMS AND INDEPENDENTS:
Andreas Mikkelsen (NOR) - VW - Avg last 10 rounds: 13.0 - Avg Poland: 18.0
Ott Tanak (EST) - FORD - Avg last 10 rounds: 4.3 - Avg Poland: 15.0
Lorenzo Bertelli (ITA) - FORD - Avg last 10 rounds: 0.6 - Avg Poland: 0.0
Dani Sordo (ESP) - HYUNDAI - Avg last 10 rounds: 10.1 - Avg Poland: 1.0
Henning Solberg (NOR) - FORD - Avg last 10 rounds: 3.4 - Avg Poland: 2.0
Valeriy Gorban (UKR) - MINI - Avg last 5 rounds: 0.2 - Avg Poland: N/A
Yazeed Al-Rajhi (SAU) - Ford - Avg last 3 rounds: 0.0 - Avg Poland: N/A