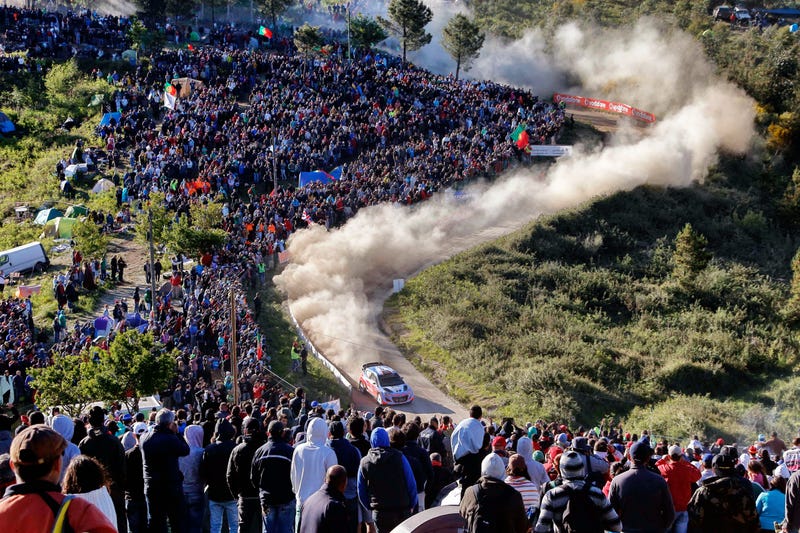 The WRC is back, and back in Europe, for the fifth round of 2016, and in Fantasy WRC this round is a critical point in the season.
Argentina saw the first ever win for WRC driver Hayden Paddon in what was probably the most exciting rally finish in over a decade. In the fantasy league we saw a seven-way tie, as seven different players managed to sweep the top 5. Dusty Ventures managed to maintain his series overall lead with his third-straight win, but the other two podium positions moved around as Tell A Finn and Marric, both of whom also won Argentina, moved up into second and third respectively. With Dusty's lead at a mere 14 points and the top 12 all still within 50 it's still a close fight. As for why this is a critical round, Portugal is the final event where a new player can enter and still have a chance at winning the season (thanks to the "drop" system that eliminates everyone's four worst scores).

Portugal is a tricky event, with narrow roads, rocks the size of houses, massive crowds, and a jump that can end your rally less than a quarter mile from the finish. Road position will be a major factor, and thanks to some fast drivers having some bad luck, there are a few potential winners who will have prime conditions (so long as they remembered their lucky rabbit's foot this time). Latvala, Neuville, and Meeke are all sitting outside the top 5 and will therefore have preferable road conditions. Paddon, meanwhile, will be starting second, right behind Ogier. It'll be interesting to see how the two compare when dealing with near-identical conditions for the whole weekend. Speaking of Paddon, he's on Hyundai's A-team this weekend, so you'll have to choose between him and Sordo, you can't have both this time.
IN CASE YOU HAVEN'T HEARD: We've got a new optional game category, titled the NOgier cup. A few players have stopped picking ogier out of principle (read: annoyance). Because I respect this (read: I am equally annoyed), I'm officially and retroactively implementing the NOgier cup. Any round where you don't include Ogier in any of your picks you'll automatically be added to the cup. Highest single round and highest season scores will each get two "Rally Takeover" stickers. Keep in mind that by making NOgier cup picks you're probably not going to score highly overall in this round.

And with that, let's get down to business. If you're new be sure to read the rules. Here's the official Entry List, and the current fantasy points spreadsheet. And while you're at it, you can also look at the driver's data and statistics.

VOLKSWAGEN MOTORSPORT - VW POLO R WRC
Sebastien Ogier (FRA) - Avg last 10 rounds: 17.9- Avg Portugal: 19.7
Jari-Matti Latvala (FIN) - Avg last 10 rounds: 12.9- Avg Portugal: 7.4

M-SPORT WORLD RALLY TEAM - FORD FIESTA RS WRC
Mads Ostberg (NOR) - Avg last 10 rounds: 10.1 - Avg Portugal: 8.0
Eric Camilli (FRA) - Avg last 4 rounds: 1.0 - Avg Portugal: N/A

HYUNDAI MOTORSPORT - HYUNDAI I20 WRC
Hayden Paddon (NZL) - Avg last 10 rounds: 9.3 - Avg Portugal: 4.0
Dani Sordo (ESP) - Avg last 10 rounds: 8.9 - Avg Portugal: 7.6

ABU DHABI TOTAL WRT - CITROEN DS3 WRC
Kris Meeke (GBR) - Avg last 10 rounds: 6.1 - Avg Portugal: 6.0
Stephane Lefebvre (FRA) - Avg last 6 rounds: 2.5 - Avg Portugal: N/A

HYUNDAI MOTORSPORT N - HYUNDAI I20 WRC
Thierry Neuville (BEL) - Avg last 10 rounds: 5.5 - Avg Portugal: 2.5
Kevin "Pancakes" Abbring (NLD) - Avg last 5 rounds: 0.0 - Avg Portugal: N/A

SINGLE CAR TEAMS AND INDEPENDENTS:
Andreas Mikkelsen (NOR) - VW - Avg last 10 rounds: 12.7 - Avg Portugal: 9.0
Ott Tanak (EST) - FORD - Avg last 10 rounds: 4.7 - Avg Portugal: 3.3
Khalid Al-Qassimi (ARE) - CITROEN - Avg last 10 rounds: 1.0 - Avg Portugal: 1.3
Martin Prokop (CZE) - FORD - Avg last 10 rounds: 3.1 - Avg Portugal: 6.3
Henning Solberg (NOR) - FORD - Avg last 10 rounds: 3.8 - Avg Portugal: 4.4
Jaroslav Melichárek (SVK) - FORD - Avg last 4 rounds: 1.0 - Avg Portugal: N/A
Valeriy Gorban (UKR) - MINI - Avg last 3 rounds: 0.3 - Avg Portugal: N/A
Yazeed Al-Rajhi (SAU) - Ford - Avg last 1 rounds: 0.0 - Avg Portugal: N/A
(Yes, I did use an obscure line from one of the Pirates Of The Carribean movies for this round's title)