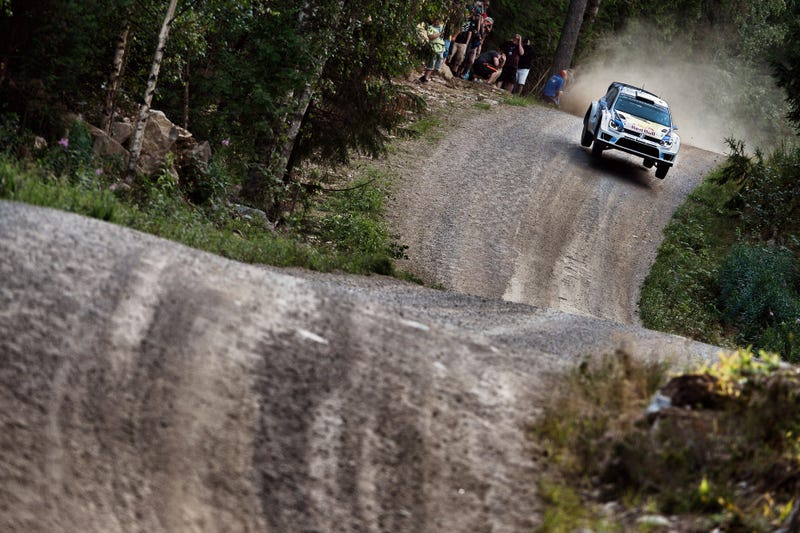 Here it is, the rally everyone waits all year for, the rally every fan wishes they were at and every grassroots racer wishes they were competing in. This is where banging off the rev limiter at 130 mph is routine and cars spend almost as much time in the air as they do on the ground. The flow, the flight, the fans, it's time for Rally Finland.
But first, a check back at the points after the other ludicrous speed rally of the WRC calendar: Rally Poland. Nealman went five-for-five on picking points-scorers, including picking four of the top six, earning himself his first round win of the season. Meanwhile Marric maintains the overall lead, and more importantly gained ground on defending champion Lumpy44, but Timmybings sits just six points out of the top spot, ready to strike if Marric makes a bad call. McNewbie and Dusty Ventures, sitting third and fourth respectively and separated by a single point, continue their private blood feud, which has now been going on for three seasons.

There are some tough calls to make for Rally Finland this year. In the entire 60+ year history of the rally, only five non-Scandinavians have won here, and of them only one, Loeb, has managed to score more than one win. Latvala on the other hand has won twice here in five years, but is having a rough season, while Ogier, the 2013 winner, is the best he's ever been, with 7 wins in his last 10 starts. Meanwhile Tanak looks like a hot pick after his podium on the similarly-fast roads of Poland, and Evans seems to be in a rough patch with two no-scores in his last three starts, but on the flip side Tanak has only managed to have back-to-back points-scoring finishes twice in his entire WRC career, and both those occasions were back in 2012.

Other talking points:

Hayden Paddon has finished top-4 in both rounds since getting the new paddle shift car. Can he keep it up?
Martin Prokop, usually a solid #5 pick, has failed to score points in his last two starts. Meanwhile Kubica has scored in two of his last three.

Anyone trying to decide which Citroen to start is in for a challenge. Ostberg crashed here last year but finished third in 2013. Meeke finished third last year but crashed in 2013.
And now, game time! Here's the official Entry List, and the always useful season of our Fantasy WRC is here, just waiting for your analytical eyes pretending to look at something important while your boss walks behind you. And while you're at it, you can also look at the driver's data and statistics.
If you're new to our game, welcome! You can check the rules and awesome prizes here.
VOLKSWAGEN MOTORSPORT - VW POLO R WRC
Sebastien Ogier (FRA) - Avg last 10 rounds: 19.3 - Avg Finland: 16.8
Jari-Matti Latvala (FIN) - Avg last 10 rounds: 12.2 - Avg Poland: 10.9

CITROËN TOTAL ABU DHABI WRT - CITROËN DS3 WRC
Kris Meeke (GBR) - Avg last 10 rounds: 7.1 - Avg Finland: 5.0
Mads Østberg (NOR) - Avg last 10 rounds: 8.5 - Avg Finland: 4.8
M-SPORT WORLD RALLY TEAM - FORD FIESTA RS WRC
Elfyn Evans (GBR) - Avg last 10 rounds: 6.5 - Avg Finland: 6.0
Ott Tänak (EST) - Avg last 10 rounds: 4.7 - Avg Finland: 4.0

HYUNDAI MOTORSPORT - HYUNDAI I20WRC
Thierry Neuville (BEL) - Avg last 10 rounds: 7.3 - Avg Finland: 6.0
Dani Sordo (ESP) - Avg last 10 rounds: 7.7 - Avg Finland: 6.3
SINGLE CAR TEAMS AND INDEPENDENTS:
Andreas Mikkelsen (NOR) - VW - Avg last 10 rounds: 11.7 - Avg Finland: 3.3
Khalid Al Qassimi (NLD) - CITROEN - Avg last 10 rounds: 1.2 - Avg Finland: 0.4
Robert Kubica (POL) - FORD - Avg last 10 rounds: 0.8 - Avg Finland: 0.0
Hayden Paddon (NZL) - HYUNDAI - Avg last 10 rounds: 6.2 - Avg Finland: 4.0
Martin Prokop (CZE) - FORD - Avg last 10 rounds: 3.8 - Avg Finland: 0.7
Lorenzo Bertelli (ITA) - FORD - Avg last 10 rounds: 0.0 - Avg Finland: N/A
Juho Hanninen (FIN) - FORD - Avg last 10 rounds: 3.2 - Avg Finland: 4.0
Henning Solberg (NOR) - FORD - Avg last 10 rounds: 3.6 - Avg Finland: 5.3
Alexy Lukyanuk (RUS) - FORD - Avg last 10 rounds: N/A - Avg Finland: N/A