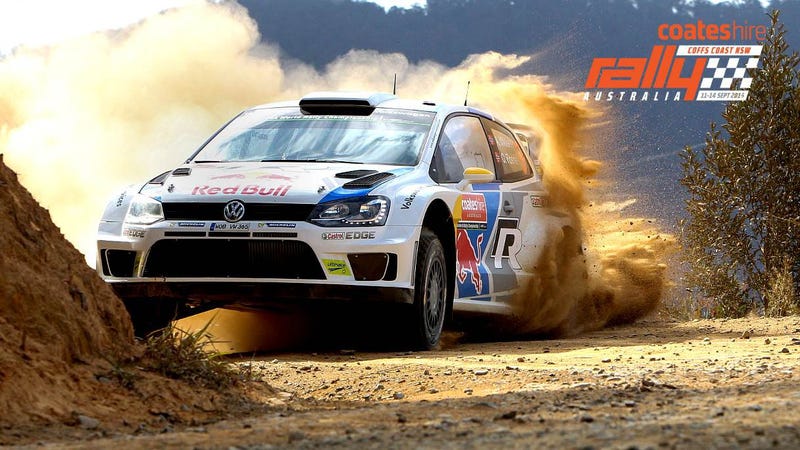 Get ready, folks. We're headed to the land of kangaroos, snakes, and car spiders. It's time for Rally Australia, and with it a big shake up in the Fantasy WRC points.
While the regular WRC has been the now-expected, now-boring Ogier/VW show, the Fantasy WRC has been an exciting fight, with four lead changes in the last five rounds. Marric has re-claimed the top spot, and now by double digits, but the entire top six are all within 30 points. Making the battle more complicated, this is the round where we begin dropping lowest scores. Players who have missed a round or two will start shooting up the standings, players who have only had kinda-bad rounds instead of really bad rounds may find themselves falling back. Either way the standings will be shuffled significantly by the time the dust settles in Oz.
Australia, in summary, is dusty, fast, very technical, and full of big trees that do not forgive. The gravel, known as "pea gravel," is different from the gravel they race on at any other event, and it proves a unique challenge with different grip levels and behavior. Ogier is, of course, the favorite here, having won the past two years, but there are certainly a few drivers to watch behind him. Neuville and Mikkelsen have both been strong here, with each scoring a podium, while Ostberg and Meeke have each scored a top five in one of their visits here, but a goose egg in their other. Hayden Paddon meanwhile has been promoted to the Hyundai "A" team for this round, replacing Sordo and making himself eligible for manufacturer points. This of course also means you need to choose between him and Neuville when making your roster (have fun with that). Plus side is this means you can grab Dani Sordo if you so desire. Also for you consideration, there are only eleven WRC cars entered, which means odds are high that a WRC2 contender will sneak into the points scoring places. If you want to grab a dark horse for your #5 that likely won't be on any other roster, checking out the WRC2 field might be a solid play.

And now, game time! Here's the official Entry List, and the always useful points spreadsheet is here, just waiting for your analytical eyes pretending to look at something important while your boss walks behind you. And while you're at it, you can also look at the driver's data and statistics.
If you're new to our game, welcome! You can check the rules and awesome prizes here.
VOLKSWAGEN MOTORSPORT - VW POLO R WRC
Sebastien Ogier (FRA) - Avg last 10 rounds: 21.1 - Avg Australia: 15.0
Jari-Matti Latvala (FIN) - Avg last 10 rounds: 12.2 - Avg Australia: 13.6

CITROËN TOTAL ABU DHABI WRT - CITROËN DS3 WRC
Kris Meeke (GBR) - Avg last 10 rounds: 5.0 - Avg Australia: 6.0
Mads Østberg (NOR) - Avg last 10 rounds: 10.0 - Avg Australia: 5.0

M-SPORT WORLD RALLY TEAM - FORD FIESTA RS WRC
Elfyn Evans (GBR) - Avg last 10 rounds: 6.1 - Avg Australia: 4.0
Ott Tänak (EST) - Avg last 10 rounds: 5.1 - Avg Australia: N/A
HYUNDAI MOTORSPORT - HYUNDAI I20WRC
Thierry Neuville (BEL) - Avg last 10 rounds: 8.5 - Avg Australia: 12.0
Hayden Paddon (NZL) - Avg last 10 rounds: 5.6 - Avg Germany: 8.0

SINGLE CAR TEAMS AND INDEPENDENTS:
Andreas Mikkelsen (NOR) - VW - Avg last 10 rounds: 10.2 - Avg Australia: 11.5
Dani Sordo (ESP) - HYUNDAI - Avg last 10 rounds: 7.1 - Avg Australia: 7.5
Lorenzo Bertelli (ITA) - FORD - Avg last 10 rounds: 0.1 - Avg Australia: N/A