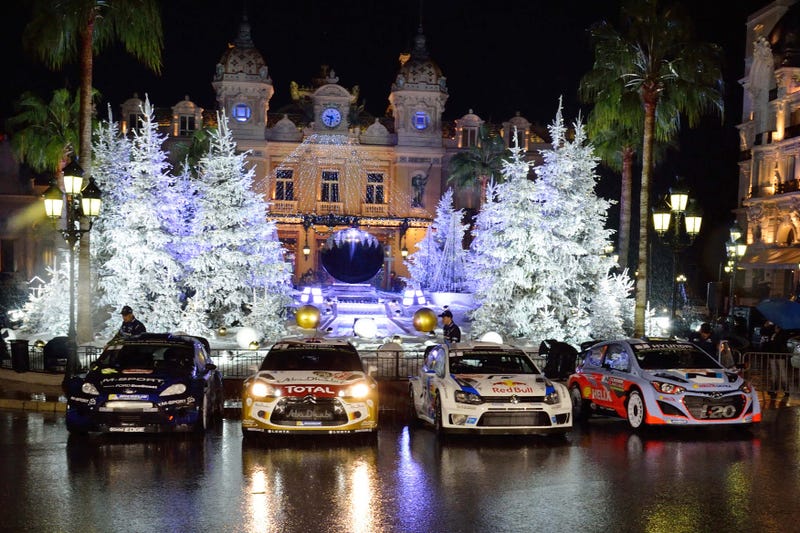 Welcome, everyone, to the third full season of Fantasy WRC. Monte Carlo is just ten days away, and I for one am itching for the new season to get underway. I'm also looking forward to stomping that lousy usurper Lumpy44 into oblivion and returning to my rightful place as king of Fantasy WRC.
RULES
Getting straight to business, here are the updated rules for 2015 (this time not written in "ye olde confusing English" like last year):
For each round you are to pick five drivers, ranked in the order you expect them to finish. No two drivers can be from the same team, though they can be on separate teams run under the same manufacturer. So, for example, you can't choose Ogier and Latvala, but you can choose Ogier and Mikkelsen, because officially Mikkelsen is on "Volkswagen Motorsport 2." All entered drivers are eligible for fantasy competition, be them WRC, WRC2, RGT, etc.
You must also select the driver you think will win the power stage. Your power stage pick can be absolutely anyone, including one of your five main drivers or a teammate of one of your five main drivers.
There will be a Fantasy Preview post put up on The Rally Takeover at 1 PM Eastern on the Monday before each WRC round. These preview posts traditionally include a brief description of the event, the drivers entered in the WRC category and what teams they are on, and basic stats on each driver (average finish over their past 10 starts and average finish at that particular event) You may make your fantasy picks in the comments section of the post (as is tradition) or you may tweet/email your picks to me*
If you need to get your fantasy picks in early you can tweet/email me*
You can also sign up for fantasy reminders. Provide me with your Twitter account or email and I'll let you know when the latest Fantasy Preview post has gone up.
The deadline for picks is the official start time of the event's first stage. You can get your picks in late, but you will be penalized five points for each stage started before you post your picks.
Once you've posted your picks you cannot change them with one exception: if one or more of your drivers has an incident (crash, illness, injury, withdrawal, etc) after you've made your picks but before the start of the rally you may adjust their position in your roster or replace them entirely without penalty. When making your alterations/substitutions you must state the reason for the change.
At the end of the season your best nine rounds will be counted. That means if you started late, missed a couple rounds, or managed to have all your picks drive off the same cliff in Portugal it won't ruin your season.
The season standings will be maintained in this Google Spreadsheet. For an idea of what it will look like once the season gets underway here's the 2014 season spreadsheet. I try to update the fantasy standings within 24 hours of the end of the rally, but may be late some days due to work/travel. I do promise to always have the stats updated by Thursday at the latest, with the possible exception of the Rally Argentina round, which could be a week or two late, because reasons.
POINTS
Fantasy points will be given as follows:
(1) for each of your five main drivers you earn the same amount of points the driver earned (minus earned power stage points).(2) the top five power stage finishing drivers will earn fantasy points, with those points being given out as follows: 1st-6pts, 2nd-4pts, 3rd-3pts, 4th-2pts, 5th-1pts.(3) If the driver you predicted to win does, in fact, win, you will earn three bonus points.(4) If all five of your fantasy drivers finish in the points in the order you predicted you will earn ten bonus points.(5) Each fantasy competitors nine best rounds will be counted toward their final season score. That means if a player is forced to miss a couple rounds or simply gets their picks all wrong a few times it won't necessarily cost them a decent result.(6) Tie breakers: If, at the end of the season, there is a tie at the top of the standings, the tie will be broken using the following methods, in order: Most round wins, round 2nd place, round 3 place, round top 5's, round top 10's.
I know that seems like a lot to take in, so if you're good and confused here's a cliff's notes version of all you really need to know:
Before each rally you pick five drivers. No two drivers can be from the same team. You also pick a driver for the power stage (final stage of the rally). He can be absolutely anyone, including one of the five drivers you already picked. Put your five drivers in the order you think they'll finish. You will receive the number of championship points your driver earns in the rally.
PRIZES
We won't just be playing for bragging rights this time, we've got legit prizes. There will be two prize-winners at the end of the season, the overall season champion and the player who scored the most points in a single round.** Each will get their choice of one of four 1:43 scale model rally cars, with the season champion getting first pick. Due to shipping costs only U.S. and Canadian residents will be eligible for the pictured prizes, unless the overseas winner is willing to cover the shipping. EDIT: Fantasy players outside the U.S./Canada are still eligible for a 1:43 scale model, with the exact model they receive TBD by availability.

If the season champion is also the player with the highest single round the player will get both prizes, and because I'm a softie the player with the next highest single round will receive a prize as well.
Speaking of which, here are the available models:
•Lancia Delta Integrale - Yves Loubet - Rally Vinho da Maderia 1989
•Ford Escort Cosworth - Tommi Makinen - 1000 Lakes Rally (Finland) 1994 (Makinen's first WRC win)
•Ford Focus WRC - Colin McRae - Rally Catalunya 2000
•Subaru Impreza - Petter Solberg - Rally New Zealand 2003 (Petter's championship season)
UPDATE: Formula Photographic, the magicians behind the Subaru Launch Control web series, have sweetened the pot with plans to add some Launch Control and/or WRC prizes.
That's pretty much it. Whether you're a returning player or a new competitor, thank you for being a part of the 2015 Fantasy WRC season. I've had fun putting this on and expanding the program each year. We had 39 players last year, hopefully this time around we'll break 50.
2015 World Rally Championship Calendar:
January 22-25: Rallye Monte Carlo
February 12-15: Rally Sweden
March 5-8: Rally Mexico
April 23-26: Rally Argentina
May 21-24: Rally de Portugal
June 11-14: Rally d'Italia Sardegna
July 2-5: Rally Poland
July 30-August 2: Rally Finland
August 20-23: Rallye Deutschland (Germany)
September 10-13: Rally Australia
October 1-4: Rally de France - Alsace
October 22-25: Rally Catalunya (Spain)
November 12-15: Wales Rally GB
2015 WRC full*** season teams and competitors
•VOLKSWAGEN MOTORSPORT
–Sebastien Ogier
–Jari-matti Latvala
•CITROEN TOTAL ABU DHABI WORLD RALLY TEAM
–Kris Meeke
–Mads Østberg
•M-SPORT WORLD RALLY TEAM
–Elfyn Evans
–Ott Tanak
•HYUNDAI MOTORSPORT
–Thierry Neuville
–Dani Sordo
•VOLKSWAGEN MOTORSPORT 2
–Andreas Mikkelsen
•RK M-SPORT WORLD RALLY TEAM
–Robert Kubica
•HYUNDAI MOTORSPORT N
–Hayden Paddon
•FUCKMATIE WORLD RALLY TEAM (best team name ever)
–Lorenzo Bertelli
•JIPOCAR CZECH NATIONAL TEAM
–Martin Prokop
•ADAPTA WORLD RALLY TEAM
–Henning Solberg
---
**To be eligible for the "single round points" prize you must have made your picks before the start of the rally. We'll call this the "Alex Kihurani Rule"
***Mostly full. Probably. Maybe.