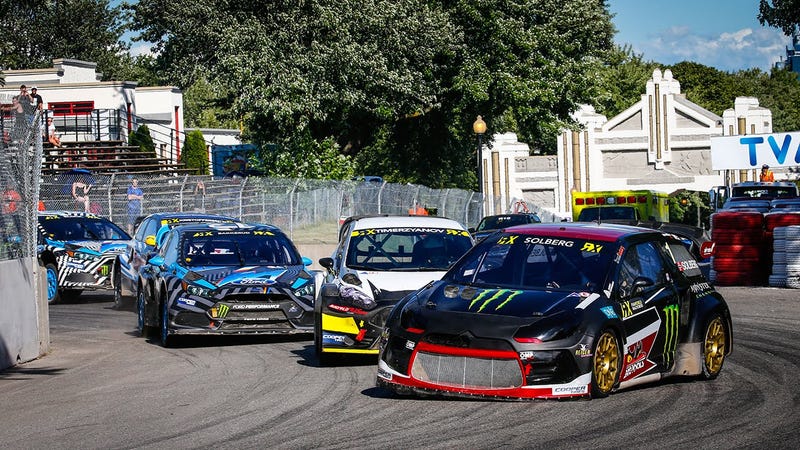 The World Rallycross Championship is headed to Canada this weekend for their only event in the Americas. Hoccy has come down with a serious case of "I'm-too-busy-for-this-shit-itis," so he's asked me to cover for him this round. Cool.
Here's where the championship points usually go. I don't have those. Let's assume Squirrel Boy and GiuRX are in a close battle for the lead and I've crashed and burned down to last place. That sounds like a safe bet. On to Canada!
Right... um... [Googles furiously] ... The Canadian round of WorldRX is held at the Circuit Trois Rivières in the city of the same name. The track is a street circuit and has hosted the Grand Prix de Trois Rivières since 1967. It's been hosting WorldRX since 2014 and has seen three different winners over the past three years. Petter Solberg has dominated the heats, winning 7 of the 12 rounds, but has only two semifinal wins and one final win to his name. That's... [internetting intensifies] ...yeah, that's all I've got. Which might be bad news for me since I'll actually be attending this one. (I also don't know a word of French.) This should be fun.
Track info goes here, right? I'm pretty sure track info goes here.
TRACK DETAILS:
Length: 1351 m
Tarmac/Gravel: 59/41
Lap Record: 00:47.141 (Timur Timerzyanov)
Previous Winners: Timmy Hansen (2016), Davy Jeanney (2015), Petter Solberg (2014)

There are mainly three things you need to consider before deciding on the picks before Canada. Probably. Maybe there's more. Maybe there's only one thing. I have no idea. Maybe the thing that you need to know is which drivers like poutine.
...I should bring Andreas some poutine. I'm totally bringing Andreas some poutine.
The rules for participating in Fantasy WorldRX are simple (allegedly). You pick six drivers from the entry list below (damn, I need to find the entry list) and post them in the comments before the racing starts Saturday. You may only pick one driver from each team, but can mix drivers from WorldRX and EuroRX as you want (oh wait, EuroRX isn't here for this round. Should I delete this bit? Probably). If your drivers score points in the same order as in your picks, you get an additional 10 points. If you want to do an in-depth analysis before picking, consult the WorldRX stats spreadsheet. You find all the supercar entries below.
PSRX VOLKSWAGEN SWEDEN - VOLKSWAGEN POLO GTI
#3 Johan Kristoffersson (SWE) - Avg last 10: 24.30 - Avg CAN: 16.00
#11 Petter Solberg (NOR) - Avg last 10: 19.50 - Avg CAN: 23.67

TEAM STARD - FORD FIESTA
#6 Janis Baumanis (LVA) - Avg last 10: 7.80 - Avg CAN: 2.00
#7 Timur Timerzyanov (RUS) - Avg last 10: 9.30 - Avg CAN: 13.33

TEAM PEUGEOT-HANSEN - PEUGEOT 208
#9 Sebastien Loeb (FRA) - Avg last 10: 18.00 - Avg CAN: 15.00
#21 Timmy Hansen (SWE) - Avg last 10: 16.60 - Avg CAN: 17.00
#71 Kevin Hansen (SWE) - Avg last 10: 9.90 - Avg CAN: N/A

HOONIGAN RACING DIVISION - FORD FOCUS RS
#13 Andreas Bakkerud (NOR) - Avg last 10: 19.30 - Avg CAN: 17.67
#43 Ken Block (USA) - Avg last 10: 8.60 - Avg CAN: 12.00

EKSRX - AUDI S1
#1 Mattias Ekström (SWE) - Avg last 10: 23.90 - Avg CAN: 18.00
#15 Reinis Nitiss (LVA) - Avg last 10: 7.20 - Avg CAN: 9.33
#57 Toomas "Topi" Heikkinen (FIN) - Avg last 10: 9.40 - Avg CAN: 18.33

MJP RACING TEAM AUSTRIA - FORD FIESTA
#44 Timo Scheider (DEU) - Avg last 10: 9.30 - Avg CAN: N/A
#96 Kevin Eriksson (SWE) - Avg last 10: 9.10 - Avg CAN: 8.00

DA RACING - PEUGEOT 208
#66 Grégoire Demoustier (BEL) - Avg last 3: LOLIDK - Avg CAN: ######
#87 Jean-Baptiste Dubourg (FRA) - Avg last 10: 3.10 - Avg CAN: N/A

SINGLE CAR TEAMS AND INDEPENDENTS
#10 Kornel "Csucsu" Lucacs (HUN), Kia Rio - Avg last 7: 0.14 - Avg CAN: N/A
#68 Niclas Grönholm (FIN), Ford Fiesta - Avg last 10: 2.80 - Avg CAN: 7.00
#77 Rene Münnich (DEU) - Avg last 10: 0.70 - Avg CAN: 1.50
#100 Guy Wilks (GBR), Volkswagen Polo - Avg last 10: 2.20 - Avg CAN: N/A
Fun thing I learned today, there's actually a comic called Science Dog