The FIA World Rallycross Championship continues with its second round this weekend, and helps a German touringcar championship start their season!
However, we have to take a look back to what happened in Portugal in the first round. While Mattias Ekström was the best driver in qualifying, the second placed Petter Solberg ended up with the win in the final and 29 points towards the championship. Robin Larsson and Topi Heikkinen finished second and third respectively, with Larsson on a joint second in the championship on 21 points together with Kristoffersson. Heikkinen and Andreas Bakkerud is just behind on 20 points moving on to Hockenheim and the second round. The tight standings is also reflected in our little Fantasy Game, where we have all players within 20 points. Sliding-Sideways took the win in the first round, and will be a strong competitor this year as well. The full results can be found here.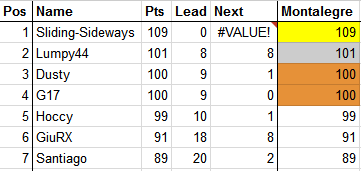 Hockenheim was added last year as a bit of a surprise, and since this is a joint weekend with the season opener in DTM the organizer hopes to gather some new fans. It is the first out of two rounds in Germany this year, the second being the iconic Estering. The rallycross track was put together last year, and features a long tarmac straight with a sweeping corner in the end, and several tighter gravel corners. Last year one of the gravel parts were not used because of too much loose gravel, but that should be sorted this year.

Track details:
Length: 1.240 km
Tarmac/Dirt: 60/40
Lap Record: 0:43.764, Petter Solberg (2015)
Previous winner: Petter Solberg (2015)
The entry list for Hockenheim is pretty much the same as for Montalegre, with the exception of Joaquim Santos and Bohdan Ludwiczac. Max Pucher and Jean-Baptiste Dubourg did not race in Portugal, but their cars should be ready only Dubourg is properly ready for Hockenheim. Pucher raced last weekend in the first round of the lower level Rallycross Challenge Europe series where he won the supercar final, but are still waiting for transmission parts for their other cars. He is borrowing some parts from Liam Doran for this weekend (good guy!), so he will make it to the start despite worries at the start of this week. It is also worth noting that Mattias Ekström will race in both DTM and WorldRX this weekend, something that seemed so unlikely last year that it was his April Fools joke. If you want to know more about the regular WorldRX drivers, consult our guide:
This year you can follow the live broadcast on Youtube on sunday, with the qualifying highlights and live finals. If you're new to this game you can read the rules in detail here, and you can find everything you need to know about the series and the permanent teams here. I've also made a statistics spreadsheet if you want to do an in-depth analysis before making picks. All Supercar entrants is listed below.
VW RX SWEDEN - VOLKSWAGEN POLO
#3: Johan Kristoffersson (SWE) - Avg last 10: 17.20 - Last year: 15
#92: Anton Marklund (SWE) - Avg last 10: 8.70 - Last year: 0

EKSRX - AUDI S1
#5: Mattias Ekström (SWE) - Avg last 10: 18.70 - Last year: N/A
#57: Toomas "Topi" Heikkinen (FIN) - Avg last 10: 9.80 - Last year: 15

WORLDRX TEAM AUSTRIA - FORD FIESTA
#6: Janis Baumanis (LVA) - Avg last 4: 5.25 - Last year: N/A
#7: Timur Timerzyanov (RUS) - Avg last 10: 9.10 - Last year: 2
#31: Max Pucher (AUT) - Avg last 10: 0.00 - Last year: 0

TEAM PEUGEOT HANSEN - PEUGEOT 208
#9: Sebastien Loeb (FRA) - Avg last 1: 17.00 - Last year: N/A
#17: Davy Jeanney (FRA) - Avg last 10: 16.10 - Last year: 12
#21: Timmy Hansen (SWE) - Avg last 10: 22.10 - Last year 13
#71: Kevin Hansen (SWE) - Avg last 2: 10.00 - Last year: N/A

HOONIGAN RACING DIVISION - FORD FOCUS RS
#13: Andreas Bakkerud (NOR) - Avg last 10: 17.50 - Last year: 16
#43: Ken Block (USA) - Avg last 3: 10.33 - Last year: N/A

ALL-INKL.COM MÜNNICH MOTORSPORT - SEAT IBIZA
#15: Reinis Nitiss (LVA) - Avg last 10: 10.80 - Last year: 26
#77: Rene Münnich (DEU) - Avg last 10: 1.30 - Last year: 0

OLSBERGSMSE - FORD FIESTA
#68: Niclas Grönholm (FIN) - Avg last 2: 0.00 -Last year: N/A
#96: Kevin Eriksson (SWE) - Avg last 2: 16.00 - Last year: N/A

SINGLE CAR TEAMS AND INDIVIDUAL ENTRIES:
#1: Petter Solberg (NOR), Citroën DS3 - Avg. last 10: 21.80 - Last year: 30
#4: Robin Larsson (SWE), Audi A1 - Avg last 10: 13.40 - Last year: 16
#33: Liam Doran (GBR), JRM Mini Countryman - Avg last 10: 2.30 - Last year: 15
#87: Jean-Baptiste Dubourg (FRA), Citroën DS3 - Avg last 4: 6.50 - Last year: N/A