Welcome to the final round of Fantasy WorldRX this year. The FIA World Rallycross Championship is one of three championships concluding this weekend, and the only one where the championship isn't decided yet. To add to the action we go to a brand new track in Rosario!
It's been a long time since we saw Andreas Bakkerud clinch his first win of the season in a rainy Italy. There Petter Solberg got to third and extended his lead over Timmy Hansen, who crashed out of the semifinal. Johan Kristoffersson got second, and has a firm grip on third overall.
FINAL RESULTS ITALY:
1. Andreas Bakkerud - 04:45.216
2. Johan Kristoffersson - 04:47.167
3. Petter Solberg - 04:49.297
4. Anton Marklund - 04:58.090
5. Manfred Stohl - 05:09.237
6. Timur Timerzyanov - 05:16.642
WORLD CHAMPIONSHIP POINTS:
1. Petter Solberg - 279
2. Timmy Hansen - 253
3. Johan Kristoffersson - 228
4. Andreas Bakkerud - 215
5. Davy Jeanney - 189
6. Mattias Ekström - 179
7. Reinis Nitiss - 164
8. Toomas Heikkinen - 128
9. Robin Larsson - 119
10. Timur Timerzyanov - 105
Which means that Petter Solberg needs 5 more points to be crowned World Champion. Getting to the semifinals is enough, for a driver who has never missed out on semifinals in WorldRX history. With only 19 competitors this weekend, Solberg might make it through with a DNF in one heat. Winning the skills-challenge at the ROC last weekend, the confidence must be high for Solberg. Even if he was knocked out early by eventual champion of champions Sebastian Vettel. Timmy Hansen has had a strong finish to the season though, and will fight towards the very end.

In our fantasy game GiuRX had a dominant win over the other three ever-present players. I still have a narrow lead ahead of Giu and G17, and it seems like it is a three horse race for the overall victory now. Giu has the highest round score with 141, a feat that won't be beaten this season because of the lack of available EuroRX points.

On to Argentina, the round was moved from San Luis to Rosario and the Juan Manuel Fangio circuit in the middle of the season. This was mostly due to San Luis not being able to upgrade the track according to the promoters expectations. Rosario is the third larges city in Argentina, and also expected to host WorldRX next year.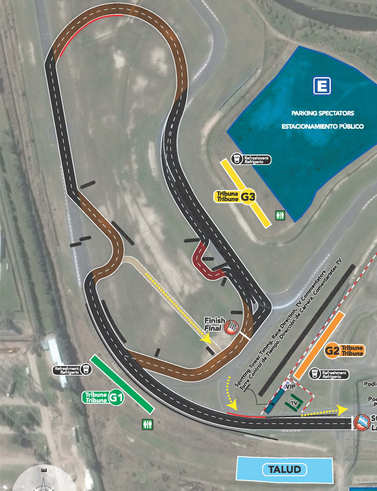 The track will feature 60 % tarmac and 40 % gravel, and be just over 1 km long. In San Luis we saw a lot of loose gravel, which is often common with the new tracks. Because of Argentinian Rallycross (CARX) supporting WorldRX this weekend, the track will experience more wear than last year.

The entry list see some changes as well, and there are some young faces among the more experienced drivers this time around. Perhaps the most exciting entry is that of RX Lites Cup winner Kevin Hansen in an OlsbergsMSE Ford(!). Kevin Eriksson, who won the cup last year, finished on the podium in Argentina, so there is no doubt in the quality of these drivers. Hansen is just as good as Eriksson, and could he even beat his brother this weekend?
Another familiar face from RX Lites are Thomas Bryntesson. In his debut season the Norwegian has won several rounds this year in his Gulf-coloured Lites, and impressed so much that PG Andersson gave him his seat for Argentina. He should be able to compete with Hansen to become the best rookie, and possibly get to the semifinals as well.
Semifinals should be the goal for Ole Christian Veiby as well, who in a last minute change was thrown in for Tord Linnerud. Linnerud is out with back problems, and his replacement has been just as fast this year. Veiby has won several rounds in WRC3, as well as EuroRX in Barcelona. He will drive Tords car, so the setup might be a slight issue for the young Norwegian.

Replacing Max Pucher in Argentina is Janis Baumanis, who previously this year won the S1600 championship. He has also driven a Peugeot for the Hansen team as part of their development squad, with various success. The Fiesta should be as easy to drive, but I think he will be the young driver to struggle to get to the semifinals. That will also be the case for Gianni Morbidelli, who makes his second appearance for Münnich Motorsport.
As always, you can watch the round on Livestream, this time a bit later than usual because of timezones and daylight and stuff. It will broadcast on Sunday from 18:00 to 20:00 CET, a time that is a lot more friendly to the American viewers.
If you're new to rallycross, everything you need to know is in the Mega Guide. The fantasy game is quitte simple, just pick six drivers that you think will do well, but only one from each team. In case you want to do an in-depth analysis, I've made a statistics spreadsheet for your pleasure. Full results from Fantasy WorldRX can be found here.
SDRX - CITROËN DS3
#1 Petter Solberg (NOR) - Avg last 10: 22.20 - Last year: 30
#33 Liam Doran (GBR) - Avg last 10: 3.10 - Last year: 0

VOLKSWAGEN TEAM SWEDEN - VW POLO
#3 Johan Kristoffersson (SWE) - Avg last 10: 18.60 - Last year: N/A
#52 Ole Christian Veiby (NOR) - Avg last 10: 3.67 - Last year: N/A

WORLDRX TEAM AUSTRIA - FORD FIESTA
#7 Manfred Stohl (AUT) - Avg last 10: 6.60 - Last year: 9
#199 Janis Baumanis (LVA) - Avg last 10: 0.00 - Last year: N/A

EKSRX - AUDI S1
#10 Mattias Ekström (SWE) - Avg last 10: 17.90 - Last year: N/A
#92 Anton Marklund (SWE) - Avg last 10: 8.50 - Last year: 13

OLSBERGSMSE - FORD FIESTA ST
#13 Andreas Bakkerud (NOR) - Avg last 10: 17.80 - Last year: 20
#15 Reinis Nitiss (LVA) - Avg last 10: 13.50 - Last year: 26
#42 Timur Timerzyanov (RUS) - Avg last 10: 9.40 - Last year: 10
#98 Kevin Hansen (SWE) - Avg last 10: N/A - Last year: N/A

TEAM PEUGEOT-HANSEN - PEUGEOT 208
#17 Davy Jeanney (FRA) - Avg last 10: 16.10 - Last year: N/A
#21 Timmy Hansen (SWE) - Avg last 10: 21.60 - Last year: 18

MARKLUND MOTORSPORT - VW POLO
#57 Toomas Heikkinen (FIN) - Avg last 10: 9.90 - Last year: 20
#100 Thomas Bryntesson (NOR) - Avg last 10: N/A - Last year: N/A

ALL-INKL.COM MÜNNICH MOTORSPORT - AUDI S3
#77 Rene Münnich (DEU) - Avg last 10: 1.30 - Last year: N/A
#110 Gianni Morbidelli (ITA) - Avg last 10: 0.00 - Last year: N/A

SINGLE CAR TEAMS AND INDEPENDENTS:
#4 Robin Larsson (SWE), Audi A1 - Avg last 10: 9.40 - Last year: N/A