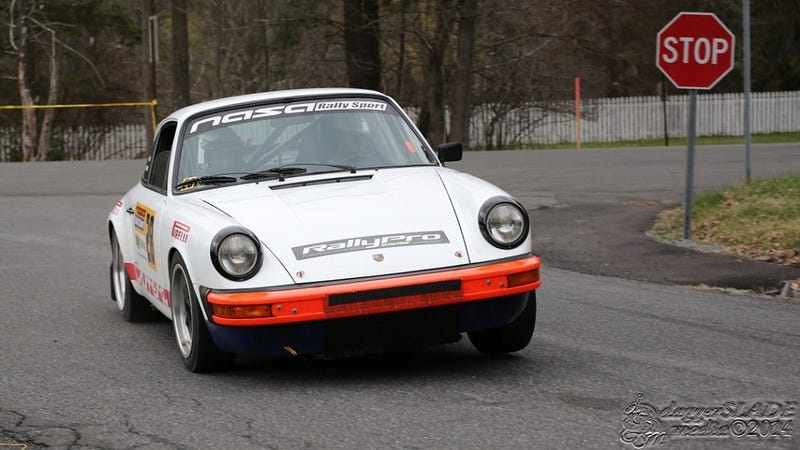 The Empire State Performance Rally has been known as the only tarmac rally in the US, and the only one in North America besides the famous Targa Newfoundland. After a departure to gravel this year, the organizers are hoping to return to tarmac in the spring of 2016.
At last year's tarmac event, several stages had to be canceled for safety due to non-rally traffic disobeying stage marshals and entering closed rally stages. This problem can happen at any rally, but it was more pronounced at ESPR. Far more people live and travel on paved roads, and despite closure signs put up well before the event, they don't expect their usual route home to be closed for a rally.
To avoid this issue, ESPR became a gravel event for 2015, taking place entirely on privately owned roads where traffic would not be an issue. It was originally scheduled for the spring, but the unusually heavy snowfall this past winter left the roads impassible, even for rally cars. The event was rescheduled twice, and finally took place November 7-8.
There has been discussion of whether or not ESPR will go back to tarmac or remain a gravel rally next year. The organizers are open to tarmac, but have said that more volunteers will be required to make it happen. More eyes and bodies are needed to block cross streets and driveways, and make sure that any traffic not associated with the rally stays off the stages. V8 Rally Ranger driver Gary De Masi has taken to Facebook to put out a call for volunteers to make this happen.
Every one has there own rumors about the tarmac rally but truth be told it is a logistical nightmare and the organizers can pull this off but they need more people to volunteer!! It requires at least if not more than 60 additional volunteers than current. So is this a rally community or not? If every team can pledge one additional volunteer and 30 plus teams compete then we would have enough.

Others have taken up Gary's call, and are spreading the word throughout the rally community. So here I am, doing the same thing. Though a conflict with the final rescheduled date prevented me from going this year, I plan to volunteer for the next one. The ESPR web site currently lists next year's dates as April 30 - May 1.
NASA Rally Sport does not yet list ESPR on next year's calendar. Gary says we only have two months to plan for a tarmac ESPR in the spring, so the decision will have to be made soon, and the organizers need to know that they will have the required number of volunteers available to make it happen. Email, call, message through the web site, send smoke signals, carrier pigeon, or tap out Morse code (some ham radio operators may prefer this method) if you are willing to commit to helping bring back the last tarmac rally in the US during the last weekend of April next year.
(Photo credits: daggerSLADE Media, Pete Kuncis/On a Limb Racing)