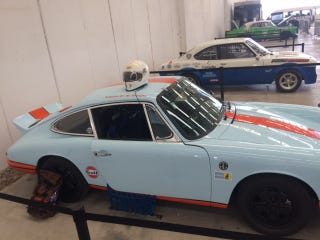 Tech inspection, co-drivers meeting, and waiting. Day -1 of Panamericana is never exciting, but like all rallies, it's part of the game.

I need to start off apologizing for picture quality. The internet speeds are likely to be bad throughout the trip, limiting what I'll be able to upload.
Ray had loaded the car in by the time I arrived. It was slightly different than the last time I ran it at Chihuahua Express in April. The wheels were changed out for black painted Fuchs and the rear trunk was replaced with a '73 Carrera lid. The spoiler should help us stay planted when we hit the 147 mph limit of the car. (Yes, not a typo, speeds get stupid high here at times, generally on stage, but some transits go quick).
We went through tech and medical checks in the morning, I collected the organizer supplied route book - although I had printed off daily English only copies at home - and set my watches to rally time. I like having backups for everything, route books, timing, fire suit; it's always better to have it and not need it than the other way around. That is a statement repeated regularly by Ray, and a good mantra for any event prep.
After tech I briefly met Don and Buddy before having to split to the copilots meeting. It's mostly for novices, but everyone is required to attend. They split to two sessions, Spanish followed by English. After heading back to the car the official day is done, letting me snap some shots of other cars and get back to the hotel to rest.

All that's left is the day's photo dump and to rest and prepare for tomorrow.