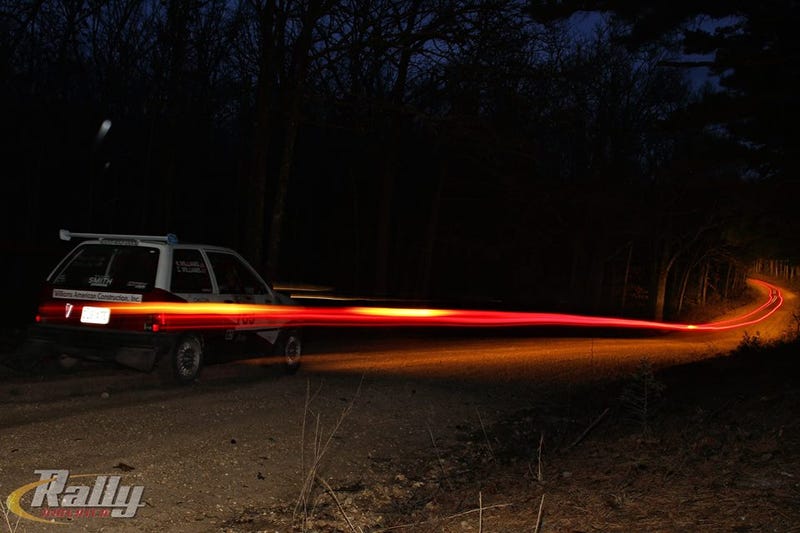 One of the best things about rallying is that it takes place in some of the most interesting and beautiful places in the world. One of the worst things is that rally people, be they competitor, crew, or fan, often pass by these interesting landmarks either without the time or without the knowledge to explore them. Through Beyond the Rally I hope to explore and share some of these places.

THE EVENT:

The Rally In The 100 Acre Wood takes place in Salem, Missouri, about two hours southwest of St Louis, and is run mostly on fast and flowing farm and ranch roads, making for some of the fastest stages in the Rally America championship. Historically the event has taken place the last weekend of February, but after a spate of winter storms made conditions treacherous for both competitors and fans alike in the past few years, the 2016 round was moved forward to the third week of March in the hopes of providing warmer, drier weather.
PLACES I WENT:
Like most Rally America events, proceedings were to get underway early Thursday morning with recce (short for reconnaissance), and registration for said recce taking place Wednesday evening. My driver, Garry Gill, and I were planning on doing some pre-event testing during the day Wednesday so I decided to arrive Tuesday afternoon. Thanks to clear roads through Indiana and Illinois I found myself arriving in Missouri hours earlier than anticipated and well ahead of the rest of the team, so as I cruised down I-44 I began looking for things to do. Fortunately the area is absolutely littered with state parks.
1) Robertsville State Park
The first park I checked out was Robertsville State Park, chosen among the many park options simply because I saw the sign. I opened up my eyes and saw the sign. It ended up being a nice, small park on the southern bank of the Meramec River. The park had camping, a boat launch for fishing, picnic grounds, a playground for kids, and a nice overlook of the river. It wasn't much different from most state parks, and for an out-of-area traveler it didn't really have anything unique that would make me recommend it over some of the other area attractions, but it was still a nice little stop. On the way out I decided to hunt a geocache that had just been hidden two days prior. Jackpot.
The next morning I woke up early for testing… and was told the car (and my driver) wouldn't be there until the next day. When you're a co-driver in this situation there's only one reasonable course of action: PLAYTIME!
This part of Missouri is considered a mecca for floating (canoeing, kayaking, rafting, and tubing), with dozens of miles of fantastic waterways. There are even about a half dozen resorts in the area that revolve around float trips. I love me some kayak, so I decided to take advantage of the 75 degree weather and go float myself down a river. I chose a kayak rental facility nearby and headed over in the hopes of making it onto the morning shuttle. Get to the facility and… womp womp, they hadn't opened for the season yet. On to plan B!
2) Meramec Caverns/Caveman Zip Line
Missouri is known as the cave state, and for good reason. Caves are to Missouri what Dunkin Donuts is to Massachusetts (literally. MO caves outnumber MA Dunkin Donuts 6-to-1, and when adjusted for area MO has a cave for every 10.8 square miles while MA has a Dunkin for every 9.2). Whether you try or not, you're going to pass one, and then another around the corner. I'd seen billboards for the local show cave, Meramec Caverns on the drive in, so I decided to check it out. This plan went off the rails when I arrived at the cavern and noticed the zip line hanging over the parking lot.
Meramec Caverns, as it turns out, also has a zip line tour. And this isn't the kind where you plop down thirty bucks, hike up a hill, get strapped onto the one zip line, and find yourself on your way back to the car 20 seconds later. This was a proper (albeit slightly small) zip line tour, made up of a series of lines (two of which crossed the river), towers, and rope bridges. Hell, break me off a piece of that action.
I don't remember the name of our guide, but despite looking like someone halfway through his freshman year of college he was excellent, with strong knowledge and even stronger wit. He also had a relaxed nature that showed he knew these ropes well and instilled confidence in everyone on the tour. If you like zip lines, I do recommend a stop here.
3) Meramec State Park
After finishing the zip lines I decided to save Meramec Caverns for later (my friend was coming up from Texas and I knew she might be interested if she had the time), and instead head a few miles down the road to the completely unrelated Meramec State Park.
The park was a hit right off the bat, with the remains of a 90-year-old "hotel that never was" just a little ways inside the gate. I spent a good half hour exploring the ruins and hunting for a geocache that, like the hotel, wasn't there. I did, however, manage to find a few wild daffodils growing just outside one of the hotel walls.
From there I headed toward the northern end of the park, following signs for a cave, and passing a few trailheads, boat launches, and campgrounds along the way. 2.5 miles up the road (it's a decent size park), I found Fisher Cave. Fisher Cave is a 3,500 foot, multi-room cave known for its uniquely-shaped geological formations and interesting wildlife, including frogs, bats, and salamanders. Unlike most show caves, the cave has no electricity or lighting, and going on one of the cave tours requires carrying a handheld lantern (awesome). Unfortunately when I arrived the wood-and-steel gate at the entrance to the cave was firmly locked. Much like the kayaks the cave wasn't yet open for the season. Bollocks
While the cave was closed, there was a trailhead for a half mile loop trail at the same spot, so I decided to give it a go. The trail weaved along the bluffs that Fisher Cave was nestled into, then began a gentle climb, and hello unexpected cave!
This cave, called Indian Cave, was a smaller affair, with three rooms and only going back about 200 feet, but it was open access and it was a fun little place to explore. Like the larger Fisher Cave, it was pitch black and required a flashlight to keep from running into the walls (or anything else). Not initially knowing how far back the cave went or what might be hiding in the darkness made it a slightly nerve-wracking exploration. Fortunately the only inhabitant of the cave was a single very tiny - and likely very annoyed - bat. I quietly left the cave, finished the hike, and rounded out my exploration of the park with a trip to the amphitheater before having to leave to actually do co-driving stuff. Unfortunately I later learned I missed out on a lot of what the park had to offer.
4) St James Winery
My aforementioned friend and I didn't have time for the caverns on Sunday because we had to get back on the road, so instead we decided to visit the St James Winery, which is located right on Historic Route 66. My friend had already visited it during the weekend and insisted on taking me to do their free wine tasting. Unfortunately the winery was out of the apple pie wine, what she said was her favorite there (they were out of it because she bought pretty much all of it), but they had 31 others to choose from. The winery allowed up to six wines per person, which meant since there were two of us and we were willing to share we were able to try twelve of their offerings. Preferring sweeter wines over dry we tried their Riesling, most of their sweet wines, and most of their fruit wines. Despite the fact that I almost never buy wine I ended up leaving with a bottle of their Friendship School White and their Blackberry Blueberry. I highly recommend both the winery and the Blackberry Blueberry wine.
WHAT I MISSED:
As mentioned, I missed out on a lot of Meramec State park. The park has 40 caves in all, and seven very scenic hiking trails that traverse bridges and pass fascinating old ruins and trail shelters. I definitely want to take a day and explore the park more thoroughly next time.

While writing this I also discovered Ha Ha Tonka State Park. The park is almost two hours west of Salem, but it has great scenery, fantastic views of Lake of the Ozarks, a natural bridge, sinkholes you can hike in and out of, and the ruins of a 20th century castle. I admit the castle is what won me over. It's a long drive, but if I can get a full day free I'm going for it.
I still very much want to kayak those fantastic riverways. Unfortunately the only way to do it may be to bring my own kayak (and brave the likely cold water), but if that's what it takes…
I'm sure there's plenty more fascinating places I missed that I don't even know about. If you know the area I'd love to hear about them! The next Beyond The Rally will revolve around the Susquehannock Trail Performance Rally taking place in Wellsboro, PA June 3-4.

Dusty Ventures is a freelance co-driver competing throughout North America. You can find him on Twitter @DVMSteve