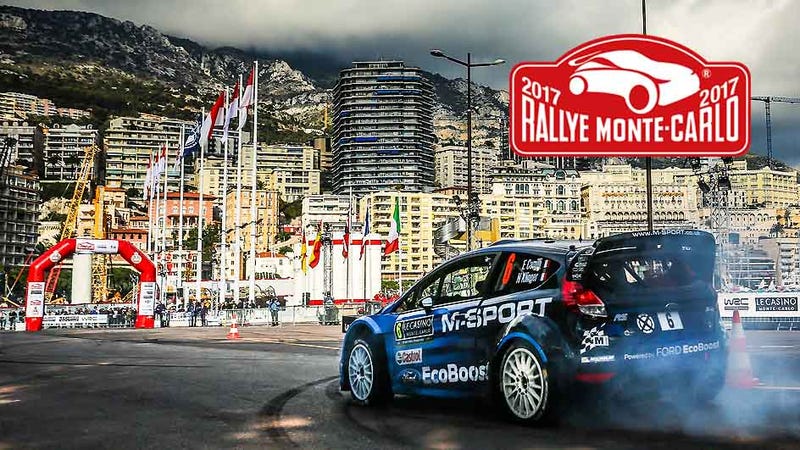 Get out your roulette wheels, your magic 8-balls, your lucky coins, your darts and blindfolds, your predicting octopi, and get ready, because the least predictable WRC event in over a decade is just around the corner.
Quick bit of housekeeping on the 2016 season. I wasn't able to make a season review post because it was the holidays and [redacted delivery company] owns my ass from early November until Christmas. So what happened? Magic happened. It was a two horse race between Marric and Tell A Finn going into the event, and when the dust settled only four points separated the two, with Marric claiming the honors. Dusty Ventures, while nowhere near the battle for the top two spots, managed to edge out TFritch by a single point to take the third podium spot. There was a three way tie between Marric, Dusty, and Arch Duck for best single round score, with the tie breaker going to Marric. As per the rules this meant Marric got two prizes, and the next highest scorer also earned a prize, which meant a second tie breaker between Dusty and Ducky. Dusty won that tie breaker, but since that's me and I run this shit I decided to just buy myself something nice and forefit the official prize, giving the honor to Archibald Ducksworth. If you want to see the rest of the standings, you can check them out here.
Now on to Monte Carlo and the challenge before you. Monte is always the least predictable event for competitors. Conditions can go from dry tarmac to wet tarmac to snow and ice back to dry tarmac all on a single stage. This makes suspension setup and tire choice more or less a crapshoot at the best of times. But here's the added twist that makes it even harder to make picks: everybody is in a new car. Much like the previous gen's WRC cars perform differently from an R5 car, these perform differently from the previous WRC cars. They're faster, their levels of grip are different, their breaking points are different. Drivers will have to adapt quickly in order to win.
As if that wasn't enough change, the four time defending series champion Ogier is out of the VW that was built around him and driving for the only works team that doesn't have full factory support, M-Sport. Because he came to the team so late he also has the least seat time of any driver save Latvala. But he's still Seb Ogier, so maybe that's not such a big handicap. That's your call.
And what about the rest? Of the eleven works drivers entered in Monte five had either partial seasons or zero WRC class starts last year. Will it take them a few events to get on pace with the drivers who have been doing this on the regular?
And lastly there's the most recent driver to win a WRC event, Andreas Mikkelsen. Despite earning two wins last year and finishing third in the championship he does not have a WRC car ride for Monte. Instead he'll be in a Skoda R5 car. But he has the speed that if any of the manufacturer drivers falter he could well be a contender for points. Could he be your ace in the hole? Or is he the Exploding Kitten in the deck? Am I stretching with my card game analogies?
And with that, let's deal the deck. If you haven't seen them yet, be sure to read the updated rules (in case you haven't heard, you can now pick up to two drivers per team!). Here's the official Entry List, and the current fantasy points spreadsheet, but why would you look at that? It's the start of the season! No one has scored points yet! And while you're at it, you can also look at the driver's data and statistics here.
M-SPORT WORLD RALLY TEAM - FORD FIESTA RS WRC
Sebastien Ogier (FRA) - Avg last 10 rounds: 17.4 - Avg Monte: 23.3
Ott Tanak (EST) - Avg last 10 rounds: 6.1 - Avg Monte: 3.3
Elfyn Evans (GBR) - Avg last 10 rounds: 6.3 - Avg Monte: 7.0

HYUNDAI MOTORSPORT - HYUNDAI i20 COUPE WRC
Hayden Paddon (NZL) - Avg last 10 rounds: 10.4 - Avg Monte: 0.0
Theirry Neuville (BEL) - Avg last 10 rounds: 13.5 - Avg Monte: 5.0
Dani Sordo (ESP) - Avg last 10 rounds: 10.8 - Avg Monte: 9.6

CITROEN TOTAL ABU DHABI WORLD RALLY TEAM - CITROEN C3 WRC
Kris Meeke (GBR) - Avg last 10 rounds: 10.0 - Avg Monte: 5.3
Stephane Lefebvre (FRA) - Avg last 10 rounds: 1.9 - Avg Monte: 10.0
*Craig Breen (IRL) - Avg last 8 rounds: 4.8 - Avg Monte: N/A*

TOYOTA GAZOO RACING WRC - TOYOTA YARIS WRC
Jari Matti Latvala (FIN) - Avg last 10 rounds: 7.4 - Avg Monte: 4.0
Juho Hanninen (FIN) - Avg last 10 rounds: 3.6 - Avg Monte: 0.0

SINGLE CAR TEAMS AND INDEPENDENTS:
*Jourdan Serderidis (GRC) - DS3 - Avg last 10 rounds: N/A - Avg Monte: N/A*
*2016-spec car