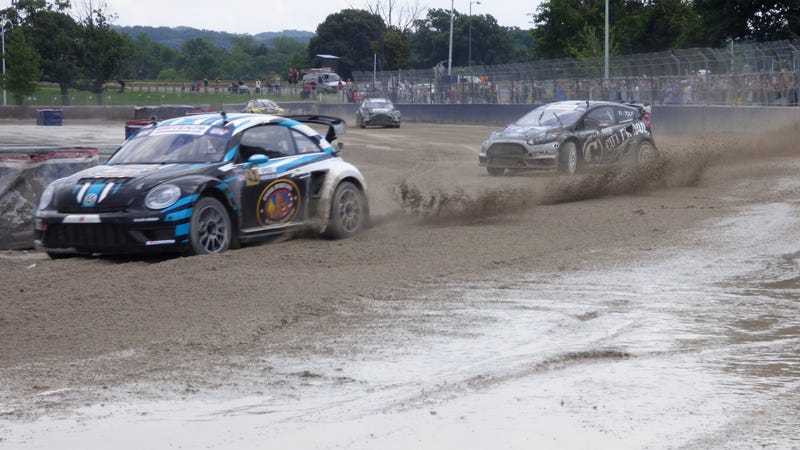 I've been aware of Red Bull Global Rallycross for years, but never knew very much about it. I knew that it was European style rallycross, wheel-to-wheel racing on a mixed surface circuit, but that was about it. This past weekend, my wife Elana and I joined the RFD crew in Washington DC to check it out for ourselves.

Read more on Right Foot Down or continue below
We attended the press meeting, learned where we could and couldn't go, and got our media credentials. This allowed us past the chain link fence that kept everyone else ten feet back from the concrete barriers at the edge of the track, which we could go right up to. They even thoughtfully cut holes through the chain link fence at the edge of the track specifically for us to get clear shots of the action.
But honestly, ten feet closer was all the media creds got us. That's not a complaint about media access, but praise for how open GRC is to everyone. The pit area is wide open. Everyone can wander in, get a look at the cars up close as they're bring worked on, and talk with the drivers. RFD's Danny Korecki got a photo with Bucky Lasek. Ike and Tanner Foustexchanged greetings in passing. Elana and I had a nice chat with GRC Lites driver Conner Martell (New England represent – he's from Vermont). I showed him a picture I took of his car in mid-air over the jump during his last track session. He liked that.
None of these interactions with the drivers were media exclusives. (Michael Thompson's ride with Bucky Lasek was, but that's different.) I think that's one of the best parts of Red Bull GRC – they let spectators get quite close to the drivers, the cars, and the action. That's something I love about stage rally, and Red Bull GRC has carried that aspect over to their own format quite successfully.