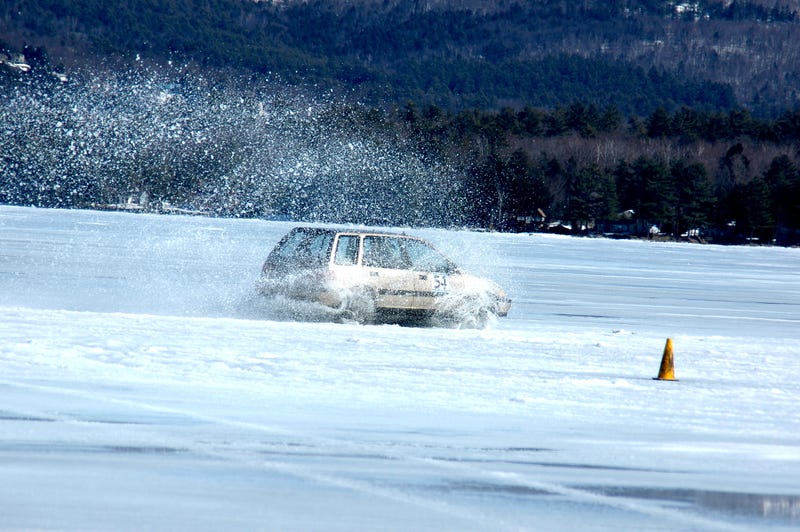 It's free to be an enthusiast, and cheap to be a rally enthusiast. I gave a brief overview before, but RallyCross is the least expensive way to get behind the wheel and channel your inner (insert your favorite rally driver here), and is well worth exploring on its own. I'll be sharing advice from active RallyCrossers in the New England Region SCCA as well as my own experience to help you get the best bang for your dirty dollar.
Read on Right Foot Down or continue below
What Is This RallyCross Thing, Anyway?
RallyCross means different things in different parts of the world. What I'm NOT talking about here is Gymkhana, Global RallyCross, World RallyCross, or any European style RallyCross involving wheel-to-wheel racing on a mixed surface. Such racing is awesome, but out of reach for most of us.
No, the type of RallyCross I'm talking about looks, at first, to be nothing more than autocross on a non-paved surface. You can bring almost any car (high rollover risk vehicles won't be allowed, and convertibles like my old Miata must have a factory hardtop, as shown here). Modifications are not required, and there are different classes for different types of cars and modification levels. Cars run one at a time against the clock through a course made of cones. Hitting a cone incurs a time penalty, and going off course incurs an even greater penalty. Sound familiar?
There are some major differences besides the racing surface, however. The class structure is much simpler. Cars are divided into front wheel drive, rear wheel drive, and all wheel drive divisions. Within each division, cars are classed into Stock, Prepared, or Modified based on what modifications they have. You can read the rulebook for specifics on what is and isn't allowed in each class. Isn't that unfair, allowing high horsepower cars into the same classes as low horsepower cars? Not really. The limiting factor here is traction, not power. My 116hp Miata had enough power to spin its wheels pretty much anywhere on course. The only advantage my 239hp Ford Crown Victoria Police Interceptor had was the ability to spin its wheels more, which doesn't get you places any faster. (Though I admit, its V8 motor did sound better.)
In autocross, typically your single best run of the day determines how you place in your class. You can drive on the ragged edge, spin out, knock over a bunch of cones for most of your runs, and still win your class thanks to a single hero run where you held it together. But in RallyCross, finish position is determined by the cumulative time of ALL your runs. So that cone penalty that got called in on me in that video stuck with me all day. A wild, ragged edge approach will cause you to place behind the slower driver who stayed on course and away from cones all day. Consistency is the key, rather than all out speed. Of course, if you can manage to drive fast AND avoid cones and stay on course, you'll do rather well.