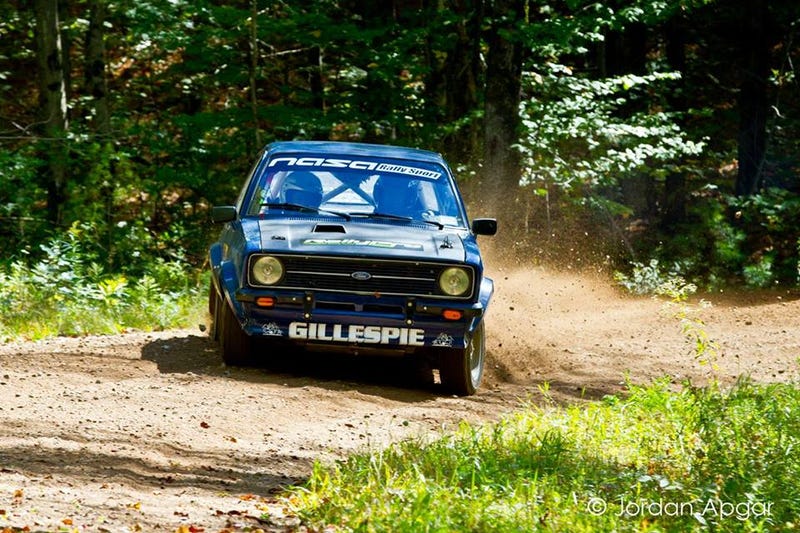 It's one thing to watch the World Rally Championship on TV or Group B videos on the internet, but it's another thing entirely to stand on the side of a dirt road when Ken Block zooms by at triple digit speeds. If you're handy with a wrench, someone would probably love to have your help putting their rally car back together after they break it on stage. As with any motorsport requiring a fully prepped, caged race car, the cost of competing is beyond what many would-be Colin McRaes can afford. But there are many other ways get involved with rally, and be close to or part of the action, for not a lot of money.
Read on Right Foot Down or continue below
Spectating
The two biggest sanctioning bodies of rally in the US are Rally America and NASA Rally Sport. Check the event schedules on their web sites to find events local to you, or that you might be willing to travel to see. The two organizations are a bit different. Rally America focuses more on the glitz, glamour, and big name stars like David Higgins, Travis Pastrana, Ken Block (though not this year as he's committed to a full season of World Rallycross), and the late Dave Mirra. NASA Rally Sport focuses more on grassroots rally for the everyman, and while still not as cheap as an autocross or track day, it's still more affordable than Rally America. The specifics vary between organizations, but the general format of their rallies is the same. And believe me, there's just as much action in the amateur ranks as the few who do this professionally.

Before the start of a rally, and often during, there are Parc Expose events. These are literally car shows that all competitors are required to attend, and that are open to the public. This is where you can get an up close look at the rally cars before they go ripping down the back roads and logging trails, and before some of them get damaged. Drivers and co-drivers are there as well, and most are quite happy to talk about what they do, how they've modified their cars, what it's like to compete in rally, and such. Some of them may even let you try on the driver's seat for size, but definitely ask before jumping in a car. This is the best way to start your spectating experience. Best of all, it's free.