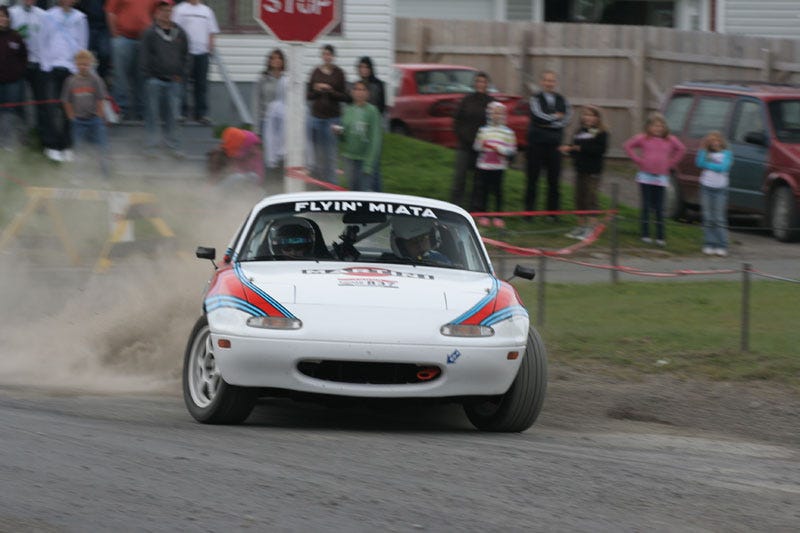 "The answer is always Miata." It's one of the most overplayed, overused tropes on the internet. Need a practical sedan for a family of five? Get a Miata. Need a tow vehicle for your race car? Get a Miata. Need to carry five tons of building materials from the store to your job site? Get a Miata. Need a rally car? Get a Miata.
Read on Right Foot Down or continue below
What's this? A motorsport that the Miata does NOT completely dominate? As a matter of fact, yes. In RallyAmerica's rulebook, section 10.1.B reads:
Eligibility is restricted to street licensed, closed-bodied, four-wheeled vehicles. Fabric tops and side panels are prohibited. Vehicles with removable tops (e.g., Mazda Miata, Jeep CJ) are not considered closed-bodied vehicles and are therefore not eligible under these Rules.
Yes, the poor Miata is specifically singled out for exclusion from all RallyAmerica events. And, honestly, I can see why. The hardtop, which would certainly be required, is made not of metal but of Sheet Molding Compound, which is similar to fiberglass. It could break off in a crash, leaving the occupants exposed to the elements and other hazards that wouldn't be a problem in a fixed roof car. Sure, Spec Miatas use (and crash) these hardtops all the time, but a track is a very different environment from a rally stage, which is less controlled and has many more solid objects to hit.
But a recent clarification on the NASA Rally Sport web site may keep hopes alive for those who want to rally the Ultimate Answer of Life, the Universe, and Everything:
Yes, you can rally a Miata. You would need to do the following:

Have a fully compliant rally cage installed.

On top of the cage, you would need to weld on a metal roof.

Helmets have to demonstrate safe clearance from the cage.

On top of that, the factory hard top would have to be permanently attached to the car. Not "latched" or "bolted", but something that was actually permanent, meaning it would have to be destroyed to be removed.


You'll also need to work with our tech inspectors in advance to make sure this is all done properly.
So a standard rally roll cage is just the starting point, because then you have to weld a big sheet of metal on top of it to make up for what the hardtop lacks (adding a fair bit of weight up high where you don't want it), then weld or otherwise permanently attach the hardtop to the car. No bolt-on brackets like they use at the track – this top is never coming off again. And beyond all that, you have to fit inside without your helmet whacking the cage or any of this extra stuff. This is a genuine concern. I had trouble fitting below a simple roll bar in my first Miata. Throw all this other stuff in there, and it's going to be a tight fit.